Compare some of the best air conditioner brands with our ratings, and start your search for a portable or split system model for your summers and winters.
Compare air conditioner brands using our customer satisfaction ratings.

See other appliance ratings…
Going off the grid: one in two feel their air conditioner burdens power grid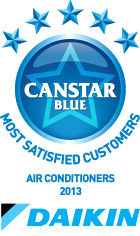 Saving energy can be tough in a challenging climate, particularly during the hotter months. It's a point not lost on more than half of the respondents to our recent survey, who worry about burdening the power grid with their air conditioner usage.
These 52% are so concerned about stressing the grid and causing a blackout that they limit their use of their air-conditioner to when they really need it.
Energy management was less of a concern for younger respondents, who were more likely than their elders to leave their air conditioner on during work hours so the house would be cool when they returned (31% of Gen Y's and 28% of Gen X's versus 10% of Baby Boomers). They were also the most overrepresented demographic when it came to leaving air conditioners on through the summer months.
A majority of respondents (73%) declared they simply could not survive an Australian summer without their air conditioner; and if you feel the same, we've compared leading air conditioner brands for you to add to your shopping list.
Our results show Daikin customers were most satisfied with their air conditioning unit overall – the brand taking our award for 2013, when rated alongside Fujitsu General, Mitsubishi Electric, Panasonic, Kelvinator, LG and Samsung.