Review of Simpson washing machines
Simpson is a bit of a standout among other appliance manufacturers in that it specialises solely in washing and drying. Simpson is a no-gimmicks and fuss-free manufacturer of both top loader and front loader washing machines. The brand was based in Adelaide for nearly 100 years, before it became part of the Swedish Electrolux group. Nevertheless, Simpson still makes a range of quality washing machines.
Its motto 'Quality kept simple' is reflected in its washing machines that have a focus on being solid value for money. So what's in the Simpson range, and will you be saying 'Woah' or 'D'Oh' to what Simpson has to offer? Find out in this review at Canstar Blue.
Simpson washing machines: What's on offer?
As it stands there are four front load washing machines on offer from Simpson, plus eight top load washers. With both types considered, prices start at around $500 for smaller capacities, with some larger capacities costing nearly $1,200. Overall though, Simpson is a brand focused on the budget end of the market, whereas some of its competitors – such as Miele and Bosch – have washing machines that cost many thousands of dollars.
Simpson Top Loaders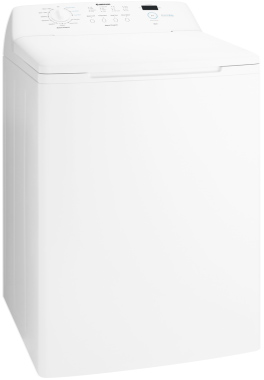 Simpson is perhaps best known for its top loaders – probably because they are found in all manner of hotels and holiday apartments. If you've had a weekend at the coast recently, the washing machine in your apartment was likely a Simpson one. The brand is also popular with renters for the 'bang for buck' it delivers. You don't get amazing washing machines, but they will get the job done with minimal fuss.
There are eight top loader models in total:
Capacities range from 5.5kg to 10kg
Prices range from about $550 all the way up to about $1,200 for the bigger capacities
Despite their cheap prices, Simpson washing machines are surprisingly economical to run. The largest capacity ones have water consumption ratings of 3 stars, consuming 139L per wash. Energy use is a little high though – 820kWh for the 9.5kg model. For electricity, this could cost around $190 each year to run (based on one cycle per day, 23c/kWh energy tariff).
However, what you spend in energy use, you'll save with Simpson's generally cheaper unit prices. Many Simpson top loaders also feature:
Control dials and touch controls for easy cycle settings, allowing you to choose water temperatures, soak times and rinse options
Automatic water levels – the machines will choose an appropriate amount of water to use for the load inside
Child lock for curious fingers
Detergent drawer for better dispersal of detergent so your clothes are more evenly cleaned with no nasty streaks
Top loaders also beat out front loaders in one key instance – the ability to chuck an item of clothing in mid-wash. While front loaders of other brands sometimes have this feature, Simpson front loaders do not. Nevertheless, let's see what the story is with its front loaders.
Simpson Front Loaders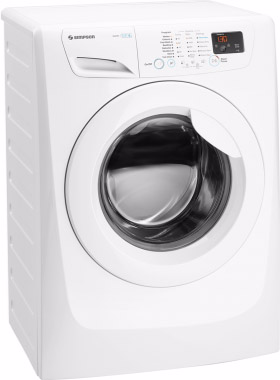 As mentioned there are four Simpson front loader models on offer. They are all around the middle-road as far as capacity goes:
Capacities: Two are 8kg, and two are 7kg
Prices: They range from about $700 to $900
In general, you can expect its front loaders to run much more efficiently. This 8kg model uses only 68L of water per load, and consumes 373kWh of electricity. This subsequently gives the model a 4.5 star water rating, and a 3.5 star energy rating. So, while you may spend more in upfront costs buying a front loader, you might find that over time you could save money through cheaper energy bills! Considering washing machines are kept for some time, this is very possible.
Simpson's front loaders sport many features not found on its top loaders. Such features include:
Multiple cycle options
Digital display dictating how much time is left on the cycle
Delayed start times to make use of off-peak energy tariffs
Sensors to adjust water levels accordingly
Larger hatches and drums for easy access
Are Simpson washing machines good value?
The short answer is probably: Yes. Simpson makes some of the most prominent 'bang for buck' washing machines available here in Australia. Frequently its washing machine prices are less than half that of its competitors. However, what's the catch?
Simpson top loaders can have a tendency to consume a fair amount of electricity and water, giving them mediocre water and energy ratings
However, Simpson's front loaders are not that much more to purchase, and boast far better consumption figures
Generally, both are quite light on nifty features, lending to its cheap prices
Most of Simpson's range is under $1,000, but with this you'll have to be willing to sacrifice some features such as more than 10 cycle configurations, easy-close lids for top loaders and pausing cycles with front loaders. Many other brands now commonly boast these features – but you'll need to be prepared to pay more.
If it's a cheap and cheerful washing machine you want, Simpson may be your first port of call. Are you a renter, or just on a budget? Simpson represents a good option for both, but don't expect all the bells and whistles.