They say that if you can't handle the heat, you should get out of the kitchen, but during an Aussie summer it seems everywhere you go is the kitchen. Some discomfort is inevitable in the summer months down under. The warmer months see a scurry of people rushing out to buy an air conditioner – just any old one – without much thinking about its energy efficiency, or whether it's actually any good. They just want something to blow cold air in their face. That's fine for a lot of people, but others will want to get the one that'll cause the least damage to their electricity bill and their back pocket. Is an energy-efficient air conditioner worth it, or is it all just a load of hot air? We review the upfront costs of buying an energy efficient air conditioner and what it means for your ongoing electricity costs.
What are the most energy efficient air conditioners?
Air conditioners are never going to be particularly 'green' or energy efficient appliances, but some are far better at keeping electricity costs down than others. Split system air conditioners are typically going to be the most energy efficient type of air conditioner you can buy. In this category, high-end brands such as Panasonic dominate the ranks. For other air conditioner types, it's a mixed bag – Kelvinator seems to fare best for window air conditioners, for example. Let's dive in and see just how efficient different types of air conditioners can get.
Energy Efficient Split System Air Conditioners
Split system air conditioners are the most energy efficient type of air con you can buy. They are also a favourite among Aussie households, usually for their quiet operation and effective cooling, along with minimally-invasive installation and aesthetic units.
Panasonic 3.5kW Inverter Air Conditioner CSCUS12PKR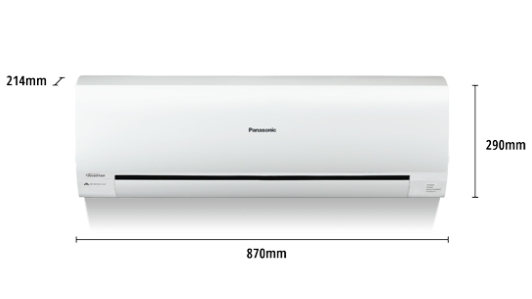 Panasonic is leading the charge when it comes to energy efficiency. In fact, Panasonic was rated five stars across all categories in our latest Customer Satisfaction Awards for Air Conditioners. It goes a step further to ensure energy efficiency with its inverter technology. An inverter is used to control the speed of the compressor motor, which then helps regulate temperature more efficiently. It contains 24-hour timers to ensure it's on when you need it, and off when you don't. Onboard Panasonic has also packed in its 'Econavi' technology – intelligent eco sensors to help increase efficiency. These sensors:
Detect absence in the room and adjusts levels accordingly
Detect sunlight to adjust cooling and heating based on the sun's intensity
Provide rhythmic temperature waves in a controlled pattern
Scan the area to direct airflow to wherever you are located
Adapt cooling and heating power based on your daily activities
The Panasonic unit also has comfort features, such as a built-in antibacterial filter and dehumidifier, a removable washable panel, a soft-dry operation mode, and an odour removing function. Its indoor sound level is between just 21-40 decibels, and its outdoor sound is 48 decibels. In both instances, it operates barely louder than a whisper. It packs in 3.5kW of power. For about $1,400, it's a fairly pricy unit for its size, but its efficiency features make up for it. Overall it rates 3 stars for energy efficiency.
Compare split system air conditioners
Energy Efficient Window Air Conditioners
The old 'window rattlers' have come a long way, so they won't exactly rattle your windows anymore. While generally less efficient than a split system air conditioner, window units do have some merit when it comes to energy efficiency. Plus, people like them because they are easy to install and are great 'bang for buck'.
Kelvinator 5.3kW Window Reverse Cycle Air Conditioner KWH53HRE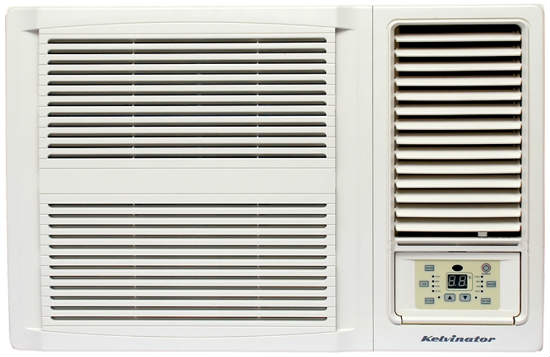 This Kelvinator air conditioner is an interesting model as it not only packs in 5.3kW of power, but also rates at 2 stars for energy efficiency. We know you're probably laughing at this, but a 2 star rating is actually pretty decent for window air conditioners. It's fairly feature-packed for a window unit, with anti-bacterial mesh, a 24-hour timer and an auto restart function as well as manual operation. It also commits 1.7L of moisture removal per hour.
Window air conditioners are generally not as quiet as split systems, but the Kelvinator doesn't fare too badly. It comes in with a 52 decibel indoor sound level, which is quieter than a regular conversation, and is one quarter as loud as 70 decibels, which is when noise can become quite annoying. For what is a feature-packed, reasonably energy efficient air conditioner, you can expect to pay around $1,100, which is high considering other window units can be found for $400. You are paying for its power and relative efficiency though. Window air conditioners are great for easy, fuss-free installation but they generally leave a little to be desired compared to split system units.
Is it worth buying an energy-efficient air conditioner?
There are a lot of questions you'll need to ask yourself when considering whether or not to buy an energy efficient air conditioner. Chief among them will be: How fast can I recoup the cost spent on an energy efficient model by saving money on electricity? The answer varies, but most people recoup the costs slowly that it's barely noticeable. Still, it's a saving, and a penny saved is a penny earned.
There are several main questions you'll have to weigh up, which are:
Do you spend more initially on an air conditioner with a high energy efficiency rating, and reap the rewards later in the form of smaller electricity bills?
Or do you spend less upfront on a cheap air conditioner, and deal with the larger bills when they come?
Many people will choose the latter because they don't want to take that big hit to their bank balance, or perhaps they just can't visualise the long term benefits of owning an air conditioner that's cheaper to run. Many people might see it as pointless buying X air conditioner for $1,500, when Y air conditioner does all the same things but costs half. For savings to be had, you need to look at the long term picture.
So we decided to crunch the numbers on these two air conditioners to see whether or not it really does pay to be energy efficient. The models we mentioned above are all fairly small units in the scheme of things – designed to work in a small-medium sized room about 20m².
The results are based on air conditioner use of three hours per day over the three hottest months of the year – December, January, February. Remember that if you plan on using your air conditioner for more than four months a year, and more than three hours per day, your annual running costs will be higher than those reported in this article.
Also note that if you'll want to use your air conditioner for heating purposes during the colder months then running costs will again go up. One more thing to note is that we based these comparisons on an electricity cost of $0.29 per kWh. Electricity rates can vary significantly, so keep this in mind, too. Let's crunch the numbers:
Panasonic 3.5kW Inverter Air Conditioner CSCUS12PKR
Purchase price – about $1,400
Cooling power input – 3.5kW
Energy used each day – 10.5kWh
Energy used over 90 days for the year – 945kWh
Running cost over 10 years – $2,740.50
Total cost of ownership over 10 years – $4,140.50
R
Kelvinator 5.3kW Window Reverse Cycle Air Conditioner KWH53HRE
Purchase price – about $1,100
Cooling power input – 5.3kW
Energy used each day – 15.9kWh
Energy used over 90 days for the year – 1431kWh
Running cost over 10 years – $4,149.90
Total cost of ownership over 10 years – $5,249.90
As you can see, there is a huge discrepancy between the efficiencies of the Panasonic unit and the Kelvinator unit. Yes, their power levels are drastically different, but also note that Energy Efficiency Ratios for split-system air conditioners are likely to fare better in regards to power in, versus power out. So, although the Kelvinator has a higher power level, its ratio may be lower and its efficacy less, which means less cool air for you to enjoy.
It's also worthwhile comparing these units with budget models. The cheap and cheerful $400 units may look good on paper with their power levels, but taking into account the Energy Efficiency Ratios might peg them down a few notches. What does this mean? Well, while you may be saving money in the long term with a budget air conditioner, you'll be paying for it by having less cool air to enjoy.
Looking at the varying costs of owning these air conditioners for 10 years, it becomes pretty obvious that spending more upfront on a pricier, more energy efficient air conditioner will save you money in the long run. Buying the lower rated unit will end up costing you about $640 more over the decade than if you had bought the highest rated model, and it could likely have a lower Energy Efficiency Ratio. Overall, you'll need to consider a few things:
The price you pay for the unit
The ongoing costs versus a cheaper/dearer unit
The Energy Efficiency Ratio
The enjoyment factor, which is a little harder to determine
How important is that extra money to you now, if you can't get proper enjoyment out of your air conditioning unit. Are you happy knowing you will pay hundreds of dollars more in the long run if it means you get a good deal in the here and now?
Something that's also worth considering is the environmental impact of running a less energy efficient appliance. Sure, you get to keep an extra couple hundred or thousand in your hip pocket when you buy your air con unit, but what price do you put on all those warm, fuzzy environmentally-feelings? Think of the dolphins!
Overall there are a lot of factors at play when it comes to deciding what air conditioner to buy. The safest piece of advice is to consider your budget and go from there. Stay cool this summer and have a happy air conditioning hunt!