Breville heats up microwave competition
Whether you use it to zap some two minute noodles, heat up a heat pack, or cook your whole dinner, it's undeniable that a microwave is one of the handiest appliances you can have in your home. In fact, these days it's even possible for a microwave oven to replace your oven! It's not just about heating food anymore, it's about cooking food as well.
From the cheap, basic models you can pick up for less than $100, to the high-tech models that cost more than $1,000, it's clear that Aussies love their microwaves. And why not? Microwave ovens are convenient for busy lifestyles, have programs to take the guesswork out of the equation, and usually don't take up much space. Your microwave is likely the unsung hero of your kitchen, and you'd only realise how much it does if it were to suddenly stop working!
But not all microwave ovens are created equal – hence the disparity in prices! So, are the more expensive models and brands worth paying extra for, or will you get all the food zapping satisfaction you need from a fairly cheap microwave? That's a question we seek to answer with our annual customer satisfaction ratings, reviewing brands on factors such as ease of use, even heat distribution, and cooking functions, to try to determine which microwave ovens offer the best overall bang for your food-zapping buck.
The answer to the question posed above seems to be that paying extra for a top of the line microwave will pay off, with Breville topping our ratings for the second time in three years, earning five-star reviews across all research categories, with the exception of value for money. This is perhaps a tough nut to crack given that Breville is at the cutting-edge of microwave oven innovation, reflected by the price of its leading models. Are they worth it? It seems most people who own one think so. Only the Homemaker brand from Kmart achieved five stars in terms of value for money.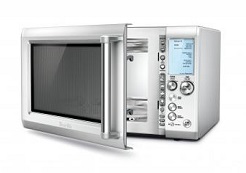 Breville is probably best known for its range of 'Quick Touch' microwaves, the Stainless Steel version of which is pictured. There are no prizes for guessing the main selling point of these microwaves, but you may be surprised to learn some of the models in this category take food heating to the next level, including functions for 'Melting' chocolate, 'Softening' butter, 'Reheating' baked beans and 'Crisping' food. Microwaves have come a long way in recent years.
Cooking Functions
If you want your microwave to do more than just 'heat up' your food, then menu functions that remove the guesswork and enhance the quality of the overall cooking process are a must. Ever yelled to your mum or partner 'how long to cook x for'? With these functions, you can bet the microwave knows better than you how long to cook something for. Look for pre-programmed settings to heat up various dishes and meats, as well as snacks and soups. Other convenient functions include defrosting and food-specific heating features.
Ease of use and cleaning
There's no point owning a microwave that you can't use properly. All those fancy functions are great, but if you have no plans to use them, you could probably save yourself a few bucks with a cheaper model. When it comes to cleaning, all moving parts of the microwave should be removable so you can easily soak and wash them. This becomes especially apparent after a food explosion! Baked beans, we're looking at you!
Microwave power
800 watts seems to be the minimum sweet spot for most microwaves. Any less than that and you run the risk of having an inadequate machine for anything but the lightest of heating tasks. More powerful microwaves will cook and reheat your food more quickly, but do not necessarily deliver a better result. If you've experienced splattered baked beans all over your microwave cavity, it could be that your microwave is too powerful. 900 watts seems to be a good balance between power level, a good finished result, and cost effectiveness. Any more powerful and you'll be talking about more money.
Size and capacity
Be sure to consider the size and capacity of your next microwave. You may be surprised to learn they're not all the same size – that in-built compartment in your kitchen will likely be big enough for most models, but as microwave ovens continue to evolve and take on even more functions, make sure you have a tape measure on hand to avoid disappointment. Microwave capacity is measured in litres, so consider the capacity of your existing or old model and keep this in mind when picking a new one.
Price
Naturally your budget will determine which microwave oven you will ultimately go with. Are you looking for a quick fix in the kitchen, or a microwave to do much of the cooking legwork? The good news is you'll find perfectly capable microwave ovens at many different price points. If you want to spend less than $100, that'll be no problem. Likewise, if you want to invest in a high-tech cooking buddy, you also have plenty of options.
The Australian consumers we surveyed spent an average of about $208 on their microwaves, with Victorians willing to shell out the most with an average spend of just over $227. Even with this moderate spending, those surveyed said that price was the biggest factor that goes into choosing a new microwave. When asked to pick the most important factor in their purchase decision, respondents reported:
Price: 38%
Features: 23%
Size: 23%
Power: 12%
Other: 4%
Consumers also want to get a fair bit of mileage from their microwaves. Before buying a new microwave in the last three years, survey respondents owned their old model for an average of just over seven years!
What is a convection microwave oven?
Convection microwave ovens work more like regular ovens than microwaves in that hot air is circulated around to heat the food up. Regular microwaves vibrate food molecules to create friction. This friction then creates heat from the inside. This is similar to rubbing your hands together in cold weather to warm them up. This is part of the reason why some foods put in the microwave can explode. So, think of convection microwaves like mini ovens, as they operate similarly yet save on space. The major advantage of convection microwaves is that they can actually brown foods just like an oven, instead of just heating it up. However, be prepared to pay extra for a convection microwave. There are no $50 models here!
So, now you have a good idea of what to look for from a new microwave oven, let's review the brands in this year's ratings, starting with the best performing of the bunch.
Breville microwaves
Breville makes a large range of microwaves in a large variety of capacities and wattages. Product names are catchy and simple, such as "Fast and Easy", "Easy As", and "Quick and Easy". The big kahuna, however, is the Quick Touch range, with each specialising in different cooking functions. As we mentioned earlier, these include melting, softening, browning and crisping.
Expect a vast array of programs and functions from Breville microwaves, to take the guesswork out of the right power level and time to suit the foods you are cooking, reheating or defrosting. Prices range from about $150 for a 30L, 900w microwave, up to $450 for its top of the line models with all the innovations. Customers were evidently very satisfied with Breville, as it was rated five stars for overall satisfaction, while also earning five stars in every category except value for money, where it still earned a respectable four stars.
LG microwaves
LG makes 'life good' with its large range of microwaves. It produces a range of simple and easy to use appliances that won't cost an arm and a leg, but LG also produces the high-end series called "NeoChef". With a slick and minimalist design, the NeoChef lets its power and features do the talking.
Some models in this range feature inverter and convection capabilities. NeoChef microwaves also boast ridiculous wattages, with some over 2000w. Prices for LG microwaves start at about $170, with some costing more than $600. LG was rated four stars overall in this year's review, but was a top performer for ease of use, appearance, and cooking functions, rating five stars.
Panasonic microwaves
If microwaves could win on looks alone, Panasonic's would be up there with the best of them as its appliances commonly feature aesthetically-pleasing stainless steel and attractive, minimalist designs. However, that's not enough to win in these ratings. Panasonic was rated four stars for overall satisfaction, with five stars for appearance and even heat distribution. It achieved only three stars on value for money. This may have something to do with the fact that its dearest microwaves cost more than $1,200!
However, Panasonic does have a very large range of microwaves, spanning many price points. You could buy one for as little as $200! The expensive ones do pack a lot in though, such as grilling and convection capabilities, as well as oven-like designs such as pull-down doors and flatbed heating design, instead of the usual turntables.
Samsung microwaves
Samsung makes a fairly concise range of microwaves compared to the three brands mentioned above. However, it has most bases covered, with sizes from a small 20L up to a relatively large 40L. Many are finished in attractive stainless steel, and boast numerous cooking programs to make life easier for users.
Samsung was a pretty solid performer in this review, being rated four stars for overall satisfaction and in every other category except value for money. While Samsung's range could be considered 'cheap' – generally priced from $100 to $300 – there's evidently a lot more than price alone that goes into achieving a good value for money rating.
Kmart Homemaker microwaves
Kmart has a huge range of home appliances under the Homemaker brand. With an obvious focus on budget and 'bang for buck', Kmart's range is designed with 'retro' aesthetics and a cheerful design. Its microwaves are generally small in capacity, from 20L to 30L, with a range of small convection ovens also on offer. Expect the cheapest models to cost a mere $50 or so, while convection microwaves cost around $120.
For these prices, expect them to be pretty light on functions and programs – as well as power output – compared to other, more expensive brands, but evidently that wasn't enough to put off consumers. Kmart achieved five stars on value for money, and was the only brand to do so. For 'bang for buck', Kmart's Homemaker series is tough to beat. But if you want a little more from your microwave, you'll likely need to look elsewhere.
Kambrook microwaves
A report by Product Safety Australia about one of Kambrook's microwave ovens in November 2016 may not have helped the brand's results in this year's ratings, as it achieved three stars for overall satisfaction. The microwave in question (KMO400) was deemed to have a defective component that if left unchecked could spark a fire. Users were encouraged to immediately unplug the appliance and return to the place of purchase for a replacement or refund.
Nevertheless, this is only one product in a large range, and Kambrook does provide a range of budget-oriented microwaves costing around the $100-$200 mark. Kambrook had a mixed bag of ratings, but did get four stars on value for money, appearance and cooking functions.
Sharp microwaves
Rounding out this year's rating is Sharp, and its budget-oriented range means it could provide 'bang for buck' for the family. Many of its models are priced at under $200, with most others costing no more than $300 – the dearest of which boast inverter and convection technology.
Many Sharp microwaves feature aesthetic designs, and a fairly large array of cooking programs designed for Aussie tastes. Evidently though, that wasn't enough to win over every consumer, as it achieved a mixed bag of results overall, ending up on three stars for overall satisfaction. It did, however, achieve four stars for even heat distribution and cooking functions.
The bottom line on microwaves
Whatever your budget and cooking requirements, be sure to compare a wide range of different products to find the best microwave oven for your home and family. You might think that most microwaves are basically the same – and this is an understandable opinion to hold – but you'll be surprised by the level of technology and additional features now on offer. If you want a basic microwave, they have never been cheaper. If you're happy to pay a little extra for the bells and whistles, you also have plenty of options.