Tefal makes it two years at the top
Doing the ironing is a household chore that many people dread. But why is that? After all, it's not especially labour-intensive, and it's an important job if you want to look your best. Maybe it's because many of us have been stuck using old, hard to use and ineffective clothes irons. You know what they say about a workman only being as good as his tools! When it comes to ironing your clothes, it's really true. You also know what they say about doing the same thing over and over again but expecting different results! So, if it's time you hung your clothes iron out to dry, our customer review might provide help.
We've surveyed hundreds of Australian consumers who have recently bought and used a new clothes iron, to find out which brands are actually living up to their crease-busting expectations, and which are leaving people feeling a little wrinkled. Eight major brands have featured in our customer ratings, but for the second year in a row, Tefal was the only one to receive a five-star review for overall satisfaction. In fact, Tefal was rated five stars in every category, including the important areas of effectiveness, durability, ease of ironing, weight and value for money. Other five-star ratings went to:
Philips for ease of ironing and design
Braun and Kambrook on value for money
As you can see, five-star reviews were in fairly short supply, making Tefal's achievement all the more impressive. Tefal is certainly one of the more premium brands out, but consumers seem to think its clothes irons are worth the investment and make ironing less of a chore.
But where can you find the best clothes iron for your specific needs? Let's review each of the brands in this year's ratings and see what they have on offer, starting with the highest rated in our review.
Tefal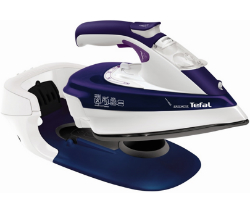 The Tefal iron range is divided into three categories – Essential, Efficient and Advanced. In the Essential category, the only model is the 2400W Ultraglide which has a high steam pressure, anti-calcification filter, anti-drip technology, as well as an Eco function. The three models in the Efficient range have the Tefal-developed 'Durilium' soleplate, auto-off function, and powerful steam shots, plus model-specific special features. The Advanced category has two models – the powerful Ultimate Steam Power, and the cordless Freemove (pictured). Costing about $180, the Freemove is the most expensive iron in the Tefal range, with prices starting at around $120 for the single Essential iron.
Braun
The Braun clothes iron range has three different tiers – the TexStyle 3, 5 and 7 series, with prices ranging from about $70 to $170. At the most basic end, the TexStyle 3 has a ceramic soleplate and anti-calcium system, operating at 1700W. Next up, the 2000W TexStyle 5 range comes in four different colours, with a vertical steam slot and a smoother and more scratch resistant Saphir anodised soleplate. At the top end, the 2400W TexStyle 7 range comes in four different colours with double overheat protection, steam right up to the tip, and (in one model) a click-on textile protector for delicate fabrics.
Kambrook
The affordable homewares brand offers a wide range of clothes irons within a price range of between $30 and $100. All Kambrook clothes irons operate at either 2000W or 2400W power, and include a self-cleaning function, anti-drip design, and steam shot feature. Different models include extra features such as a variable steam function, dry ironing function, detachable water tank, and auto-off feature. A big difference between Kambrook irons is in the soleplate – while they're all non-stick, the higher-end models use higher quality materials.
Philips
The Philips clothes iron range covers a huge number of price points from about $50 all the way up to $180 to suit almost any budget. The three product lines – Powerlife, Azur and Easyspeed – are offered at a number of different steam power levels and operating power levels. Features to look out for include the triple precision tip (with a pointed tip, button groove and slim nose to get into every nook and cranny), vertical steam (for hanging fabrics) and auto-off.
Sunbeam
As a small home appliances specialist, Sunbeam produces a modest range of clothes irons, with prices starting from $35. At the basic end, the ProSteam line covers the necessities including vertical steam, mist spray and steam shot functions. At the premium end of the spectrum, Sunbeam's high-end models include high-tech features such as a digital thermostat, Sunbeam's own anodised 'Resilium' or ceramic 'CeraFlow' soleplate, and an indicator that tells you when the iron has cooled enough to put away.
Electrolux
In Australia, Electrolux currently only offers the UltraSteam Precision 300 clothes iron priced at about $90. This 2300W model has a hard anodised aluminium soleplate, with variable steam output, auto-off, self-cleaning and mist spray functions. The design also includes anti-drip and anti-scale properties.
Kmart Homemaker
Kmart's budget home appliances range covers irons from $12 to $49. The basic 2000W option is $12, with a variable steam option, temperature regulator, non-stick soleplate, and self-clean function. The mid-tier $29 2400W Homemaker iron adds on spray and steam shot functions, a ceramic soleplate, and auto-off function. At the top end but still priced at just $49, the second 2400W iron includes an LCD display.
Panasonic
Panasonic's clothes irons stand out for their interesting multidirectional soleplate, pointed at both ends so that you can glide your iron over clothes without having to lift it to turn to a new direction. The high-end electronics brand currently offers three different models of clothes iron, within a price range of between about $110 and $180. All of Panasonic's irons include auto-off, anti-drip, self-cleaning and anti-calcification features, as well as vertical steam, power shot and steam spray functions.