Miele makes it four years at the top – for front loaders
Whether you use it every single day, or just one or twice a week, your washing machine plays an integral role in keeping your family home moving. Imagine the chaos if it suddenly stopped working! No more clean school uniforms, no more clean bed sheets. That's why picking the best washing machine for your household's needs is so crucial. Sure, you could just buy the cheapest washing machine available, but will you really be getting the best performance and reliability? If you're looking for the best overall value from a front load washing machine, you've come to the right place for guidance.
Each and every year, Canstar Blue surveys hundreds of households across Australia, to find out how they rate their front load washing machine based on important factors such as ease of use, features, quietness, and the value for money they think it represents. Washing machines aren't the easiest appliance to replace, so it really does pay to do your research, and finding out what other consumers just like you think about all the major brands is a great place to start.
If you've visited this page before over the last few years, you'll be forgiven for thinking it hasn't changed too much, because in 2017 Miele continues to top our customer satisfaction ratings for new front load washing machines. For the fourth year in succession, the German appliance powerhouse has received five-star reviews from Australians for overall customer satisfaction, in addition to most other categories. Its four-star rating on value is perhaps a reflection of the fact that Miele also happens to be one of the most expensive washing machine brands around. But it seems Aussies can see the value in paying extra for quality.
Also in our 2017 review, it was four stars overall for Bosch, Electrolux and Fisher & Paykel, while LG and Samsung both received three stars apiece. The only other brand to rate five stars in any category this year was Fisher & Paykel. Its front load washers earned top reviews from Aussies for their ease of use, features, and value for money.
Our 2017 survey found that:
Australians spent an average of $819 on their new front loader washing machines
Households owned their old front load washing machine for an average of 6.7 years
16% of Aussies are often disappointed with their washing machine's performance, while 18% said their washer often doesn't work properly
18% of consumers wish they had spent more on a better washing machine
If you think it's time for a change of washing machine, let's review what each of the brands in this year's ratings has to offer when it comes to front loaders, before offering some suggestions as to what you should consider before purchasing a new appliance.
Front load washing machine brands in Australia
Miele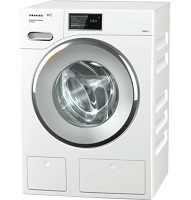 Miele is known as a high-end appliance brand, but evidently consumers look at more than just price alone, instead appreciating proven quality. Miele is a German manufacturer, with many of its products still made in Europe. Miele was rated five stars for overall satisfaction and for most other categories, except on value for money and features where it was still rated a respectable four stars. Miele is an innovative brand, but doesn't lose sight of the basics. It seems to excel in terms of ease of use, reliability and overall performance, with many of its washers featuring the intelligent 'TwinDos' detergent system which ensures the optimum level of detergent is used to achieve the best cleaning results possible. Miele's front loader washing machines cost as much as $5,000, but with high energy-efficiency ratings, you should get some of that back in the form of reduced energy bills over time.
Bosch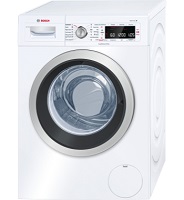 Bosch is another high-end German manufacturer, known for making feature-rich front loaders and numerous other household appliances. Some of its washers are still made in Germany, with many models boasting WELS water efficiency ratings of four stars or higher. Some consume as little as around 60L per cycle, which is around half the consumption of a typical top loader. The Bosch range also includes the 'iDos' water and detergent saver, sensing and using the required amount of detergent and water. The drum detects the load weight, fabric type and degree of soiling, and adjusts the levels accordingly. Many models cost well over $1,000, but some can be found for less than that. Bosch was a solid performer in our 2017 review, rating four stars for overall satisfaction and for every other category except design, where it was rated three stars.
Electrolux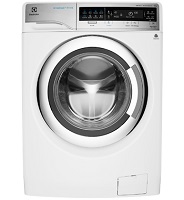 Electrolux is a Swedish brand, with a focus on innovative laundry appliances. Most of its front load washing machines skew to the high end of the capacity spectrum – above 7kg, with some models boasting 10kg capacities. Electrolux front loaders are known for efficiency, with many of its models featuring five-star energy ratings and 4.5-star or better WELS ratings. Its 10kg model (EWF14013), for example, uses just 84L per cycle, which seems quite an achievement given the capacity. Many models feature more than 10 washing programs – including quick washes – with the ability to save your favourite program. Electrolux front loaders generally cost over $1,000, but some can be found for cheaper. Electrolux was rated four stars in every category in 2017, making it a solid all-round performer.
How much electricity does your washing machine use?
Fisher & Paykel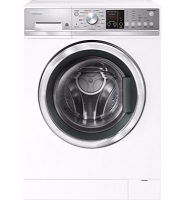 Fisher & Paykel is a New Zealand-based appliance brand, and while much of its manufacturing is offshore, the Kiwi company is still known for making innovative, feature-rich and efficient front load washing machines. Its models hover around the middle-end of the capacity range – around 7.5kg to 8.5kg – and can generally be broken into three categories – WashSmart, FabricSmart and QuickSmart. The names are suggestive, with WashSmart models having the ability to pause the wash cycle to let you insert forgotten clothes. Few brands boast this feature, and Fisher & Paykel does it with water efficiency in mind, with many models having 4.5-star WELS ratings or better. Many models can be found for under $1,000, so quality doesn't always mean high costs. Fisher & Paykel was rated four stars overall in this year's review, but it was notably the only brand to be rated five stars on value for money and features. It also earned top marks on ease of use.
LG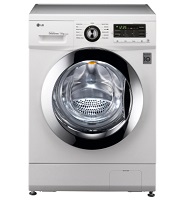 South Korean electronics giant LG boasts a fairly large range of front loader washing machines, with many models over 9kg in capacity. The dearer and larger models have fairly large feature lists, with things like 'TurboClean' and 'TrueSteam' to help take much of the fuss out of washing clothes. TurboClean helps cut rinse cycles by up to 30 minutes, with water usage cut by up to 45%. TrueSteam is a feature that uses ultra-high temperatures to steam the water and enable tough stains to be removed. To get a complement of features, you'll generally have to be willing to spend at least $1,000, while larger models can cost over $2,000. Basic models can be found for around $800. LG was rated three stars for overall satisfaction and for most other categories, while it was rated four stars for its features.
Samsung
Another South Korean appliance giant, Samsung rounds out this year's ratings with three stars for overall satisfaction, plus four stars for features. Samsung's front loader washing machines feature slick appearances, with many finish types to suit any laundry room. Capacities are on the large side, with many models exceeding 10kg. There is also a massive 16kg model available (WF16J9800KV)! Samsung is one of the few brands to boast pause-cycle functions to add more clothes – Samsung calls it 'AddWash'. With large capacities and AddWash features, Samsung's motto is 'Less Loads – More Life', and with some models featuring cycle times of as short as 15 minutes, it's easy to see why. Samsung washing machines can be found for under $1,000, while the largest ones are over $2,000 as expected.
Other brands
Aside from the six brands featured in our 2017 ratings, there are some other leading names in the world of front load washing machines that may be worth a look into. Such brands include:
Asko
Euromaid
Haier
Midea
Omega
Panasonic
Simpson
V Zug
While these brands did not garner enough responses to be included in our 2017 ratings, they still have plenty to offer. Some brands come relatively cheap, while others are feature-rich with intelligent detergent dispensers, load sensors and high energy and water efficiency ratings.
Buying a front loader: What to consider
There are pros and cons to buying a front loader washing machine, but in general they will be suited to small households or those living in a small apartment. If space is at a premium at your place, you could feasibly stack your front loader on top of – or below – your clothes dryer. You can't do that with a top loader washing machine. Here are some specific factors to think about before buying a front loader.
Capacity
The capacity of washing machines is measured in kilograms (i.e. the kg weight of your clothes). Front load washing machines come in a wide range of sizes, so it's easy to find the perfect fit for your laundry room. Front loaders can be quite small – around 5-6kg in capacity – but you'll also find plenty of larger washers around 10-11kg in capacity. Electrolux, LG and Samsung are some of the biggest names to offer large capacity front loaders, while most major brands have small models. You can find front loaders as big as 16kg in capacity!
But when it comes to capacity, bigger is not always better. Unless you like using more electricity and water than you need to, it's important to pick the right size washer for your family's needs. For households of just 2 or 3 people, front loaders with a capacity of 5-6kg should be sufficient. But for households of four or more people, you may be better off with a washer size of 7kg+. As you would expect, the larger the washing machine, the higher the purchase price.
Water and energy ratings
In addition to various fancy features, the price of washing machines is largely dictated by their water and energy efficient ratings. The higher the rating, the more efficient the washer will be and the more you'll stand to save in ongoing energy costs. However, the most energy-efficient front load washing machines come with higher price tags, so you'll need to consider whether or not the extra upfront cost is worth it.
Features
You'll generally find more interesting features with front load washing machines than their top load cousins. In addition to the obligatory range of various delayed start and cycle times, some of the most impressive front load washer features currently available allow you to:
Add clothes mid-wash: If you've ever started your washing machine only to find a stray sock in the laundry basket, then the AddWash range from Samsung might appeal. These machines come fitted with an additional small 'door' that can be opened during a cycle, allowing you to throw in those forgotten items. Other brands, including Fisher & Paykel, also boast features that allow you to pause the cycle and add more clothes.
Iron your clothes in the wash: Not content with just washing or drying your clothes, a number of manufactures now have appliances capable of 'ironing' your clothes for you. This is achieved through steam and anti-crease functions that mean your business shirts are ready to wear straight out of the washer. Miele and Electrolux are two of the brands with appliances in this space.
Wash your clothes in super quick time: If you're tired of thorough washes taking too long, you'll be pleased to know that several manufactures now boast super quick wash times, without compromising on the quality of the clean. Miele and LG are two of the brands claiming speedy yet perfect results in under an hour.
Performance & reliability
There are lots of things to consider when buying a new washing machine, but perhaps the most important of them relates to performance and reliability. You can have a washing machine with all the best features, but that's no use if the washer is unreliable and regularly causes you grief. In addition to this year's star ratings, our research identified the key drivers of overall customer satisfaction for consumers who have recently purchased a new front loader:
Performance & reliability: 29%
Value for money: 26%
Design (including appearance): 17%
Warranty: 10%
Ease of use: 7%
Features (settings and functionality): 7%
Quietness: 4%
As you can see, it's all about finding the perfect balance between performance & reliability and value for money – areas in which Miele and Fisher & Paykel were the two standout brands in our 2017 review. If you're preparing to splash the cash on a new front load washing machine, we hope our ratings report proves helpful.