Fisher & Paykel still out in front – for top loaders
A good top load washing machine can feel like part of the family. It does its fair share of chores, consumes its fair share of energy, and takes up its fair share of space. But it's also easy to take for granted. You can't choose your family, but you can choose your top loader, so you'll want to pick the best washing machine for your household's needs. Where do you start? Canstar Blue's 2017 customer review and ratings is as good a place as any.
Once again we've surveyed hundreds of households right across Australia to find out which top loader washing machines are keeping families happy, and which need to get a part time job. For the third year in a row, Fisher & Paykel has received a five-star overall satisfaction review from its customers, meaning it retains its place at the top of our comparison table. Our New Zealand cousins clearly know a thing or two about making good washing machines, with Fisher & Paykel earning five stars in almost all research categories in 2017, including performance & reliability, design, features, and ease of use.
It was four stars overall for LG and Simpson, with Samsung rating just three stars. However, all brands achieved five stars in at least two categories each:
LG received top marks for its features and warranty
Samsung earned five stars for quietness and warranty
Simpson was praised for its performance & reliability, ease of use, design and value for money
But it's the overall customer satisfaction rating that matters most – and Fisher & Paykel is still the brand to beat for lovers of top loaders.
Our 2017 survey of consumers who have recently bought a top loader found that:
Households spent an average of $665 on their top load washing machine
Consumers owned their old top loader for an average of almost 10 years
16% of respondents said they are often disappointed with their washer's performance, while 19% said it often doesn't work properly
18% of consumers wish they had spent more on a better washing machine
There are naturally pros and cons to buying a top loader or a front loader and many consumers would happily switch from one kind to the other when it's time for a change. But our survey results suggest that owners of top loaders are a little more set in their ways – they clearly know what they like and what works for them, and they see no reason to switch. A huge 87% think top loader washing machines are easier to use than front loaders and just 36% would consider buying a front loader. So, if you're certain a top loader is right for your home, let's review what the brands in this year's comparison have to offer, before offering some tips on how to pick the best model for your needs.
Top load washing machine brands in Australia
Fisher & Paykel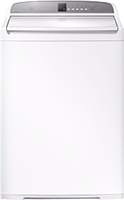 One of New Zealand's most successful exports, Fisher & Paykel has an interesting range of top load washing machines available in Australia. Like its front loader counterparts, the top loaders generally fall into three categories – WashSmart, FabricSmart and CleanSmart, with the clue to their features in their names. WashSmart models from Fisher & Paykel feature super-fast wash cycles, while FabricSmart washers are 'gentle on clothes', and CleanSmart units boast particular technologies to help clear out tough stains faster. Many models are around 8kg in size capacity, while some are as small as 5kg, with the largest weighing in at 10kg. Many of Fisher & Paykel's top load units cost around the $700 mark, but most carry price tags closer to $2,000. Fisher & Paykel was a clear winner in this year's ratings, earning five stars for overall satisfaction and for most categories, except for value for money and quietness where it rated four stars.
LG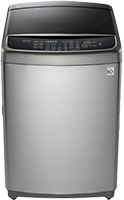 South Korean appliance giant LG has a fairly large range of top loader washing machines, with many above 8kg in capacity. LG's washing machines feature 'Turbodrum' actions, which rotates the drum clockwise, while rotating the water anti-clockwise. This, according to LG, results in an 'agitator-like' action, able to bust through tough stains, but without the wear and tear agitators can have on your clothes. Many LG washers feature multiple wash cycles, with load-sensors to reduce wastage. LG's top loaders can be found from as little as around $700, while many are priced under $1,600. LG was a solid performer in this year's ratings, with four stars for overall satisfaction. It did, however, rate five stars for features, as well as warranty.
How much electricity does your washing machine use?
Simpson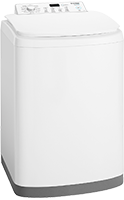 Australian favourite Simpson is now owned by Electrolux, but its focus is still on budget-friendly washing machines with a penchant for function over form. Simpson's top loaders can be found from as little as about $500, while most cost below $1,000. You can find a 10kg unit (SWT1043) from as little as $1,300. Simpson's washing machines generally feature over 10 wash programs, and aren't a slouch in the efficiency department either – the 10kg model mentioned uses 102L of water a cycle, which is quite impressive for a top loader of its size, while also being rated 4.5 stars for energy efficiency. Simpson was rated four stars for overall customer satisfaction in our 2017 top loaders review, but earned five stars in an impressive four categories – performance & reliability, ease of use, value for money, and design.
Samsung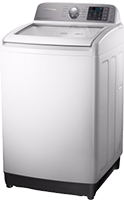 Rounding out this year's ratings is South Korean electronics giant Samsung. Its top loaders are generally easy to use and boast very large capacities, with 13kg on offer. Quick wash functions are common, as are Eco wash spin cycles. Samsung's top loaders are also generally quite cheap for their sizes, available from as little as $500, while 13kg models cost around $1,700. Samsung was rated just three stars for overall customer satisfaction in 2017, and evidently Aussies look at more than cost alone when it comes to determining value for money, as Samsung was rated three stars here, too. Samsung's top loaders were, however, rated five stars on the subjects of quietness, and warranty.
Other brands
Aside from the four major top load washing machine manufacturers rated in this year's review, there are several other brands worthy of your consideration, including:
Esatto
Euromaid
Haier
Lemair
Midea
Panasonic
Just because these brands didn't garner the required sample sizes to be included in this year's top loaders review, doesn't make them any less viable for your next washing machine purchase. So, be sure to compare a wide range of appliances before splashing out hundreds or thousands of dollars.
What to consider when buying a top loader
Top loader washing machines are perhaps best suited to large households with intense washing demands. They tend not to boast the same high-tech features as their front load counterparts, with more of a focus on providing maximum ease of use, convenience and bang for buck. Their simplicity is their genius and you won't need to pay through the nose for a quality machine. But you will need enough space to house one!
Top load washing machines fall into two categories – agitator and impeller.
Agitator top loaders have a round, plastic column in the middle of the unit, which twists and turns to deliver a seriously thorough clean. This technology has come a long way in recent times, but agitator washers have been criticised for being rough on clothes.
Impeller top loaders are less common, but have increased in popularity in recent years, with many manufacturers focusing their efforts in this area. Instead of a central column, these top load washers have a propeller-like device at the bottom of the barrel, with the aim of producing a gentler cleaning performance.
Whichever type of top loader you decide is your best bet – both should do the job perfectly fine – you'll need to give serious thought to factors such as capacity and energy efficiency, which will have a direct impact on purchase prices and ongoing energy costs. However, the good news is that, owing to their generally more modest features, top loaders tend to be cheaper than front loaders.
Capacity
It goes without saying that the larger your washing machine capacity, the more it will cost you upfront. But as top loaders are generally cheaper than front loaders, you should still be able to get a lot of washing machine for your money. You'll find a few brands offering top loaders with size capacities of between 10 and 14 kilograms (this refers to the weight of your clothes), while units around 8kg tend to be the most common. It's tempting to buy a large capacity washer just in case you'll need it, but consider whether or not you'll really be getting your money's worth – not just in terms of purchase price, but the wasted energy of running a half-empty machine. For average households of 3 or 4 people, an 8kg top loader should be sufficient.
Water and energy ratings
It's easy to get distracted by an appealing purchase price and forget about an appliance's water and energy ratings. You can learn how energy-efficient a washing machine really is by checking its star ratings – the more stars, the more energy efficient it will be, and the less it will cost you in ongoing bills. There are separate star ratings for water and energy efficiency. However, keep in mind that the higher the energy ratings, the higher the purchase price will usually be. You will need to consider whether you want to save money at the time of purchase, or over the course of several years through reduced energy consumption.
Performance & reliability
At the end of the day, you'll want a top load washing machine that you can depend on. Image if your machine suddenly stopped working for some inexplicable reason! That's why performance & reliability has emerged as the most significant driver of overall customer satisfaction from our latest research. Sure, everyone wants to bag a bargain, but the last thing you'll want is buyer's remorse when something goes wrong with your cheap unit. We identified drivers of customer satisfaction in the following order of importance:
Performance & reliability: 28%
Ease of use: 18%
Value for money: 15%
Design (including appearance): 13%
Features (settings and functionality): 13%
Quietness: 8%
Warranty: 6%
The most notable difference between these outcomes and those from our latest review of front load washing machines is that the factor of 'ease of use' really comes to the fore. If you want a new top load washing machine that delivers on performance & reliability, ease of use and value for money, our ratings suggest Fisher & Paykel and Simpson stand out as good contenders. But be sure to compare a wide range of options before deciding which is best for your family.