When it's time to buy a new TV, you have a couple of choices. You can splash out thousands of dollars on one of the latest high-tech models promising to immerse you in the ultimate viewing experience, or you can opt for a much cheaper model for just a few hundred dollars, which will still do the basic job, but without all the bells and whistles. Whichever option takes your fancy, Canstar Blue's annual TV review and ratings offers a helpful guide as to which television brands are keeping Aussie consumers the most satisfied. Do the cheap and cheerful manufacturers like TCL, Soniq and Kogan offer the best overall bang for your TV buck, or are you better off forking out a little extra for improved quality? That's a question we seek to answer in this report.
To find out which TV brands are rated highest in Australia, we surveyed more than 800 adults who have purchased a new flat screen TV over the last two years. Respondents were asked to review their new TV based on a range of factors:
Picture/sound quality
Ease of use
Value for money
Warranty
Other functions
Overall satisfaction
Eight leading brands received the minimum sample size required to be included in the ratings, but only Samsung received an overall five-star review from Aussie consumers. Samsung rated five stars across most categories, with the exception of value for money where it earned three stars. So this brings us back to our original question: Is it worth spending more on a top of line TV when cheaper models will do the basics just fine? Ultimately only you can decide which TV is best for your budget, but we hope our ratings provide some help along the way.
Samsung may have been rated highest overall, but there were also some standout reviews for other brands.
Hisense was praised for picture/sound quality and ease of use, rating five stars in both areas
Aussie brand Kogan was the only one to achieve a five-star review in terms of value for money
There was little to separate other leading manufacturers Sony and LG, while Panasonic rated just three stars overall alongside what you would usually consider the cheaper brands, Soniq and TCL. It's worth saying that these ratings incorporate feedback received on all types of TV technology, including LED, LCD, OLED and 4K.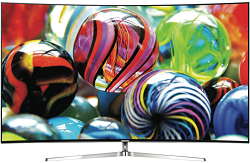 Overall, we found Aussies spend an average of $1,518 on new TVs. That may seem like a lot, but when you consider that the likes of Samsung have TVs costing well in excess of $10,000 (like the Samsung 78 inch Curved Smart TV pictured), it suggests there are still plenty of people buying cheaper models for just a few hundred bucks. Indeed, there are plenty of bargains to be found – you can pick up a 55 inch Kogan 4K Smart TV for under $700, so it's always worth shopping around.
So what should you look for in a new TV? There are so many different acronyms flying around these days, so it can be hard to keep up. Here is a guide to different TV types to help you make an informed decision:
What is a 3D TV?
3D TVs are those that allow you to watch TV in three dimensions, making it feel like you're part of the action. 3D TVs gained much hype and fanfare a couple years ago, but the hype has decidedly levelled out since then. Many 3D TVs will come with a few pairs of 3D glasses so you really feel involved in that blockbuster movie you've been looking forward to watching. The problem is that many TV channels, and movies, are not produced with 3D in mind, vastly limiting the content you are able to watch. However, with your 3D TV you can also watch in 2D, of course.
Are LED and LCD TVs the same?
While it's a common belief that they are different, LED and LCD technically refer to the same type of TV, but the acronyms refer to different parts.
LED stands for 'light emitting diode'
LCD stands for 'liquid crystal display'
However, where they differ is the fact that LCD TVs are a somewhat older technology, which use fluorescent lights to light the display, while LED TVs use diodes that emit light. LEDs can be placed behind the screen or around the edges, whereas LCDs are generally only placed behind the screen. The end result is that LED TVs can get away with a thinner profile while also delivering potentially greater energy efficiency.
What about OLED TVs?
OLED stands for 'organic light emitting diode', which means the light comes from the diode itself and can switch on and off automatically. One of the many benefits of OLED is that its blacks are 'blacker blacks' than LED and LCD blacks. That's very black. The way this works is that black with OLED TVs simply means the absence of light, so what you're seeing is a void, rather than a manufactured colour like with LED and LCD TVs. This can also potentially aid in energy efficiency, especially with dark pictures, while bright shows such as ice hockey will likely consume similar amounts of energy to more traditional TVs.
Currently only LG makes 'OLED' TVs specifically, however Samsung announced in early 2017 its answer to the OLED fanfare, and it's called 'QLED'. While QLED still requires its own backlighting panel, Samsung's use of 'quantum dot' technology means that picture quality and depth is comparable to LG's OLED models. So what is 'quantum dot' you ask? Quantum dot technology is basically the use of tiny extra particles between two and 10 nanometres in diameter. The end result is likely richer, finer colour contrast and a more vivid picture. However, the jury is out on OLED vs QLED overall.
What is 4K TV?
4K TV is four-times the resolution of regular HD TV, with a resolution of 3840×2160. The end result is that there are four pixels found with 4K in the same space that HD TV hosts one pixel. So what does this mean for you? Ultimately, it means better quality picture, with more rich and clear detail. This is good for those blockbuster movies and sports where every detail counts. Currently, streaming service Netflix has a wide variety of its own-made shows in 4K quality. While you'll need a 4K TV, receiver and top-tier Netflix subscription to get the most out of it, it's a promising sign that better quality is still to come. However, the trade-off is that with more detail comes a bigger download quota. While one hour of HD Netflix can consume up to three gigabytes per hour, 4K quality streaming can consume double that and more!
What is a smart TV?
Smart TVs can connect to the internet and many have their own browser and apps for services like YouTube and Netflix, among other services. In the world of 'smart' devices, you can probably guess that smart TVs do a lot more than just broadcast TV, like a mobile phone nowadays does more than just make calls. With many smart TVs you get access to PVR and digital tuners with digital TV guides. Smart TVs are a good 'one stop shop' for the ultimate in modern TV entertainment as you can easily watch regular TV while also being able to sync your Netflix and other streaming accounts, as well as watch catch-up TV services like ABC iView at will.
What size TV should I get?
If you're serious about home theatre, then the biggest one you can afford! However, this depends on your own needs and budget, but also depends on how far you'll be sitting from the TV, which is somewhat dependent on the size of your room. It's recommended that you sit 1.5-2.5 times the diagonal width of the TV away with HD TVs, and 1-1.5 times the diagonal width of the screen away from your 4K TV.
For a 55" HD TV, that's anywhere from about 7 to 12 feet (2.15m to 3.66m)
For 4K TV, that equates to about 4.5 to 7 feet for the same screen size (1.37m to 2.15m)
This is likely a lot closer than you think, but it pays to test out screen sizes in-store, keeping in mind your living room size and how far away your couch will be. Beyond that, one third (34%) of respondents to our survey said their TV size is between 50 and 60 inches – so it might pay to go with the masses on this one.
Which brand should you go with?
Now that you have an idea about the different types of TV technology on the market, it's time to find the right brand for your needs. Let's get an overview of the eight leading brands in this year's ratings.
Samsung
Samsung is perhaps one of the most popular TV brands out there, and its range of innovative and quality TVs ensures it remains a fan favourite. Its flagship technology is its 'quantum dot' display, which aims to create richer and deeper colours.
As for the Samsung range, many models are gargantuan in size, boasting curved screens for a wider viewing experience. It's perhaps no surprise that Samsung took out top spot in our ratings with five stars for overall satisfaction and for every other category except value for money.
Many of Samsung's televisions cost over $5,000, with some costing $12,000 – the same price as a small car! Samsung's newest technology – QLED – is also nothing to sneeze at, and expect to pay a pretty penny for these tech-packed TVs. You'll have to decide if they're worth the investment.
Hisense
Hisense performed well in two of arguably the most important categories – quality, and ease of use. Hisense earned four stars for overall satisfaction and four stars for every other category, which is a strong result.
While Hisense doesn't produce any particularly tech-forward televisions, what it does produce are solid TVs at a price more affordable for many. You'll get all the usual features you come to expect in a modern TV – smart capabilities, HD or ultra HD on an LED/LCD screen. Its largest screens come in at around 75 inches, and you can expect to pay between $3,000 and $5,000 for such a large screen size. Its smallest TV screens come in at around 24 inches, with prices as low as around $300.
Sony
Sony is a longstanding brand in the TV world. Frequently boasting new technologies and known for its tech-forward approach, Sony earned four stars for overall satisfaction. It also achieved four stars in important categories like quality and ease of use. It also achieved four stars for its 'other functions', which includes features like smart TV. It achieved three stars for value for money, and warranty and service.
Compared to some other brands, Sony TVs are a little bit dearer, with sizes starting around 40 inches, and for that you can expect to pay $1,000, while screen sizes above 65 inches fetch premiums of over $5,000. The bonus is smart functions come pretty much as standard across most Sony models.
LG
LG boasts a large range of TVs, ranging from regular old HD TVs to high-end 4K TVs, as well as its signature OLED series. In fact, LG's 4K series claims to boast 20% more colours than regular LED TVs. LG is also known for producing some huge TVs, with models nearing 80 inches. A 79 inch model costs nearly $9,000.
LG is another example of a brand not needing to necessarily offer 'bang for buck' to satisfy customers; LG earned four stars for overall satisfaction, but achieved only three stars for value for money, as well as ease of use, and warranty and service. It scored four stars in terms of picture and sound quality.
Kogan
Online super retailer Kogan is probably best known for its range of cheap, grey-market electronics, as well as prepaid phone plans. But it also has its own brand of televisions. Kogan has a pretty large range of TVs, from regular HD to 4K quality. Many feature smart capability as standard, with built-in Netflix apps. Many also run on the Android operating system, so you're afforded familiarity and thousands of apps on Google Play.
Kogan is known for being cheap, and this is reflected in its five stars for value for money – the only brand to do so. It achieved a mixed bag of results overall, but earned four stars for overall satisfaction. Evidently, you can get quite a lot of 'bang for your buck' with Kogan, with many 65 inch TVs costing around $1,500.
Panasonic
Once THE benchmark brand for TV innovation, Panasonic appears to have slipped a little, at least according to our customer reviews. It earned three stars for overall satisfaction, and in many other categories. It did, however, earn four stars in arguably the most important one – quality.
Panasonic is still a tech-forward company, boasting a large range of TVs with 4K resolutions, and various technologies designed to make the viewing experience better. Panasonic would be proud to announce that its TVs are THX certified, with many of its TVs having passed over 400 lab tests from the home theatre company, meaning Panasonic is still a force in the home theatre world. As for prices, expect a 65 inch TV to cost around $4,000, which is nothing to sneeze at.
TCL
A generally cheaper brand, TCL may represent a great option for those on a budget, or for those looking for a second TV for the kids' room. Exclusively sold at The Good Guys, TCL TVs achieved three stars for overall satisfaction. The brand also rated three stars in every other category, except for warranty and service where it achieved four. This could be because of The Good Guys' fairly generous returns and refund policy.
As for the range, most TVs come in HD or 'ultra' HD guise, and some bargains can definitely be had. A 32 inch TV, for example, costs less than $300. If you're after something a bit bigger, a 60 inch smart TV costs around $1,000, which is evidently a lot less than some of the bigger players in the TV market.
Soniq
Rounding out the table, Soniq is yet another budget-oriented brand. Soniq is no slouch, however, as it offers about 40 TVs in Australia, with many being extremely cheap. Some cost less than $150, while some over 60 inches, with smart features and 4K quality, can often be had for under $2,000. However, price alone is evidently not enough to win over consumers, as Soniq rated three stars on value for money and overall satisfaction, but it did achieve four stars for ease of use.
Soniq is a brand best found at JB Hi-Fi locations around Australia, and JB Hi-Fi's penchant for providing hot sales and other discounts means a Soniq TV could potentially be snagged for pretty cheap, making it a great budget TV if that's what you're looking for.
The final word
There's never been a better time to buy a new TV. Manufacturers are constantly trying to outdo each other by including and developing advanced technologies to make consumers' viewing experience second to none. As a consequence, those wishing to be at the forefront of technology may have to be prepared to pay a premium, with TVs often costing $5,000 or more. In this case it can be worth looking at brands with reputable warranty periods and servicing to ensure your prized possession is well taken care of should anything go awry. In any case, you can essentially expect to get what you pay for, and the bigger brands have a good reputation for a good reason.