GPS Navigators – 2010 Ratings
Posted by Canstar Blue December 7th 2010
You are viewing the archived 2010 ratings for GPS navigators. Go to the current GPS navigator ratings.
* Overall satisfaction is an individual rating and not a combined total of all ratings. Brands with equal overall satisfaction ratings are listed in alphabetical order.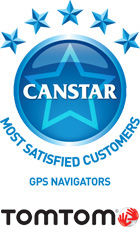 TomTom plots a roadmap for happiness
If the old clichés are true, women can't read maps, and men won't ask for directions. The GPS navigator has been touted as a way to avoid stress and potential fights in the car. But how satisfied are users of the different car GPS systems?
TomTom has won the gong for Most Satisfied Customers – GPS Navigators in our recent survey. With a leading performance across every criteria, TomTom is clearly a strong choice when it comes to choosing a sat nav brand.
Garmin have also performed well, scoring four or five stars for customer satisfaction across every criteria.
"Consumers just want a GPS that works," said Steve Mickenbecker, Head of Research at Canstar Blue. "They are frustrated by inaccurate maps that have either never been right, or do not recognise road changes that have been in place for a number of years. A number of respondents reported getting lost on a number of occasions from following GPS instructions, and they still carry paper maps as a back-up."
Respondents are also unhappy with the expense associated with maintaining a GPS navigator, including the need for regular – and expensive – software upgrades, and the fact that some models require the purchase of additional accessories, to allow the upgrades.
When it comes to gender, it appears that females are more satisfied overall with their sat navs, but males are happier with how easy they are to use.
Canstar Blue commissions Colmar Brunton to survey 2,500 Australian consumers across a range of categories every few months to measure and track customer satisfaction. The outcomes reported are the results from buyers of GPS navigators within the survey group. To qualify, the GPS has to have been bought within the last two years.
Overall satisfaction
TomTom was the five star winner in this category, followed by Garmin on four stars and Navman and Mio on three stars.
Price
Garmin, TomTom and Mio could not be split when it came to price, each scoring five stars. Navman followed on four stars.
Screen display
TomTom and Garmin performed equally well in the eyes of their users, each scoring five stars. Mio and Navman scored four stars.
Software upgrades
TomTom was the clear winner in this category, followed by Garmin and Navman on four stars, and Mio on two stars.
Accuracy (of maps and directions)
TomTom customers were the most satisfied with the accuracy of the maps and directions provided by their GPS, followed by Garmin on four stars and Navman and Mio on three stars.
Ease of use
TomTom customers have proved the most satisfied in this category, ahead of Garmin on four stars and Navman and Mio on three stars.