You are viewing the archived jam ratings. Follow the link to view the current jam ratings.
Find a great jam or marmalade spread by comparing brands with our customer satisfaction ratings.
* Overall satisfaction is an individual rating and not a combined total of all ratings. Brands with equal overall satisfaction ratings are listed in alphabetical order.
Canstar Blue research finalised in July 2015, published in September 2015.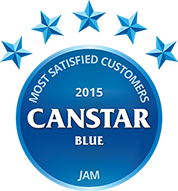 Most Satisfied Customers | Dick Smith
Dick Smith products are sourced in Australia from Australian-owned companies, using Australian grown ingredients. And in this case, the Dick Smith brand has catapulted South Australia-based Spring Gully Foods' home-grown produce onto supermarket shelves across the country – and to Canstar Blue award success.

Start spreading the news: Dick Smith awarded for jam satisfaction
Nothing gets the taste buds tingling in the morning quite like a generous helping of sweet, delicious jam. The smell, the texture, the taste – it's pure breakfast heaven in a small jar. It doesn't matter whether you're eating toast, crumpets, scones, bagels, pancakes or croissants, jam has got your back! Name something that isn't better with jam? You can't, can you?
Breakfast is the most important meal of the day, so you'll want it to get off to the best possible start. But which jam gets us licking our lips more than any other? To find out, we asked almost 1,500 Aussies to rate the brand they most recently bought and we're happy to report that Dick Smith's branded fruits spreads earned the most sticky thumbs up from jam-lovers.
Dick Smith products are sourced in Australia from Australian-owned companies, using Australian grown ingredients. And in this case, the Dick Smith brand has catapulted South Australia-based Spring Gully Foods' home-grown produce onto supermarket shelves across the country – and to Canstar Blue award success. Dick Smith's spreadables include orange, raspberry, apricot and, of course, strawberry.
Australia's favourite jam flavour
We didn't just want to know which brand of jam was the most satisfying to Aussie taste buds, we also wanted to find out which flavour we love the most. As you can see, strawberry was a clear winner.
Strawberry 42%
Raspberry 20%
Apricot 11%
Blackcurrant 7%
Plum 6%
Orange 5%
Blueberry 5%
And what do we love to eat with our jam more than anything else? You guessed it… toast. Jam on toast is a staple food in many households and 78% of adults told us they are more likely to eat jam on toast than anything else, while 9% tend to crave crumpets with their favourite spread. The remaining 13% were left arguing over bagels, scones, pancakes and Weet-Bix.
What's jam made of?
Naturally the ingredients of jam are going to vary depending on the flavour and brand you buy, but as a guide, Dick Smith's strawberry spread lists the following ingredients:
Strawberries (55%)
Pear Juice Concentrate
Pectin
Food Acid (334)
Natural Flavour
While Dick Smith's spreads include no added cane sugar, some brands do. Other strawberry jams may include things like concentrated lemon juice, mineral salt or glucose syrup.
How to store jam
You may love your jam, but it's one of those products that you're unlikely to fully consume within a few days of opening the jar – that would be a serious jam binge. So how should you store it? Well, thanks to their fruit content, jams are naturally acidic – this helps to inhibit the growth of any bacteria that might cause an upset stomach or allergic reaction. Moulds are more resistant to acidity, however, which is why you might find it growing on opened jars if you leave jam exposed around the rim (don't just recklessly scrape jam off a knife or spoon onto the jar).
Normally jam does not need chilling if it is consumed within six months, but you must use clean utensils to remove jam from the jar – dirty knifes or spoons could spark mould growth. So you can feel confident leaving jam in your pantry at room temperature, but only if you plan to eat it all within a few months.
Frequently asked questions
Canstar Blue commissions Colmar Brunton to regularly survey 3,000 Australian consumers across a range of categories to measure and track customer satisfaction. The outcomes reported are the results from customers within the survey group who have purchased and eaten jam within the last month – in this case, 1,487 people.
Brands must have received at least 30 responses to be included. Results are comparative and it should be noted that brands receiving three stars have still achieved a satisfaction measure of at least six out of 10. Not all brands available in the market have been compared in this survey. The ratings table is first sorted by star ratings and then alphabetically. A rated brand may receive a 'N/A' (Not Applicable) rating if it does not receive the minimum number of responses for that criteria.
Dick Smith Foods
Dick Smith Foods believes in supporting Australian industries and products which are made by Australian-owned businesses operating "in a highly ethical manner". The company encourages consumers to buy locally-produced goods and the profits made from its products are donated to charitable organisations. Dick Smith's jams are produced by South-Australian-based Spring Gully Foods and are stocked in some Woolworths, Coles and IGA supermarkets.
ALDI Grandessa
ALDI's Grandessa brand jam is the supermarket chain's private label jam and comes in a variety of different flavours.
Anathoth
Anathoth Farm jams promise simple ingredients – nothing more, nothing less. Its fruits are grown across New Zealand and jam flavours include rhubarb & red berry, blackcurrant and boysenberry. Anathoth also produces a range of marmalades, curds, chutneys, pickles and relishes.
Beerenberg
Beerenberg Farm is an Australian producer of jams, condiments, sauces and dressings, based in the Adelaide Hills of South Australia. Its products are available in most major supermarkets and you can also buy online. Jam flavours include satsuma plum, pear & vanilla, and caramelized fig.
Bonne Maman
Bonne Maman jams are made from "time-honored traditional French recipes" and feature "only the finest quality fruit". Bonne Maman products are produced in France but "could easily be found in your grandmother's kitchen cabinet". Those products include a wide range of jams, jellies and preserves.
Cottee's
Cottee's is well-known for its range of cordial drinks, but the brand also boasts a wide variety of jams, including raspberry, blackberry and plum.
IXL
IXL says its jams have been part of the Australian breakfast ritual since way back in 1898. With classic flavours like strawberry and apricot, IXL believes its products are "just like nana used to make". It also has a range of spreads with 50% less sugar and "special blends" like raspberry & coconut, and apple, rhubarb & cinnamon.
Rose's
Rose's range of jams and marmalades include strawberry, raspberry, lime and sweet orange. You'll find them in most major supermarkets.
St. Dalfour
St. Dalfour says its fruit spreads are Australia's favourite. They are "synonymous with good taste" and no not contain any added sugar, only the natural sweetness or concentrated grape juice. St. Dalfour says its spread are not only ideal with toast and croissants, but a delicious fruit complement to cold cuts of meat or poultry. Flavours include cranberry & blueberry and pear & royal fig.
Coles
Coles' private label range of jams include strawberry and plum. They are a premium brand of private label products.
Coles Smart Buy
The supermarket chain's cheaper private label products, Smart Buy flavours include strawberry, apricot and marmalade.
Woolworths Homebrand
Homebrand is Woolworths' cheaper private label brand and includes strawberry flavour.
Woolworths Select
Woolworths Select is the supermarket chain's premium private label brand and includes strawberry flavour.