2015 Online Grocery Shopping – Fresh Food
You are viewing the archived ratings for Online Grocery Shopping – Fresh Food. Go to the current online groceries ratings.
Thinking about buying your groceries online, but not sure which website to choose? Use our customer satisfaction ratings to find the best store for your needs.

* Overall satisfaction is an individual rating and not a combined total of all ratings. Brands with equal overall satisfaction ratings are listed in alphabetical order.
Canstar Blue research finalised in October 2015, published in November 2015.
Who buys groceries online?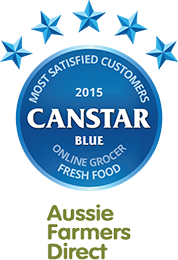 Our research found that women (27%) are more likely than men (21%) to have bought groceries online in the last six months. However, of those who have done so, men (22%) were more likely than women (18%) to do all of their grocery shopping this way. This suggests women are more inclined to 'top-up' their big online shop with the occasional visit to a physical store.
In terms of demographics, adults aged in their 30s were most likely to have bought groceries online in the last six months (37%), followed by 18-29 year-olds (30%) and consumers in their 40s (29%). Those aged 70 and over were least likely to have done so (9%). However, of those older Australians who are already familiar with the online shopping process, there is a strong willingness to do all of their shopping this way in future.
Why do people buy groceries online?
Our survey found that 35% of consumers buy their groceries online because it's easier than shopping in a physical store (i.e. getting their shopping home themselves), while 24% struggle to find the time to shop in store, 17% believe it works out cheaper buying online, and 7% just don't like visiting supermarkets. Interestingly, men (21%) were more likely than women (14%) to think it's cheaper buying online.
The majority of survey respondents (55%) always use the same website when they buy their groceries online, but 36% have tried more than one online grocery store. And most consumers (64%) are inclined to click onto the website of the supermarket chain they usually buy from in person.
Is buying groceries online cheaper?
More than half of consumers (58%) said they tend to spend less online than they would if they bought their groceries from a bricks and mortar store. Overall, survey respondents reported an average spend of $130 on their weekly online shop. A previous Canstar Blue survey found that consumers spend an average of $138 per week when they buy groceries in store.
It's interesting to note that consumers tend to spend less shopping online, despite the added cost of delivery, which will vary between retailers and is often dependent on the amount you spend on your groceries. However, it's worth remembering that buying online arguably makes you less likely to impulse buy other products that perhaps weren't on your shopping list in the first place. Shopping online could also make you more price-conscious and willing to select a cheaper option if it's available. You could argue that shopping online allows you to pay closer attention to your spending, when it's easier to get carried away in store.
Delivery costs
The cost of having your groceries delivered will depend on your location and how much you spend. Some retailers have flat shipping fees for metro areas but different rates for regional customers, while others will determine costs based on more specific requirements. Coles says its delivery costs depend, in part, on the day you want your groceries delivered and the length of 'delivery window' chosen. Coles also currently offers free deliveries for first orders and on Wednesdays, but only if you spend $100 or more. Woolworths has set delivery rates based on the cost of groceries, with orders of $300 or more delivered free of charge. Woolworths also has a 'Delivery Saver' option which allows customers to save money on costs in the long term by purchasing a regular delivery package in advance. Delivery costs and conditions can vary significantly between retailers, so pay close attention before deciding which website to use.
Click and collect
Coles and Woolworths both provide 'click and collect' services at some stores. This basically means that customers can order their groceries online, but instead of waiting for them to be delivered to their home, they can collect the order from a selected location. So you're paying for someone else to walk around the supermarket for you! Coles says its service is free, but it has a $50 minimum spend, while Woolworths also says delivery is free and that customers can pick up their groceries from a store, BWS 'drive thru' or Woolworths-branded service station. Our survey found that 30% of online grocery shoppers use the click and collect option.
Online grocery shopping frustrations
Some consumers may spend less money at the online checkout than they would in store, but grocery shopping online is not without its frustrations. Delivery costs are the biggest cause of complaint for 30% of online shoppers, we found. Following that, 18% said their greatest issue was receiving replacement items for products that were unavailable, and 15% cited uncertain delivery times as their major bugbear. Only 11% complained that the website was too difficult to use (i.e. the ordering process) and the same number (11%) were most upset about a lack of special offers online.