2015 Online Grocery Shopping – Home & Pantry
You are viewing the archived ratings for Online Grocery Shopping – Home & Pantry. Go to the current online groceries ratings.
Thinking about buying your home and pantry groceries online, but not sure which website to choose? Use our customer satisfaction ratings to find the best store for your needs.

* Overall satisfaction is an individual rating and not a combined total of all ratings. Brands with equal overall satisfaction ratings are listed in alphabetical order.
Canstar Blue research finalised in October 2015, published in November 2015.
Grocery Run and Aussie Farmers Direct lead online shopping satisfaction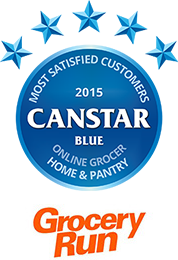 Online grocery shopping remains relatively niche in Australia, but for some consumers it's a very convenient and even essential service. Our survey of 6,014 adults found that one in four (25%) have ordered groceries online in the last six months and of those who have, just one in five (20%) choose do all of their shopping this way.
It seems many Australians are curious about the benefits of buying their groceries online, but the majority don't feel the need to make a permanent transition as they remain content with the current offerings provided by the bricks and mortar stores. And consumers often prefer to physically inspect certain grocery items before purchasing them, particularly when it comes to fresh fruits and vegetables, dairy products and meats. However, 42% of the 1,474 adults who have bought groceries online in the last six months said they expect to do the majority of their shopping this way in future. And as online grocery retailers continue to develop their services, it seems a reasonable assumption that more and more consumers will choose to shop this way in the coming years, even if it is only occasionally.
The online grocery market is largely dominated by Australia's two biggest supermarket chains, Woolworths and Coles. But while discount chain ALDI currently presents the fiercest challenge to their bricks and mortar stores, they face arguably greater online competition from a number of other retailers, which specialise in either fresh food or home and pantry products. ALDI does not sell groceries online.
At Canstar Blue, we're not interested in market share. We want to know which online grocery chain Australian consumers believe offers the best overall bang for their buck, and our survey of shoppers has formed our inaugural customer satisfaction star ratings in this category. As the online offerings of the big supermarkets chains and smaller grocery retailers present two rather different shopping propositions, our results have been split into two sections to help consumers decide which option is best suited to their grocery needs. One focuses on consumers who want to buy fresh produce online, while the other relates to those who want to stock up their pantry with packaged foods and buy all those everyday essential household products.
When it comes to home and pantry products, we found Grocery Run to be the rated highest online store, while Aussie Farmers Direct topped the table in regards to fresh food customer satisfaction. They both scored five-star reviews on value for money and overall satisfaction.