While the Western Australian gas market has been fully contestable since 2004, Alinta Energy was the state's only residential and small business gas retailer for many years. In March 2013, however, Kleenheat launched its WA gas retail service, stepping up as the first and only serious challenger to Alinta in Perth and other areas along the west coast.
So how do these two gas suppliers compare in the eyes of the people who matter most? Canstar Blue sought to find out by surveying bill-paying customers across WA, with their feedback reflected by the ratings table you see above.
In our inaugural review and ratings for gas suppliers in Western Australia, Kleenheat received five stars for overall satisfaction, as well as top marks on billing clarity and customer service. It also recorded four stars on value for money and energy efficiency advice. It rated three stars on environmentally sustainability. Kleenheat is part of the Wesfarmers group, which also includes supermarket giant Coles and retail stores such as Target, Kmart and Bunnings.
Alinta Energy was rated four stars overall, as well as four stars for billing clarity and customer service. It received three stars on value for money and environmentally sustainability. Alinta is owned by global investment firm TPG, but is set to list on the ASX.
There may only be two natural gas suppliers for residential customers in WA, for now, but that still gives you another option if you're not entirely satisfied with the service you're currently receiving, or the price you're paying. In this report, we'll guide you through the basics of gas supply in WA, to help you better understand your options and potentially find a better deal.
Where is natural gas supplied in WA?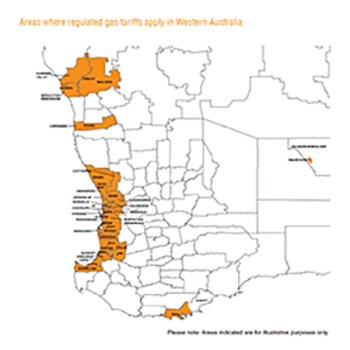 Our customer ratings are based on the feedback of natural gas customers, rather than those who purchase bottled LPG. In order to connect natural gas to your home or business, you must live in an area with reticulated gas mains. As you can see from the map, supplied by the WA Department of Finance, natural gas is only available in the more populated regions of the state, including areas surrounding Perth, Busselton, Gingin, Albany, Kalgoorlie-Boulder, Geraldton, Mullewa and Carnamah.
Alinta Energy services all of the highlighted areas in the map, while Kleenheat services those regions along the west coast, from Busselton to Geraldton, including the greater Perth area. In Kalgoorlie-Boulder and Albany, Alinta is the only natural gas provider.
If natural gas is not available to your property, a gas supplier may be able to arrange a quote from the network operator to extend the gas mains to your home or business. However, this is only practical if the property is already near a gas network. Alternatively, If the property is located in a remote area, the only option for gas may be bottled LPG. Kleenheat and Alinta Energy both operate LPG services in some areas, as do other retailers including Elgas, Origin Energy and Plusgas.
WA gas prices
Gas prices in Western Australia are regulated by the state government for small use customers. A customer is considered to be 'small use' if their property uses less than 1 terajoule (TJ) of gas per annum. This will realistically include all households and most small businesses.
The price of natural gas in WA is made up of supply and usage charges.
A supply charge is a daily fee for being connected to the mains gas network and applies regardless of whether or not the property uses any natural gas that day
Usage charges are incurred for the natural gas actually used. These charges are provided in terms of 'units', with one unit equating to 3.6 megajoules of gas – equivalent to 1kWh of electricity
Customers in the Kalgoorlie-Boulder and Albany areas are charged a standard flat rate on gas usage. However, customers in Mid-West/South-West WA (i.e. Perth, Geraldton, Carnamah and surrounding areas), are charged in block usage rates. Under this pricing structure, customers receive one rate for the first 12 units (43.2 MJ) of gas used per day, and a lower rate for any additional gas usage beyond that. To put that into perspective, the average gas oven will use around 12 megajoules an hour.
Below are the current residential base prices for mains natural gas in WA, including GST.
Mid-West/South-West WA Gas Prices (Including Perth)
| | | | |
| --- | --- | --- | --- |
| | Regulated price cap | Alinta Energy | Kleenheat |
| Supply charge | 20.85 c/day | 20.85 c/day | 20.58 c/day |
| First 12 units used on average per day | 14.39 c/unit | 14.39 c/unit | 14.20 c/day |
| Over 12 units used on average per day | 12.98 c/unit | 12.98 c/unit | 12.81 c/day |
Source: Department of Finance and retailer websites. Prices as of 1 July 2016
Kalgoorlie-Boulder Gas Prices
| | Regulated price cap | Alinta Energy |
| --- | --- | --- |
| Supply charge | 46.87 c/day | 46.87 c/day |
| Energy charge | 13.36 c/unit | 13.36 c/unit |
Source: Department of Finance and retailer websites. Prices as of 1 July 2016
Albany Gas Prices
| | Regulated price cap | Alinta Energy |
| --- | --- | --- |
| Supply charge | 22.50 c/day | 22.50 c/day |
| Supply charge additional dwellings | 11.24 c/ day | 11.24 c/ day |
| Energy charge | 16.36 c/unit | 16.36 c/unit |
Source: Department of Finance and retailer websites. Prices as of 1 July 2016
Kleenheat also offers conditional discounts on natural gas usage charges, presenting customers with the opportunity to reduce their bills. Customers who sign up to Kleenheat's standard form contract receive a 10% discount when they pay their bills on time. Alternatively, customers who opt to pay bills via direct debit with Kleenheat's 'Monthly Smart Saver' will receive a 20% discount on usage charges.
Where does natural gas come from?
Natural gas is produced and refined by large, international fuel companies such as BHP Billiton, BP, Chevron, ExxonMobil, Santos, Shell and Woodside Energy. Most of Western Australia's gas supply comes from the off-shore Carnarvon, Browse and Bonaparte basins. Once it's extracted, the gas is transported to mains gas systems across the state via high-pressure gas pipelines.
The natural gas mains system is operated and maintained by ATCO Gas Australia (formerly WA Gas Networks). This is who you should contact if anything goes wrong with your gas supply, or in case of an emergency, such as a gas leak. ATCO is responsible for meter readings and passes this information onto your retailer. Kleenheat or Alinta will then bill you for your gas usage and collect the additional supply charges on behalf of ATCO.
Natural gas for businesses
Both Kleenheat and Alinta Energy also provide natural gas to business customers of all sizes. Medium to large businesses also have a few extra options as Synergy and Perth Energy retail natural gas to customers consuming at least 180 gigajoules (GJ) of gas per annum, or about $6,000 per year. Businesses that don't use this much natural gas will remain limited to Alinta Energy and Kleenheat.
As WA gas prices are only regulated for customers consuming less than 1 TJ of natural gas per annum, large businesses are free to negotiate rates with their retailer.
What's next for WA gas?
The Western Australia government has allowed competition in the residential gas market for years, and things finally look set to heat up. AGL, Origin and Perth Energy have all announced their attentions or plans to supply WA households, joining Kleenheat in challenging Alinta and potentially more than doubling the number of residential gas retailers operating in the state. Perth Energy is seeking expressions of interest from households, claiming to offer discounts of up to 25% on some residential tariffs, while AGL is reportedly set to reveal the full details of its WA launch some time in 2017, and Origin has confirmed its application for a gas retail license in the state.
Our survey of WA gas customers found that 27% would like to switch gas suppliers but consider the process too daunting. In addition, 21% said they would like to switch but can't find the time. However, 84% of respondents said they were 'generally happy' with their gas supplier.
Interestingly, our research found that natural gas customers in WA are generally more satisfied with their service than customers in other states of Australia. However, with new retailers likely to join the residential gas market in the years to come, customers should regularly review their energy options and compare plans in their area. While gas prices remain regulated, the retailers can still compete to offer the best deals and service.