You are viewing the archived 2011 ratings for Breakfast Cereals. There are no immediate plans for Canstar Blue to update this rating in the future.
You are viewing the archived 2011 ratings for Breakfast Cereals.
Uncle Tobys Oats the breakfast of champions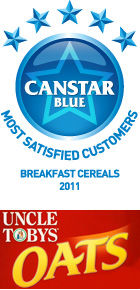 Our latest survey has revealed 25% of Australians surveyed don't check the nutritional information before choosing a breakfast cereal for the most important meal of the day, despite Australian obesity rates being amongst the highest in the world.
The first Canstar Blue breakfast cereal survey also found that when it came to satisfaction, Uncle Tobys Oats came out on top of the competition, winning our most satisfied customers – breakfast cereal award over leading brands including Kellogg's Crunchy Nut, Sanitarium Weetbix and Kellogg's Coco Pops.
Uncle Tobys Oats was the clear winner in the eyes of its customers, taking out the prize in the categories of overall satisfaction and nutrition.
Uncle Tobys Oats tied with Carman's Muesli in the category of texture. Sanitarium Weetbix was voted number one by its customers in the category of price and Carman's Muesli and Kellogg's Crunchy Nut tied in first place for taste.
Interestingly, 34% of participants didn't rate low sugar content as a key consideration when choosing a cereal. Australian men are less likely to be diet-conscious than females, with 35% of men surveyed not checking the nutritional information before purchasing compared to 25% of females.