Great Ocean Road churns ahead with cheese satisfaction
You've got your wine, and you've got your crackers, but you're deciding on what type of cheese to devour. Or, you're looking for a great cheese for you or your kids' sandwiches and you are dazzled by the amount of variety on offer on the supermarket shelves. Cheese selection is as varied and personal as the person choosing it. From sharp-tasting to creamy and smooth, cheese comes in a bunch of different flavours and strengths. But which brands of cheese offer the best overall bang for your cheesy buck?
As part of our annual review of various food and drink items, we surveyed lovers of cheese across Australia to seek their opinions about the products they have bought and enjoyed (or not enjoyed) over the preceding three months. You may also like to see our ratings for: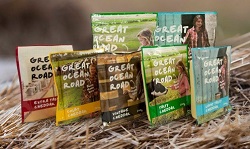 When it comes to block cheese, 11 different brands received the minimum sample size required to be included in the final results, including big names like Kraft, Mainland and Bega, alongside private label products from Australia's big supermarkets, Coles, Woolworths and ALDI, as well as smaller labels like Great Ocean Road and Mersey Valley.
It seems Aussies fancy themselves as cheese connoisseurs, or maybe we just know what tastes good. Either way, we're a pretty hard bunch to please, as five star ratings were not easily earned. Only six out of a possible 55 five star ratings were achieved across all 11 brands, with Great Ocean Road taking three of them. Great Ocean Road was rated five stars for overall satisfaction, as well as variety and range, and packaging appeal. It was rated four stars for value for money and taste, so it was a very solid performer all round. From the Warrnambool Cheese and Butter factory, the Great Ocean Road cheese range is authentic to its name. It's sold exclusively at Coles.
Other notable results in the ratings included:
Five stars for Mainland on variety/range
Top marks for Mersey Valley on taste
Five stars for ALDI Westacre on value for money
These ratings include all products that fall under the bracket of 'block cheese', however what goes into cheese, and just what is the difference between smooth or creamy cheese, and sharp cheese? Hint: You won't cut your tongue on sharp cheese. At any rate, it's useful to know what you're eating with your sandwich or crackers.
What is cheddar cheese?
'Cheddaring' is simply the process to describe how the cheese is made. Generally, cheddaring involves pressing out much of the whey in the cheese, and compounding the curds on top of each other. The curd blocks meld together and are re-stacked time and time again until the cheese becomes more acidified than other types and produces the texture of cheddar we know and love. After the process, it is milled, salted and pressed, and is one step closer to being ready for consumption.
What's in a block of cheddar cheese?
Aussies consume over 315,000 tonnes of cheese a year, according to Dairy Australia, and nearly half of this consumption consists of cheddar cheese. Cheddar is undoubtedly a favourite, and it can generally be bought in big blocks to maximise 'bang for buck', but what you might be surprised by is that there are different types of cheddar and different tastes. Next time you're out looking for a block of cheese for the fridge it can pay to know exactly what you're after.
Orange and Mild Cheddar
What you might have traditionally dubbed as 'gross American cheese' is actually a legitimate type of cheddar. This is probably the most 'middle of the road' cheese you can get, with a pleasant, inoffensive flavour which is great for sandwiches and easy eating. It's known for a fairly smooth and creamy flavour, and is generally aged for up to three months. Generally, the 'younger' the cheese, the smoother it is and the easier it is to slice to put in sandwiches.
Organic Cheddar
Cheddar cheese is generally aged a lot more than other types of cheese, and organic cheddar is generally the elder statesman. Organic cheddar cheese is aged between six months and a year, and this gives off a crumbly texture and mild flavour. As the name suggests, it's supposed to be made from organic cows' milk, which is arguably richer and sharper. Cheddar like this could generally be described as 'tasty' or 'matured', though it doesn't always have to be organic.
Vintage Cheddar
While you won't find vintage cheddar on the shelves of op shops and dusty book stores, vintage is used to describe its age. It's matured for between 12 and 24 months and can be dubbed truly 'artisanal' cheddar. Vintage cheddar is usually the most crumbly as it's the oldest cheese on the block (excuse the pun). The taste is usually sharper and lingers in the mouth for longer, but isn't particularly great for slicing for sandwiches. It's great for putting on crackers, though!
Whichever type of cheddar cheese you go for, remember that cheese contains a fair amount of calories per serving due to the dietary fat of dairy, and moderation is the key to a healthy diet. Enjoy your cheese!