T2 takes the crown as king of the tea bags
There are few more satisfying feelings than putting your feet up with a good magazine and a good cup of tea right beside you on a late Sunday morning. There are no kids to drop off anywhere, no mowing to be done, and probably not any in-law family requirements 'til later in the day. From classics like English Breakfast and Earl Grey to your more fruity varieties like lemon-infused herbals with a hint of raspberry, tea can be as unique as you are, and not all are made equal. So which brands of tea produce the most satisfied customers, and a good way to spend a lazy Sunday?
As part of our annual review of various food and drink items, we surveyed tea enthusiasts around Australia and sought their opinions on what brands of tea they have bought and enjoyed (or not enjoyed) over the last three months. You may also like to see our ratings for:
When it comes to tea bags, 11 different brands received the minimum sample size required to be included in the final results, including big names like Dilmah, Twinings, Tetley, Lipton and T2, alongside the big supermarkets – ALDI, Coles and Woolworths. It seems Aussie tea enthusiasts strive for the perfect cuppa at every opportunity, and many had a lot to say about which brand is best. Tea is nearly a religion!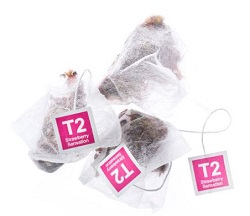 Five-star ratings were few and far between, with many a discerning customer tough to please. T2, however, was rated five stars for overall customer satisfaction, as well as for range, taste and packaging appeal. Where it lost out was for value for money, but only one brand achieved five stars for that.
Other notable results included:
Five stars for ALDI Diplomat on value for money
Top marks for Twinings for taste
These ratings include all products that broadly fall under the banner of 'tea', from your herbal teas, to the more traditional English Breakfasts and Earl/Lady Greys. Tea is a broad spectrum. And those surveyed tea enthusiasts were pretty hard to please – only six top ratings were given out across the board, from a possible 55. T2 was the recipient of four of these five-star ratings, so it dominated the competition.
As stated earlier, tea is a pretty broad term and there are many different types of tea out there. Either way, they all mostly end up in a cup for our drinking pleasure, so what's the difference?
Different types of tea explained
There are many different types of tea out there, with many brands getting ever more experimental by adding in different flavours, fruits and spices to jazz things up a bit. T2 is known for having stores with hundreds of different concoctions. Here are the most common types of tea explained.
Black Tea
Black tea is perhaps the most popular of all varieties and is where classic favourites such as English Breakfast and Earl Grey fall under. Black tea is fully oxidised, and is most commonly produced in India. There are three types of black tea produced in India – Darjeeling, Assam and Nilgiri. Ceylon is another popular variety and comes from Sri Lanka. Even within this category there are many subcategories – ones even the biggest tea buff would have trouble being an expert in. For a classic cuppa out on the deck you can't go wrong with black tea.
Green Tea
Green tea is – as you guessed it – green in colour, and this is because it does not go through an oxidisation process. To get the most out of green tea you have to pay more attention to the brewing process, often letting it brew for quite a while to get the full flavour. Specific profiles of green tea rely on the tea's origin, time of harvest and various processing methods. Green tea is often used as a soothing remedy or as a calming beverage before bed.
Oolong Tea
Oolong tea is perhaps the most complex tea out there to perfect, and there is a lot of variety. Oolong tea can be very lightly oxidised, or heavily oxidised to give desired characteristics and profile. Oolong tea generally needs to be steeped multiple times to get the most from it, and aromas and tastes are commonly fruity. As a fun fact, 'oolong' comes from the term 'Wu-long', which is Chinese for 'black dragon'. So get some fire in your belly and sip on an oolong.
Herbals
Gaining in popularity in Australia are herbal teas, so what are they? Herbal infusions are extra ingredients added to the process other than tea leaves. The technical term for herbal tea is 'lisane'. Here you'll find teas such as chamomile, peppermint and lemongrass and ginger among other flavours. Really, the possibilities are endless, with flavours as exotic as rose, liquorice, choc mint and beyond.
Whichever type of cuppa tickles your fancy, tea is a great alternative beverage to coffee and soft drink, and can be a relaxing way to start or end your day, or enjoy as a mid-afternoon pick-me-up. We hope you find our ratings helpful.