About Genesis
A brief history
Genesis has its origins in Ringwood, Victoria, where the first club opened in 1997. From humble beginnings with health and fitness classes, Genesis has become a popular gym among many Aussies, with locations all across the country.
They are driven to support the goals of their members, and are ambitious in their mission to inspire local communities to become fitter, healthier, and happier.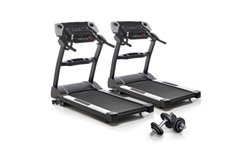 Gyms customer satisfaction review results
What do they offer?
Group Fitness: Genesis offers a variety of group fitness classes. Whether you are into Zumba, cycling, Boxing, or Aerobics, Genesis is likely to have what you're looking for. Their jam-packed timetables mean you can also find a time that suits you best. Find out more here.
Yoga: yoga provides many benefits for your health and wellbeing, and is a worthwhile addition to your fitness regime. It builds a strong connection with mind and body, improving flexibility and strength, while reducing stress and tension.
Personal Training: offering one-one-one and small group personal training, this service can be tailored to suit your and your small group. Train professionals take these sessions, and will teach you a lot about health and fitness, as well as help you reach your goals.
What our survey respondents say…
This year Canstar Blue surveyed over 900 people who have a gym membership or recently joined a gym. These are some of the comments, among others, made by survey respondents who work out at Genesis.
| | |
| --- | --- |
| Experienced staff and provides advanced equipment for exercise. | Don't renew water aerobics equipment often enough |
| The equipment is well maintained, and the gym is clean and tidy. | Can be crowded with too many people. |
| There is a ladies only area. | Would prefer if they went to 24/7 opening times at all gyms. |
| Cheaper for pensioners. | Wish there were more classes at times that suit me |
| They have good leaders for the aqua aerobics class. | There are seven TVs and most of them are presenting the same style of channels. Lack of personal trainers to chat to during work out. |
Source: Canstar Blue Gyms survey – 2015
Other gyms we rated
Canstar Blue commissions Colmar Brunton to regularly survey Australian consumers across a range of categories to measure and track customer satisfaction. The outcomes reported are the results from customers within the survey group who are members of a gym.
The other gyms in this year's survey are:
Fernwood
Anytime Fitness
Goodlife Health Clubs
Jetts
Plus Fitness
Fitness First
Snap Fitness
Other articles you might like
New to the gym? Here are 5 workouts to try
7 items you need in your gym bag
Could a virtual exercise coach suit you?