No close shave: Philips a clear winner for electric shavers
Leaving your facial hair to grow wild a bit during winter is only natural. Those bitterly cold winds that blow you over on the way to work warrant a hearty beard. But as the warmer months come around again, and Movember beckons your call, you may be left realising that your current shaver isn't up to the task. If you're stuck with a dud shaver that can't mow through that thick hair, then you may want to consider investing in a new one – it could make your mornings a lot less painful!
But where should you turn for a quality electric shaver? To help you out, Canstar Blue produces customer satisfaction ratings, in which we ask hundreds of everyday Aussies to tell us about the electric shavers they use. The star ratings you see above reflect their feedback, and for the second year in a row, Philips was the only brand to rate five stars for overall satisfaction, in addition to most other categories. However, Braun, Pansonic and Remington all received top marks in at least one area, so let's review these four leading brands and help you choose the best electric shaver for your needs.
Philips
Philips is one of the largest electronics brands in the world, and its electric shavers are top of the line. Philips has three key shaving series, plus various other budget-oriented shavers. The three key series are:
Series 9000: The most high-end series in the range, for uncompromised shaving and user experience. They pack in the most technology with the most thoughtful useability. This is also reflected in the price. You likely won't find much for under $400 here and shavers can be up to around $700.
Series 7000: It's the series for the sensitive gent – or lady. The 7000 series is for the person with sensitive skin who wants a smoother, friendlier shave. It contains many of the features the 9000 Series does, and is priced much the same. Again, you won't find much under $400.
AquaTouch: This is the series for those who simply want no-frills, effective shaving in the shower or bath. The AquaTouch range is more budget-oriented at around $100-$200.
Women's shavers: These are designed to delicately handle the more sensitive areas women typically cover in shaving, from the legs, the underarms and bikini lines. All shavers in the women's range are called 'SatinShaves' and the prices are more at the budget-end, ranging from about $30 to $150.
Braun
Braun has risen to such ranks as 'The Official Electric Shaver of the National Football League' in the US. Now, while we can't imagine every NFL player shaving exclusively with Braun, the brand does bring some quality shavers. The line-up includes:
1, 3, 5, 7 and 9 Series Shavers: As you might expect, the series 1 shavers are the most no-frills basic models, while the 9 series is the most high-end model, with a price reflecting that. Overall, you can expect to pay under $100 for Series 1 shavers, and over $500 for Series 9 ones, while 3, 5 and 7s are somewhere in the middle.
Cooltec Shavers: As you might have guessed, Cooltec shavers are regular shavers with an added bonus – the cooling function. They contain an active cooling technology that is said to help reduce razor burn. You can expect to pay $200-$300 for a Cooltec shaver.
WaterFlex Shavers: With an indication of their main key feature built into the name, WaterFlex shavers specialise in wet and dry shaving. They are said to work especially well with water and gel, and are 100 per cent water proof. This allows for easy cleaning, as well as shaving in the shower. Expect to pay about $200 for a Waterflex model.
Women's shavers: A regular pattern is occurring in the women's market for shavers. They are characterised by lower prices but less hardy builds – safety and comfort over all out brute strength, and soft pastel colours over hard blues and blacks. Braun has one female shaver – the LS5160, which you can expect to pay around $60 for.
Panasonic
Panasonic is perhaps best known for its high-end technology-packed televisions, but you may not have known it also produces shavers. Like Philips, Panasonic makes a whole bunch of exciting personal technology products, so let's jump in.
Rather than model names, Panasonic's main differentiators between shavers are their blade counts.
5 Blades: These are the pinnacle of what Panasonic have to offer. The five-blade models are claimed to allow for unparalleled closeness and shaving capabilities. Expect to pay about $500-$600 for one of these units.
3 Blades: At the mid-range of what Panasonic has to offer, the three-blade shavers are said to offer a good compromise between quality and price. With three blades, you are still afforded a close shave, but your wallet won't be shaved bare in the process. Expect to pay about $200-$300 for these.
2 Blades: Two-bladed shavers are situated more at the budget end of the spectrum. Expect to pay about $100-$200 for these models, which is a lot more palatable for the person who might not shave as much, or who can't justify spending more.
Wet and Dry Shavers: These – like the name leads-on – are designed for shaving in the shower, and can be rinsed under the tap for easy cleaning. Being that this category isn't blade-specific, expect to pay from under $100, up to and over $300.
Remington
Remington has the largest range of electric shavers out of these four brands, including:
Women's Shaving: Remington has a relatively comprehensive range of four shavers aimed at women. All are designed with comfort and safety in mind, and one is even a portable shaver. Overall, you can expect to pay from $40 for the basic models to about $100 for the 'Deluxe' models.
Men's Rotary: If you're in the market for a rotary shaver, then Remington has you covered with over five models. Expect to pay anywhere from $40 to over $200 for the high-end models.
Men's Foil: If a foil shaver is more your style, then Remington again has you covered. Remington offers three foil shavers, with the most expensive being about $200.
What types of electric shavers are there?
If you're in the market for an electric shaver, it's important to decipher whether you want a rotary shaver or a foil shaver. Rotary shavers are commonly found in the men's line-up. They are great for regular skin and are designed for tougher, coarser facial hair. A woman's choice in shavers is pretty much limited to foil shavers, which are best suited to sensitive skin. Men with lighter beards might also benefit from a foil shaver. In the end, one isn't necessarily better than the other, but it all depends on what type of shaving you'll be doing.
Heavier shaving: Thicker facial hair and beards
If you've built up a luscious beard over the course of many years, you'll realise your beard can become a bit of a companion. From the good days, through the dark days and through the soup days, beards are always there for you, saving the top of your shirt from a spilled curry. Unfortunately, if you've gotten the nudge to shave your beard, or it's simply time for a change, then these rotary shavers may be up your alley.
Philips Shaver Series 9000 (S9711SC)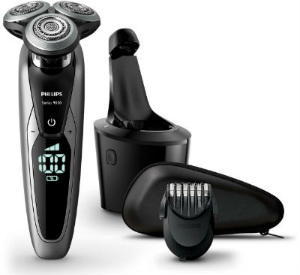 The Philips Series 9000 is simply the powerful workhorse of the rotary shaver world. As for Philips, it's the flagship shaver in the brand's range. Philips itself claims that you can cut up to 20 per cent more hair in a single pass, versus other shavers. Its key features include:
V-Track blade system Pro allows you to get a close shave as the blades gently guide your hair into the best cutting position. No hacking here. It features fine-tuned blade positioning, to cut a one-day beard, up to a three-day beard, flat-laying and different lengths of hair. Philips also claims you can get 30 per cent closer with this technology in less strokes, which saves your skin from the depths of shaving hell.
The 8-Directional Contour-Detect razor heads are said to catch 20 per cent more hairs with every pass. The multi-directional shave means that you're nailing more of your face in less time. This results in a close shave in a timely fashion.
The three modes – Sensitive, Normal and Fast – allow you to fine tune your shaving time. Sensitive, as you may have guessed, is a gentle, thorough shave, while normal is for the everyday shave, and fast is for a quick shave when you're in a hurry.
Other key features include the Aquatec Wet & Dry seal, which allows you to shave in the shower. The shaver also comes with a SmartClean Plus dock, which lubricates, cleans, dries and charges your shaver. Speaking of charging, you can get a hefty 60 minutes of shaving time with an hour's charge. For the beard lovers, it also comes with a beard style adjustable to five length settings. The shaver can of course also be rinsed under the tap.
If you're serious about your facial hair, the Series 9000 is a serious contender for your dollars. Retailing for around $650, it's a high-end unit that doesn't compromise.
Philips AquaTouch Shavers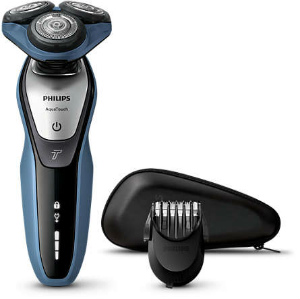 The Philips AquaTouch is the go-to shaving companion if your shaving interests lie squarely in the shower. Its goal in life is to be teamed up with some foaming gel, and set to work on shaving that beard under the running water. It features low-friction heads, and dual blades for a close and comfortable shave. Out of a full charge, you'll get 40 minutes of shaving time, which Philips claims is good for 14 shaves.
The AquaTouch series is quite comprehensive, and they're priced between about $100 to $200, which is a great budget alternative to the 9000 Series mentioned earlier. Its feature list is a bit less filled than the 9000 Series but that's to be expected. The AquaTec series is a great no-frills shaver at a great price.
Lighter shaving: Thin facial hair, bikini lines, legs, underarms
If your skin is feeling left a bit jaded from your old shaver who was a bit rough around the ages, then you really can't go past a foil shaver. Not only this, women's shavers are dominated by foil shavers – this may be a case of women's typical shaving needs not being as demanding as a thick beard. Nevertheless, foil shavers are a great alternative to rotary shavers, so let's dive in to what's out there.
Braun Series 9 Shavers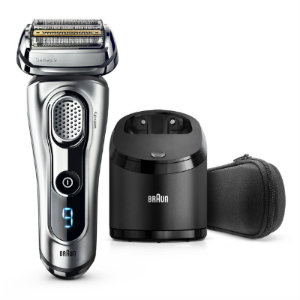 Like the Philips 9000s in the rotary world, Braun Series 9 is top-notch when it comes to foil shavers. Braun claims its flagship shaver is the world's most efficient shaver. So, how is it so efficient? Braun has packed in some impressive features:
The Series 9 features SyncroSonic technology, which boasts 40,000 cross-cutting actions per minute. The blades feature a tough titanium coating to ensure hardy, durable shaving.
It features five different shaving elements for different types of hair. That way you won't skip out on those tough little hairs facing a different direction – the Series 9 will likely get them all.
The 10-D flexible shaving system features cutting elements on a 10-directional pivoting head, which allows for optimal adaptability to your face, which allows for a closer shave.
It's not precious. It's durable and 100 per cent water proof. It can be submerged in five-metre deep water, and can be used in the shower and washed under the tap.
It comes with the world's only five-action alcohol-based cleaning station. The station cleans charges, lubricates and selects the best cleaning program for you. It also dries and charges so you wake up to a fresh shaver every day.
50 minutes of shaving time is gathered by an hour of charge time. A five-minute charge will let you have one shave.
Like the Philips 9000 mentioned earlier, the Braun Series 9 is a serious bit of kit. This is also reflected in the price. Different models are priced differently, but expect to pay anywhere from $600-$700.
Philips SatinShave Prestige Women's Shaver
Philips has pulled out all the stops to present what it says is the most advanced shaving system "for women" – well, marketed at women anyway. Its key features include:
Flexing curved blades: According to Philips, these blades deliver a 75 per cent more efficient shaving experience than traditional "ladyshave" blades. The flexible nature of the blades and floating foils means that they move to the contours of your body. This results in a closer shave that likely won't irritate your skin as much.
Super soft cushions: These are placed on either side of the shaving head to deliver a smooth and comfortable pass. This is ideal for the sensitive areas and areas prone to irritation. This is also a great relief for those with sensitive skin.
The pearl-tip trimmer and safety bars further protect from scratches on your skin. It's no use enjoying summer in that dress if your legs are in pain! These safety features ensure that your legs and other sensitive areas will be left breezy and pain free.
Its wet and dry technology allows it to be used in the shower or bath. Multitasking has never been so easy.
Though the shaver market is dominated by men's products, there is a fairly sizeable niche for women's shavers, and this is proliferated by Phlips. The SatinShave retails for about $150 and its focus on anti-irritation make it well-suited to tackle many of women's shaving needs, such as legs, underarms and the bikini line. It's a simple, comfort-focused shaver at a budget price.
Whatever you shaving needs, we hope you find this review enlightening.