Wahl comes out on top for hair clippers
You've got to respect the grandmas of this world who spend more than a few hours a month in the company of their favourite hairdresser, not to mention the many hundreds of dollars on their perm. Many people these days simply don't have the time, the money or most importantly the desire to do that anymore.
Men have generally always had easier-to-manage hair. That is, unless you're a Jared Leto-type with luscious locks that women are envious of. Many men do away with the barber or hairdresser entirely and instead invest in a pair of hair clippers for their grooming duties. And for good reason – hair clippers have come a long way since your mother stuck a bowl on your head and clipped around it. Many hair clippers are now great-quality and you can get satisfactory results with them. In this review, we'll explain what exactly you should look out for when buying hair clippers. But first, which brand is rated highest for those quick and easy haircuts?
To find out, we surveyed hundreds of everyday Aussies who have recently bought and used a new set of hair clippers. Five leading brands featured in the results, but only Wahl received a five star rating for overall hair clipping satisfaction. Philips, Remington, VS Sassoon and Braun all achieved four stars in at least one area, but in our inaugural ratings for hair clippers, Wahl has proved a cut above the rest.
What makes a good set of hair clippers?
There are three main features you should look out for when buying a new set of hair clippers. They are:
Comfort (i.e. Blade quality and technology)
Performance and reliability (i.e. Motor quality and battery)
Ease of use (i.e. Useability, ergonomics and other features)
These features vary from brand to brand, and obviously from price range to price range. Let's dive in, in more detail.
Comfort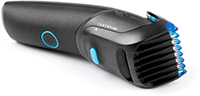 From a comfort perspective, the quality of the clippers' blades should be the first thing to look at. Carbon steel and chrome-plated blades are commonly found on more expensive models, and really it's a no brainer to choose something with quality blades. Nothing feels worse than a dull blade hacking at your hair – it's like using a kitchen knife to cut down bamboo. Many quality blades also self-sharpen, but keep an eye out for rusty blades on budget-oriented models – no one wants that running through their hair!
Beyond the blades themselves, adjustability of the blade guards is also an important feature. There's no use only being able to do a buzz cut when you want a groovy flat top haircut. Any hair clippers worth their salt will have multiple adjustable guards to help keep hair length consistent. This is the same as when you go to the barbershop and request: "Short back and sides with a blade three, thanks mate!" Some companies run their guards in 1/8" (3.18mm) increments – blade 1 equals a 3.18mm cut and so on – but this is not always the case. It could pay to check if the clippers you want use this metric. When shopping around, blade and guard quality should be your first port of call.
Performance and reliability
Similar to the kitchen knife/bamboo metaphor mentioned earlier, hair clipper motors should stack up well with thicker hair. The hair shouldn't feel like it's being hacked, or tugged on. By the same token, however, the motor should run reasonably quiet and should be cool to the touch after some use.
What's a good motor without a good power source? Many hair clippers these days run off of a lithium-ion battery that can both charge quickly and deliver a decent run time. You should be able to expect about a 100-minute run time from an hour's charge. For those still running the corded variety, it goes without saying that having a long enough power cable to tackle your whole melon head.
Lastly, like many people, if you are using your hair clippers for pets, then a quiet motor goes a long way in easing Skip's anxiety.
Useability, ergonomics and other features
Last but not least of the key features, your clippers ideally shouldn't be a chore to use. Beyond blade and motor quality, hair clippers should be comfortable and easy to use. Accessories should be easy to remove and switch around; guards should stay firmly in place. However, a quick release mechanism can also be a godsend. Quality clippers should also have safety features in place to prevent nicks and cuts; blades should cut hair, not skin!
Additionally, hair clipper kits should also come with a range of accessories. Blades and guards should be varied. Battery-powered models should also come with a recharging station, and all models should come with some sort of protective carry case or pouch. Some kits also come with quality combs, and barber-style capes! It pays to look at what accessories your hair clippers come with, and it's quite often a case of 'you get what you pay for'.
How do I maintain my hair clippers?
If you want your hair clippers to last longer, you can't go past regular maintenance. Maintenance kits include things like blade oil and clipper spray. There are three main steps to proper clipper maintenance, which are:
Oil the clippers before every cut
Regularly clean the blades
Spray your clippers to keep them cool and to disinfect them
These steps may seem excessive if you're just giving yourself a quick crew cut, but they will ensure your clippers perform better for longer.
Oiling the clippers
The maintenance kit will likely come with instructions, but oiling the clippers is probably the easiest and most important thing to do to maintain your clippers. Applying a few drops on the middle of the blade into the teeth, and a couple on the sides will lube up the blades nicely. Turning the blade on will then let the oil set in. It's also a balancing act – too much oil will result in sticky residue, and too little will dry out the blade and can eventually cause it to be near useless for cutting hair. Oiling requires a little effort, but goes a long way in extending the life of your clippers.
Cleaning the blades
Before you cut your hair, cleaning the blade area is a good step to ensure hygiene – especially if you've been cutting Skip's hair! Most kits come with a brush and cleaning kit, but using your own methods such as an old toothbrush can also be sufficient. A little bottle of air to blow into the blades can also help. Brushing hair and other bits from the blades can allow the blades to operate more smoothly, which can then extend the life of them.
Spraying the clippers
Although not as essential as if you were working in a barbershop, clipper spray can again go a long way in extending the life of your clippers. Clipper spray keeps the blade from overheating, which is great if your mop is giving the clippers a workout. Its usefulness doesn't stop there though; the spray also disinfects the blade, which is useful if the clippers are servicing the whole family or household. For less than $20, the spray will last you a good while and will go miles in ensuring your blades simply stay healthy.
Wahl hair clippers

This stalwart clipper company has been around for nearly 100 ears. The brand specialises in personal grooming – from clippers to nose hair trimmers, Wahl has you covered when it comes to anything hair-related. As you might have expected, Wahl have a large range of clippers to suit nearly every budget – from the budget basement $20-$40 ones, all the way up to the mac-daddy Salon Series, costing nearly $300 for the 'ChromStyle Pro', which is a professional-grade, German-made, feature-packed clipping monster. We suspect you'll be elated with the sheer range of Wahl clippers.
Philips hair clippers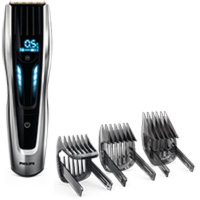 The Dutch electronics giant has – among its TVs and headphones – a great range of hair clippers. Although not as varied in price as Wahl, Philips likely offers something for everyone. Its hair clippers are set at about the $100-$200 range, with the 9000 Series being the standout, with its digital swipe interface, great useability and quality blade technology. Although not a budget-oriented brand, Philips features some impressive hair clippers.
Braun hair clippers
As the

'Official Clipper of the National Football League', Braun has cemented itself as a personal grooming powerhouse. Although its range of hair clippers in Australia leaves a little to be desired, the 'HC5090' for less than $100 is a simple yet effective clipper that is fully washable, with an emphasis on safety and performance. Braun will allow you to show that you're just as much brains as brawn.
Remington hair clippers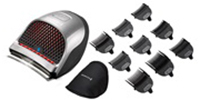 Born out of the firearms brand we're all familiar with, Remington has gone on to produce a great array of personal grooming products – hair clippers included. Remington hair clippers trend towards the budget end of the price spectrum, with a focus on no-frills cutting, rather than feature-packed technology. As such, you can expect a set of its clippers to cost between about $50 and $150. One such standout model from Remington is the Rapid Cut, which is a great quick-fix option for those after a simple crew cut. Remington likely has something out there for everyone – including a vacuum model that largely eliminates the need for a cape!
VS Sassoon hair clippers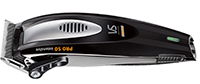 VS Sassoon is another giant of the hair industry, and its range of hair clippers is pretty comprehensive. It also has a range to suit most budgets – from around $20 for the 'Apprentice' model, all the way up to around $130 for the Lithium-Pro clippers with ceramic blades. VS Sassoon's clippers are also frequently made in a striking finish, with an emphasis on hardy blades and quality chrome parts. The Lithium-Pro is the standout model, with a high performance motor that gets 75 minutes of cutting time from a three-hour charge.
Hair clippers: Hairdressing for when you're 'In the Cut'
Not all of us have the time, money or desire to sit in a hairdresser's chair every so often to listen to pointless small talk while paying over $20 for a simple cut. As such, hair clippers have come a long way to provide a pleasant haircut experience at home – when you're 'in the cut'. Hair clippers – even when they can be expensive – offer great value-for-money in the long run. But to get the most out of them, it's worth picking a quality model with a hardy motor and blades, and maintaining the parts regularly. There's likely a model out there for all budgets and requirements, and using our customer satisfaction ratings to nail down a brand is a good starting point.