Apple connects the dots with its wireless router
Getting a quality wireless router could mean the difference between a frustrating internet experience, and a pleasant one. Quite often your provider gives you a wireless router when you sign up to a broadband plan. While they get the job done, they are usually nothing spectacular. Providers might give you no choice but to pay extra for a wireless router as part of their initial set-up costs, and those given are often fairly basic, cheap models. You might be able to do a lot better.
Some internet providers even make you bring your own (BYO) wireless router. In this case, don't necessarily count this as a curse, rather a blessing in disguise. Having to bring your own wireless router is a great way to purchase a quality one, or even save a few bucks as opposed to purchasing a provider-supplied one.
If you're looking to go it alone, where should you look for a quality wireless router? To offer some guidance, Canstar Blue surveyed hundreds of Australian adults who have bought a new wireless router in the last three years, to find out how they rate their device based on several important factors, including performance & reliability, ease of use, and range of reception. As you can see from the ratings table above, Apple came out the most highly recommended.
So, what should you look for in a new wireless router? Our research identified the following drivers of customer satisfaction:
Performance & Reliability – 22%
Ease of Use – 21%
Range of Reception – 21%
Features – 15%
Speed – 14%
Value for Money – 8%
That last statistic is particularly telling, suggesting that consumers are happy to splash the cash on a quality device, as long as it lives up to expectations on three key factors – performance & reliability, ease of use, and range of reception. Indeed, 42% of respondents to our survey said they were happy paying a high price for a router, while only 27% went for the cheapest option they could find.
Those surveyed also seemed to be pretty 'with it' as far as wireless routers go. For example, more than two thirds of respondents (68%) changed the password from the factory-set one that came with their new router. In the days where cyber security, online scams and 'hacking' appear to be rampant, it's good to know Aussies are taking some measures to ensure their own cyber security. They are also taking measures for when the National Broadband Network (NBN) rolls out in their suburb, with almost three quarters of households connected to the NBN (74%) upgrading their router in light of their new internet plan.
Does a good wireless router improve your internet speed? Of the consumers we surveyed, 61% said their new router seems to have improved their internet performance. So, how do wireless routers actually work, and what can they do?
Is your router ready for the NBN?
How does a wireless router work?
A wireless router connects your personal devices wirelessly to the internet. This is done through the router basically acting as a 'link in the chain' of your home's wireless network, and the wireless router forwards IP packets from one network to another. That is to say, a router is a device that joins two networks together, in this case being the router to the internet, and your router to your devices.
Routers are also used to 'daisy chain' networks around your home. This is particularly useful if you need to get wireless internet signals into the farthest reaches of your home. This can get complicated and the signal can potentially get diluted the more 'links in the chain' you have, but wireless routers do present a convenient way to 'route' the internet around your home.
What makes a good wireless router?
Many people just 'plug and play' with their wireless router, but knowing about your router's Wi-Fi standards and bands, its classification, and its own features, are important for selecting a capable wireless router for your needs.
Wi-Fi standards and bands
You might have seen the various numbers and letters specifying your wireless router's 'standards'. Simply put, you should be looking out for routers with standards of '802.11n' or '802.11ac'. All standards are backwards and forwards compatible, but with data speeds increasing markedly since standards were introduced, it's important to get a router with decent standards.
The first routers only had maximum speeds of up to 2Mbps, which is obviously much too slow for today's rigorous demands. These first routers had a '802.11' standard.
11n: With its standards ratified in 2009, this specification of router is capable of up to 300Mbps speeds. This is probably the most common standard of router on the market today, and ISPs will frequently bundle a router with this standard with your plan, but you can do better.
11ac: A pretty new technology, 802.11ac routers operate on the 'dual band' system, meaning they operate on the 2.4GHz and 5GHz Wi-Fi bands. This means less interference between devices and a potential for more uninterrupted and unadulterated speeds.

These routers are capable of speeds up to 1300Mbps on the 5GHz band, and 450Mbps on the 2.4GHz band.
Higher-demand usage like online gaming and downloading big files are likely to use the 5GHz band, while lower-demand requests such as general browsing are likely shifted to the 2.4GHz band. This frees up the higher speed band for those who need it.
Long story short, you should ideally be looking for a dual-band, 802.11ac wireless router. Failing that, an 802.11n router will do the job and is the cheaper and more commonly-available of the two standards of wireless router – any older standard and you run the risk of suffering from an inferior speed capacity.
Wi-Fi Classification
Beyond the standards stipulated above, there are a few other numbers and letters to look out for when buying a wireless router. You might have seen codes starting with an 'AC' or 'N', followed by a three or four digit number – N600, AC1900 and so on. This is the Wi-Fi classification, and it is worth paying attention to.  The numbers stipulate – with dual-band routers – the combined speed of both bands, rounded to the nearest 100.
For example, 'AC1900' roughly means a 600Mbps link speed using the 2.4GHz band, and 1300Mbps using the 5GHz band.
AC1900 is one of the fastest classifications out there
Big number = big speed (usually)
So the next time you see one of these classifications when shopping for a wireless router, know that the number roughly translates to maximum link speeds, and the faster your internet has the potential to be. However, as with most technology-related things in life, it takes two to tango:
To get the most potential from your fancy, top-shelf router you'll need a compatible device. It's no use having a router that has an 'AC1900' designation if your devices around the home only have a link speed of 'N600'.
Bigger numbers usually mean more money spent, and having older devices around the home can make purchasing the fancy router a big waste of money
Your devices will still work with the router, but your router likely won't live up to its full potential, like that smart kid in school who decided to hang around with people smoking cigarettes and skipping class behind the bike sheds, instead.
Your wireless router's classification is an important figure to look at, but keep in mind that buying big doesn't always equal big value if your devices don't have the same designation.
How to boost your Wi-Fi signal
Wireless Router Features
Wireless routers generally vary in cost when they possess more bells and whistles and nifty features. Features such as router range, connection quantities, security and software designations, among other features can all make or break a router experience.
Router Range
The comedic tragedy and irony with a 5GHz band is that it can actually reduce the range of your router, as the higher frequency is more susceptible to obstacles. To increase your chances of a fast connection, you'll need both a compatible device AND less obstacles for the band to contend with. 2.4GHz bands don't usually suffer from such a 'prima donna' attitude and are less susceptible to obstructions and distance. All things considered, with the two bands over the same distance and with no obstructions, the 5GHz one will be quicker.
In times of need, do you want a Ferrari or a Sherman tank to drive over that ditch and rescue you from certain death in a war? While the 5GHz band may be great if your router is sitting directly in front of you, if you're upstairs in another room surrounded by walls, while the router is downstairs in the kitchen, you might find yourself being connected to the 2.4GHz band more often. If this is your common scenario, buying a 5GHz wireless router may be a waste of money, though one with dual-bands can still be a great investment.
Connections
Routers with an 'N' classification can support a maximum of 30 connections, while 'AC' routers can support around 100. This is likely why the 'free Wi-Fi' in the café is so slow, as everyone is trying to connect and is overwhelming the wireless router. While 30 connections is probably more than enough for your home, if you're running a small business with frequent clients and a few staff all trying to connect, you might find your wireless router in need of an upgrade!
If you're also a party animal and have swarms of people coming over, an AC router may be more up to the job
If you're hosting an online gaming marathon with a bunch of mates, an AC router once again may be up your alley
But for the most part an 'N' router with 30 connections is likely all you need.
Security and Software
Routers themselves act as a form of firewall simply by adding another 'link in the chain' for potential hackers and attacks to contend with. However, some routers offer additional security features, such as:
Support of third-party firmware to boost security firmware
Some routers have built-in parental controls to block certain sites or information, with some having timeslot locks
Modern wireless routers commonly feature a 'guest access' capability, where you can create a separate network so your home network isn't jeopardised by opening up your Wi-Fi to many different guests and visitors.
These are some of the features you can expect on today's routers. Of course, all routers should also allow you to change the password given to you to one of your choice.
Other Features
Other features clearly fall under the 'bells and whistles' category. Some routers feature extra support for wireless printers, as well as various USB slots for plugging in media drives that can be accessed by everyone on the network. Other features such as gigabit LAN ports are also handy for getting the best speed possible, to connect your device directly with the wireless router. Ideally, routers should have multiple LAN ports. These are just some of the features you can expect, and generally the more you spend the more of these bells and whistles you can expect.
Now we've outlined the basics about wireless routers, let's review the brands in our ratings to see what they have on offer.
Wireless routers available in Australia
Apple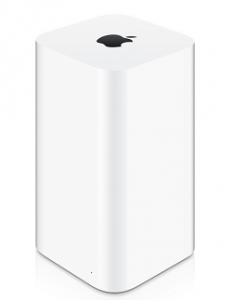 Apple – in all its Apple-ness – features only one wireless router, and it's a beauty called the 'AirPort Extreme'. While Apple typically has great marketing, what this boils down to is the AirPort Extreme having a 802.11ac standard, which makes it the best in class. As you may have read earlier, 802.11ac is up to 3x faster than the old standard – 802.11n. It also features dual-band support for great device speed and prioritisation. It also has guest networks, security features and all the bells and whistles you could hope for, all built into a classically-Apple minimalist design. It's not cheap – around $300 – but evidently those surveyed didn't care. Apple dominated the ratings, with five stars in every category except for value for money. Apple typically relies on solid performance, rather than 'bang for buck' pricing, and the Airport Extreme is no exception.
NETGEAR
NETGEAR is one of the most popular networking companies out there, and it earned four stars overall, with two five star ratings – one for ease of use and the other for value for money. NETGEAR has a large range of routers, the most notable being the Nighthawk series. It's a fierce-looking router with a fierce name. The Nighthawk series boasts four blade-like antennas, a slimline black case and an ultra-fast 5.3Gbps possible link speed across three bands. Be prepared to pay for such ferocity though, with the cheapest Nighthawk models starting at around $300, with some of the dearer ones costing $800 and more. However, don't think that you'll have to pay this much as some NETGEAR routers can be had from as little as $40-$50, and this wide range of prices could be why it garnered a five-star rating on value for money.
Netcomm
The brand commonly used by providers such as Internode and TPG as their stock bundled router, Netcomm has a wide variety of wireless routers. Most of the time, you can't just go out and purchase a Netcomm router from your closest electronics store – you have to sign up to a provider that then offers you the router. In this case, providers might offer it to you for $0 if you choose a 24 month contract or have it as an option for a 12 month or monthly contract. In this sense it's a little hard to judge how much people actually pay for a Netcomm router. Nevertheless, Netcomm was rated four stars for overall satisfaction, with five stars for performance and reliability, ease of use and – perhaps unsurprisingly – value for money.
DLink
DLink is like NETGEAR in that it has a large range of wireless routers to suit a variety of budgets. Prices start at about $50-$80 and the most expensive is around $700 and is called the 'MU-MIMO', and looks like a spaceship. So if NETGEAR faced off with DLink it'd be spaceship vs nighthawk. The MU-MIMO features dual-band technology, with a whopping AC5300 classification. It boasts a massive eight antennas, aiding in its spaceship look. Those surveyed were pretty satisfied with what DLink had to offer, as the networking brand was rated four stars across the board, including for overall satisfaction.
TP Link
A Chinese manufacturer based in Shenzhen, TP Link was the first of the brands to score three-stars overall, however it was rated four-stars for performance and reliability, ease of use and for value for money. Indeed TP Link seems to follow in the 'have lots of antennas so the router looks like it means business' trend, with many of its routers boasting four or more antennas. Indeed the most impressive router seems to be the 'Archer C5400', with 5.3Gbps dual-band link speeds and eight antennas. As for its whole range, there is a wide variety of prices from the $100-mark to top-line routers costing over $300. While customers were reasonably impressed with TP Link's performance, ease of use and value for money, TP Link was rated three stars for speed, features, reception and overall satisfaction.
Belkin
Manufacturer of all things 'technology accessories' – from webcams to smartphone cases to wireless routers – Belkin rounded out this year's ratings with three-stars for overall customer satisfaction. As for the range, most are finished in an attractive piano black, and prices range from as little as $60 to nearly $300. The most 'tech-forward' of the range is the AC1750, which Belkin claims is up to 4.3x faster. It features dual band connectivity, with speeds up to 450Mbps on the 2.4GHz band and 1.3Gbps on the 5GHz band. It also features Norton parental control systems for peace of mind with children. Evidently, customers were somewhat satisfied with Belkin's networking, with three stars in every category, including overall satisfaction.
Wireless routers: the final link in the chain
No matter the brand of router, it pays to know a bit about the tech specs that are bandied about, as well as all the jargon related to speed and connectivity. Often, purchasing the most expensive router out there isn't always the best way to go, as you'll need the latest devices to make the most of it. If your laptop is say, over three years old, then chances are you won't be getting the most out of that fancy new top-line wireless router. Instead, it's worth knowing a bit about your devices and if they can make the most of the latest technology, and then basing your wireless router purchasing decision off that. Chances are you could potentially save a few bucks in the process! Wireless router shopping can be a bit confusing, but with the right knowledge it can actually be a bit of fun. We hope this buying guide helps a bit!