Gone are the days of lugging around a heavy Walkman or stack of CDs so you can listen to something other than the rumbling bus engine on the morning commute.
Digital music players have been getting smaller and smaller, while their storage capacity has been getting bigger and bigger. Now, with the rise of the cloud, you don't even need to carry music with you. All you need is your online streaming account login details to access your music collection on any device, anywhere, any time. Music apps can now store your music on the internet so you don't need to take up valuable storage space on your phone.
Recently the number of music streaming services has been booming, with many existing services going through major overhauls to keep ahead of the pack. Even if you already use a music streaming service, now is the perfect time to reassess your options. But what's the difference between all of these streaming providers who do the same thing – give you access to music? It depends on your listening habits and what kind of experience you want. Let's explore what makes a music streaming service good or bad.
What is streaming?
'Streaming' simply means using an internet connection to listen to music without having to actually download anything. It's like the difference between reading a web page or downloading and reading a file, or watching YouTube videos instead of downloading a video.
Streaming vs Downloading
Why might you choose to stream over directly downloading your music just once? Streaming provides a more cost-efficient way to listen to a lot of different songs that doesn't require you to fill up all of your phone storage.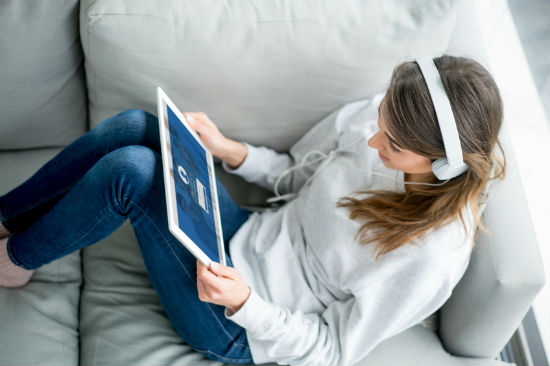 It can be easier to carry music saved directly on your phone, tablet or computer, to an extent. But storing music files can take up a lot of space, especially if you like to listen to a lot of music. This can be a massive pain if you also need space to take and keep photos, store other files, or just don't have a lot of storage capacity in the first place. It also means that you need to keep a particular device with you whenever you might want to listen to music. If you forget your mp3 player, forget listening to music.
Streaming over a Wi-Fi or mobile data connection makes it easy to listen to your favourite songs regardless of which device you're using. You can easily switch from playing music from your mobile app during the commute to work, to listening on a web browser while working, and then play from your laptop or your streaming service-compatible speakers at home.
Cost Efficacy
It's also expensive to buy a digital download or CD copy of every single album and song you want to listen to. While it might be pretty affordable to buy music from your favourite artists, building up a large music collection this way can add up to a small fortune. It obviously goes without saying that illegally downloading music for free isn't very good sport. Artists don't exist to work for free.
Compare this to streaming services, which cost just a few bucks a month to listen to as many different songs as you like. If you're a more than occasional listener and like to listen to a diverse range of music, streaming can be a really cost effective choice.
Discovery & Recommendations
Most streaming services offer tools which suggest new music or create personalised playlists based on your listening habits. It's also easier to try different music without forking out extra money to access something you might only listen to once.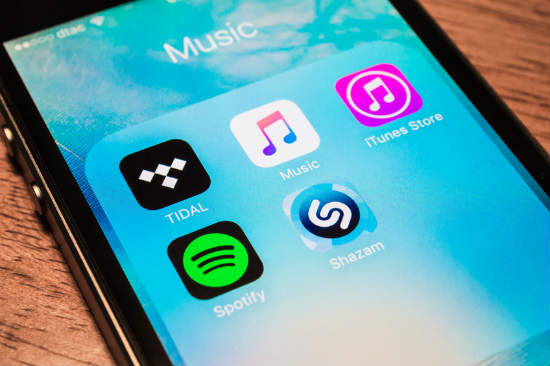 At face value, all music streaming providers seem the same – they all offer unlimited online streaming. But each service offers different features across the user interface, platform compatibility, offline access, social media integration and even the range of tracks available.
A question that is often overlooked is whether a particular streaming provider has access to the music you want to listen to. The big players have massive libraries with a diverse array of genres, however, a number of major artists license only some (or none) of their music to streaming services, or are exclusive to a particular provider.
For example, for the first 24 hours after Beyonce's latest album 'Lemonade' was released, it was only available on husband Jay-Z's Tidal platform. Tidal continues to hold exclusive streaming rights in perpetuity, and other platforms only provide the option to buy the album outright. Taylor Swift pulled her music from Spotify after being dissatisfied with the royalty payments and Adele completely boycotts music streaming.
It's a good idea to look into whether a streaming service has access to the particular artists you want to listen to before signing up for a subscription. If you have particular interests, particularly those that fall a little outside the mainstream, check that they have the kind of range you're interested in.
Apple Music
Apple wants to be the number one destination for all things music, so it acquired and rebuilt Beats Music in 2014 to compete against other streaming services. Apple Music combines on-demand streaming, integration of your existing iTunes library, an all-live worldwide radio station, and an artist-centric social network in one app.
QUALITY:
PROS:
library of 30 million+ tracks
full integration of your iTunes music library (up to 100,000 songs)
family rate allows six people to share the one subscription
Beats One live radio station includes interviews, live radio hosts, and live music, although this tends to focus on popular music
CONS:
no free tier, however the free trial period is three months
no web player – limited only to devices you can install the app on
PLATFORMS: All Apple devices (including Apple TV), Windows PC, Android, Sonos
Google Play Music
Like Apple Music, Google's music streaming service is compatible with any device – with iOS and Android apps and a web player. Its big drawcard is that it comes bundled with YouTube Red, which allows you to watch videos without ads and access special exclusive content. Unlike Apple Music, you can upload and access your own personal digital music downloads collection to the platform regardless of whether you're subscribed to the streaming service.
QUALITY:
up to 320kbps
quality adjusts according to quality of internet connection
PROS:
library of 35 million+ tracks
provides recommendations based on your current library, with subcategories for particular moods and activities (e.g. music to listen to before you go to sleep)
personalised radio station can be created
can purchase songs on Google Play
upload up to 50,000 of your own tracks to stream
songs can be cached offline for listening without an active internet connection
premium tier includes YouTube Red
CONS:
Free tier is limited – you can only use radio stations with ads, or listen to uploaded music from your own collection
recommended for You section is often not particularly accurate to user interests
PLATFORMS: Web browser, iOS, Android, Sonos
Spotify
With a similar user interface to iTunes, you can use Spotify either by linking to your Facebook account or creating a dedicated Spotify account. The premium service gives you ad-free music streaming and allows you keep accessing your music outside of your profile country if you travel.
QUALITY:
free tier users can choose either 96kbps or 160kbps
premium users can choose either 160kbps or 320kbps
PROS:
library of 30 million+ tracks, plus video and podcast content
create custom editable playlists
search for a specific artist/song or browse featured music and new releases
free access tier (as long as you don't mind listening to ads)
paid tier includes offline sync with your devices, better audio quality, and no ads
follow artists/individuals to keep up with their recommendations
you can follow what your friends listen to
weekly Discovery playlists of songs you've never listened to before, compiled based on your music tastes
CONS:
free users can only play their playlists on shuffle – no track-by-track selections
PLATFORMS: PC or Mac desktop app, iOS, Android, Windows Phone 8, BlackBerry, Sonos, Squeezebox, PlayStation
Pandora
Rather than music streaming, Pandora is more of an internet radio service. It curates music by analysing your upvotes and downvotes to recommend other tracks. You have limited control over this – you can add or remove artists from the calculation. Enter an artist you like and Pandora will stream you similar-sounding music. It's simple and no-frills, based around music discovery rather than direct control over what you listen to. Other streaming services provide equally good custom radio in addition to more features, but Pandora
QUALITY:
web player 64kbps for free users, 192kbps for Pandora One subscribers
in-home devices 128kbps
mobile devices vary depending on device and network, but doesn't exceed 64kbps
PROS:
library of 1 million+ tracks
save artists as favourites, skip & ban artists you don't like
buy specific songs with link-out agreements
CONS:
only available in Australia, New Zealand and the US – if you head overseas, Pandora might not be able to go with you
premium version doesn't offer much except the ability to skip more ads
lower quality streaming: free service runs at 64k AAC+, premium at 192kbps
PLATFORMS: web browser, iOS, Apple TV, Android, Windows Phone, BlackBerry, Nook, Kindle Fire
Tidal
After being purchased from its original Norwegian owners by Jay-Z, Tidal became the first streaming service owned by recording artists. A major perk is its exclusive content from its owner-operators, including Rihanna, Daft Punk, the White Stripes, Madonna, and more. There's also been a number of major releases that came out on Tidal before any other streaming or download service, such as Beyonce's recent album 'Lemonade' and Kanye West's 'The Life of Pablo'. The other key feature is the high-quality audio available to premium subscribers, which far surpasses that of its competitors.
QUALITY:
320kbps for standard service, 1,1411kbps on the 'HiFi' plan
PROS:
streams at high-quality lossless music format (CD quality) for premium users
access to music videos and behind the scenes video content
CONS:
expensive
more difficult to use
PLATFORMS: Android, iOS, web browser, desktop app, Sonos, Denon, Polk, Pro-Ject
How much does music streaming cost?
Several music streaming services offer free access with limited features and some advertisements, with a paid subscription taking away ads and providing full access to the service. Most of the major music streaming services available in Australia cost around the same amount. Pandora is cheaper because it has far fewer features, while Tidal has a more expensive tier to access superior sound quality. Prices are in Australian dollars unless otherwise indicated.
Streaming Service
Free Music Streaming Access?
Basic Plan
(per month)
Premium Plan
(per month)
Family Plan?
Apple Music
3 month trial
$11.99
$17.99
(6 people)
Google Play Music
Ad-supported with limited features;
30-day trial for premium
$11.99
$17.99
(6 people)
Pandora
Ad-supported
US$4.99
Spotify
Ad-supported;
30 day trial for premium
$11.99
$17.99
(5 people)
Tidal
60 day trial for premium
$11.99
$23.99
How to choose a streaming service?
Music streaming is a rapidly growing and changing technology, so the range and quality of services can change relatively quickly. The services we compared above certainly aren't your only options – they're just the most popular at the moment.
Many of the things that make a music streaming service great are subjective to user interests. As most paid services offer a free trial period, it's a good idea to take advantage of this and even sample a few services before investing money in something that you're not sure you want yet. A few questions to consider include:
What device/s do I want to listen to music on? (e.g. mobile app, desktop computer, home audio system)
Do I want a family plan?
Will I want to be able to access my music overseas while travelling?
Do I want to upload, store and play my own collection?
Is the music I want to listen to available in the streaming library?
What features do I want in my music streaming service?
Which music app is easiest for me to use?