Bundled Communication Plans: 2013 Ratings
Found a winning brand? Compare broadband plans with the WhistleOut comparison tool.
Internode achieve bundled communication plans award for second year running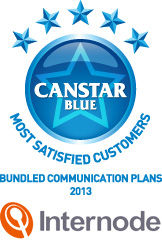 Presently, four in five respondents to our new survey know their bundled communications plan quite well, being privy to how many minutes they're allowed, what their data allowance is, how much it costs, etc. If you think you can find a better all-round deal for your mobile, home phone and internet bundle, we've compared some of these brands in our latest survey.
Award-winning provider Internode achieved our Most Satisfied Customers Award for Bundled Communication Plans – 2013, in a comparison of eight different brands. Internode's parent company, iiNet, should be commended for its five star rating for customer service, as should TPG for a five star rating for value for money.
We also compared iPrimus, Optus, Telstra, Vodafone and Dodo in this survey.
Landlines may need a lifeline, according to new research
Is the landline phone in imminent danger of being cast aside for mobile phones? Perhaps, as our latest results show that 35% of survey respondents use their landline phone for less than 20% of all phone calls.
When respondents of different ages were asked:
60% of Generation Y respondents, and 51% of Gen X's, use their landline for fewer than 20% of phone calls.
Only 22% of Baby Boomers could say the same.
Unsurprisingly, nearly four in five respondents use their mobile phone as an alternative to their work or home phone. VOIP (voice over internet protocol) and Skype collectively are popular options for homes as well, being used by one in five respondents instead of a landline.
Despite there being so many great substitutes, nine in every ten respondents told us they still own a landline. It's also worth noting that many electronic heavyweights, such as Panasonic, are looking to incorporate smartphone and VOIP functionality into new landline phone models, perhaps to give it more prominent status in the modern household.
One way consumers can utilise their landline is in conjunction with a range of other useful telecommunication services – i.e. by bundling them together. In that light, let's look at the rest of our results for bundled communication plans.