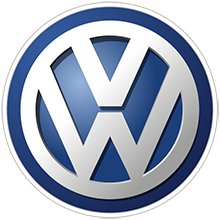 About Volkswagen Hatchbacks
A brief history of the company
The biggest automaker in Europe had beginnings in 1930s Germany, where Volkswagen (translated as "the people's car") was created by the German Labour Front in 1937. The Volkswagen project was aimed at producing a car for the ordinary people, as the German market was made up of luxury cars that were not affordable to most people.
The production was made possible by the Nazi regime, as the VW project was sponsored and executed in a state-owned factory. Just like the Beetle we know today, prototypes of the KDF-Wagen (as it was called) were distinctly round in shape, with an air-cooled, flat-four, rear-mounted engine.
The war meant production of military vehicles, and just like many factories around the world, VW made them. Sadly, the state-owned factories used slave labour from concentration camps.
Postwar, VW started up again and produced 20,000 cars for the British army and the German Post Office. The Factory was making 1,000 cars a month in 1946 and was rebuilding under the leadership of Heinz Nordhoff.
Canada began importing Volkswagens in 1952, but VW's success in the U.S. was limited at first.  Eventually they took off with the establishment of Volkswagen of America (to standardize service and sales) in 1955. By this time, one million Type 1 Beetles had been made in Germany.
Despite the car becoming outdated through the 60s and 70s, American exports, a reputation for reliability, and innovative advertising helped production figures reach record levels. By 1973, production surpassed 16 million Type 1 Beetles.
The Golf was introduced in 1961 to add to the Volkswagen range, and their other famous models such as the Jetta, Scirocco, Caddy, Corrado, and Cabriolet followed on from the same chassis.
After struggling through the 80s like most other manufacturers, the new models of Golf and Beetle, as well as the Polo and Jetta bought them back in the 1990s.
Today they still make their iconic range of cars and are also the leading diesel engine manufacturer. They are partnering with other companies to market clean diesel technology and is the second largest car manufacturer worldwide.
Volkswagen Hatchbacks
They are still known best for the Kombi and the Beetle, but there are other cars in the Volkswagen range. As far as hatchbacks are concerned, you have twelve models to choose from; three Polo variants, seven Golf variants, the Scirocco R, and of course, the Beetle.
There are different features in every car, and here are some that are available:
Driver fatigue detection system
Automatic headlights
Bluetooth connectivity
Adaptive chassis control
4MOTION all-wheel drive system
Rear view camera
Satellite navigation
Parking sensors
Rain sensing wipers
USB interface
Cruise control
Automatic headlights
Keyless access
To find out which features are available in particular models, please refer to Volkswagen.
How did they score?
Consistency is something to be admired, with Volkswagen achieving four 3 star ratings. They also scored highly in our reliability with a four star outcome, and achieved the only 5 star rating for performance.
Other hatchbacks we rated
Canstar Blue commissions Colmar Brunton to regularly survey Australian consumers across a range of categories to measure and track customer satisfaction. The outcomes reported are the results from customers within the survey group who had recently bought a hatchback.
The other brands in this year's survey are:
Ford
Honda
Hyundai
Mazda
Holden
Toyota
Other articles you might like
How to test drive a new car
Five Golden Rules for Buying a New Car