Throughout the year, your air conditioner filters collect dust and pollens drawn from the outside air. In particular, bushfire season can impact the air quality further, as smoke consists of water vapour, gases and small particles, which can be harmful to one's health. It's important to conduct proper maintenance of your air conditioner to upkeep a healthy environment in your home, regardless of the time of year, or where you live. But especially after a fire in your area.
During the bushfire season, many governments and fire agencies recommend that people stay indoors where possible, with doors and windows shut and the air conditioner turned on. Other air-conditioned venues like cinemas, libraries and shopping centres are also recommended as suitable locations to visit to stay cool.
In this guide, we offer general advice on your air conditioner filters, but for all essential bushfire warnings, visit your local Fire Station or the Rural Fire Service websites.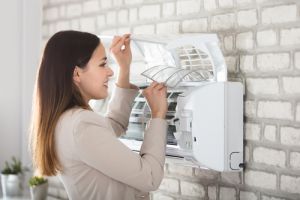 How to remove and clean air conditioner filters
Filter panels are your air conditioner's primary line of defence against various airborne nasties. In turn, expect them to get dirty and clogged over time, meaning you should clean them regularly. The upside of this is that filters are the easiest part to clean. To clean your air conditioner filters, follow these steps:
Remove or flip up the front grille of your air conditioner.
Remove one large mesh panel, or two smaller ones, depending on the size and brand of your unit.
Clean the panels by taking them outside (being careful not to spread any dust inside your home) and tapping them gently on a railing or surface to dislodge dust and grime.
Any remaining particles can be vacuumed off.
Some filters are waterproof, allowing you to rinse them under the tap. However, it would be wise to check your manual to make sure this is the case for your unit. Alternatively, a damp cloth may be more suitable.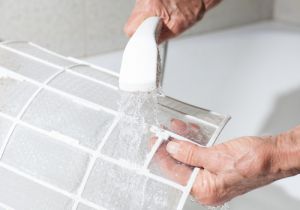 Can I run my air conditioner with bushfire smoke outside?
According to the Air Conditioning Dealers Association, yes you can. Many air conditioner units recycle the air within your home with the filter, acting as the barrier from harmful pollutants such as smoke. Here are a few areas to consider if you're looking for a new air conditioner, or you're worried about smoke affecting your air conditioner.
Reverse cycle air conditioners, when used on the recirculate mode, stop air being drawn from the outside.
It's suggested to switch off the 'Fresh Air' function if you have it on your air conditioner, as it's designed to bring outside air in.
You might like to upgrade your air conditioner filter to a HEPA or other higher filtration option to help reduce smoke contaminants in your home.
Recirculating air purifiers with a HEPA filter can be used alongside an air conditioner to further reduce the number of fine particles inside your home.
Evaporative air conditioning is not recommended as it draws air from the outside. This includes humidifiers, negative ion generators and odour absorbers, as they don't remove fine particles in bushfire smoke.
Reverse Cycle Air Conditioning Systems
Australia has one of the highest rates of asthma in the world and high levels of hay fever and other allergies. According to air conditioner manufacturer Daikin, many reverse cycle air conditioning systems feature a built-in air-purifying filter, designed to trap fine airborne particles and in turn, help purify the air inside the home. Some models further decompose odours, plus absorb and deactivate bacteria and viruses. If you're prone to allergies, or you're worried about air quality, investing in an air conditioning unit with additional filters may prove a worthwhile purchase.
Australia's bushfires are keeping air conditioning contractors busy – as record-breaking pollution clogs filters with smoke and ash. Technicians say they're flushing black soot from units far from the fire zones. https://t.co/VZ3A1cpmr5 #7NEWS pic.twitter.com/qBr1owj1Y9

— 7NEWS Brisbane (@7NewsBrisbane) December 30, 2019
Why do I need to clean my air conditioner?
Not only should you clean your air conditioner – particularly its filters – from a health perspective, but also because a dirty air conditioner is an inefficient air conditioner. And an inefficient air conditioner will need to work harder to reach the cooling temperature you set for it. By working harder, it's going to use even more energy – which will therefore add more to your electricity bills.
There's never a bad time to give your air conditioner a spring clean, but if you're unlucky enough to have been close to a bushfire, it's probably wise to thoroughly clean the filters and ensure you're getting the freshest air you can.
Air Conditioner Reviews & Ratings
Picture credits: Eviart/shutterstock.com, Andrey_Popov/shutterstock.com, aerogondo2/shutterstock.com