Maintaining a healthy diet isn't easy when you also enjoy snack foods like chips, which are generally high in saturated fat. For whatever reason, most of our favourite foods also happen to be bad for us, so wouldn't it be great if there was a way of cooking our most-loved foods without having to worry about how unhealthy they are? Step forward the humble air fryer. It's not a miracle appliance that suddenly makes all those fatty foods good for you, but it will help you eat healthier versions of your favourite guilty-pleasures – and you'll know exactly what's gone into them.
What are air fryers?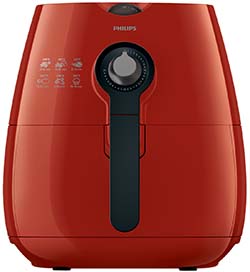 Air fryers are a kitchen appliance that cooks food by circulating hot air around it. They are a relatively new appliance in the kitchen world that offer healthy and tasty foods cooked with less oil. Essentially, they look like tiny ovens or large rice cookers, and they have a chunky tray which can be removed, filled with food and put back inside.
Air fryers were first launched here in Australia in 2010, and are fast becoming a staple of the modern kitchen. They can cook a variety of different foods in small quantities, which makes them perfect for preparing snacks rather than full meals. One of the main benefits of air fryers is that they use significantly less oil than other appliances such as deep fryers (about 70-80% less in fact), which makes the results much healthier for you. According to celebrity chef Gordon Ramsay:
"The air fryer doesn't quite replace that deep fried taste, but with just a tablespoon of oil, the chips (and other foods) come out crisp on the outside and tender on the inside. They're healthier and taste great."
How do air fryers work?
The basic principle of air fryers is that they use circulated hot hair to heat your food. They use rapid air technology to cook any type of food that you would otherwise cook in deep fat, such as chips and chicken. This rapid air technology circulates the air to temperatures up to 200 degrees, and the cooking chamber (where you store the food) keeps the food close to the heating elements, allowing your food to be cooked in 10 to 20 minutes without the need to be ore-heated.
Above the cooking chamber is an exhaust fan, which helps provide the necessary airflow to ensure that every part of the food receives the same heating temperature required to make it nice and crispy brown. In addition, the air fryer comes with an internal cooling system that keeps the inside of the machine clean. This cooling system includes a fan mounted on the motor axis that controls the internal temperature and make sure that fresh air passes through the filters.
Basically, the air fryer is extremely easy to use and requires little to no maintenance on your part. In addition to making the process of frying easier, it also results in healthier and (arguably) tastier results due to the lower oil count. Air fryer review compiled an incredibly useful YouTube video on how an air fryer works, if you need a visual guide.
What can you cook in air fryers?
You can cook pretty much anything in an air fryer, as long as it's small enough to fit in there! Here are some of the most common foods that people prepare using these handy devices:
Frozen foods
Pretty much any frozen food that you would put in an oven can be cooked in the hot air of an air fryer. The most common one is chips – this is what a lot of people assume they are made for – but you can also do snacks such as chicken nuggets, fish sticks and potato gems, all of which are staples of households in Australia, particularly if you've got children.
Cooking times vary depending on the food, but they tend to take around 10 minutes a lot of the time, and in some cases, can even be done in as little as six minutes with appropriate pre-heating! This is very impressive, and much faster than what an oven would take.
Raw meats
Certain air fryers come with accessories such as a baking cage or grill pan that enable you to prepare meats in your air fryer. A whole roast chicken can be done in about 30 minutes, and roast pork and BBQ ribs can apparently be done in as little as 10 minutes. Other popular meats that can be cooked in an air fryer include burger patties, steaks and lamb chops.
Vegetables
You can also roast certain types of vegetables in the air fryer, if they are the kind you would normally grill. Common meal veggies like capsicum and cauliflower can be grilled in the machine. Certain models – such as the Tefal Acrifry pictured – come with a round ceramic bowl with a stir paddle that allows you to fry green vegetables just like you would in a skillet. Other veggies you can cook in an air fryer include peppers, corn, zucchini, kale and asparagus.
Baked foods
You also have the option to cook non-stick baking dishes in your air fryer, which can be very useful for baking small items like cupcakes, bread, muffins and lasagnas. Essentially, you can cook anything in an air fryer that comes with a liquid or sauce, such as casseroles and curries. Muffins and cupcakes can be made in as little as 10 minutes. If you plan on doing baking with your air fryer, then be sure to get one that comes with a baking dish.
Nuts
If you're a nut kind of person, then you'll be glad to know that roasting peanuts, almonds and any other type of nut can be done very easily in an air fryer. Peanuts and almonds can be done in 10 minutes, whereas walnuts will be ready to go in less than 8 minutes.
What can't you cook in air fryers?
Despite their many uses, there are still a lot of foods and snacks that you shouldn't put in an air fryer.
Wet batter-coated foods
Batter-coated food is generally not suited for air frying, since the fast moving air can push away the wet batter from the food and spray it all over the place. So if you want to make battered fish or chicken, it is best to stick to the traditional methods of cooking. However, some customers have had success by frying the batter-coated pieces in a pan first and then frying them in the hot air fryer, but this takes longer and is really quite unnecessary.
Certain kinds of vegetables
As said before, vegetables that can be roasted or grilled (mainly potatoes) can be used in an air fryer. However, you should avoid any kinds of vegetables that can be cooked or steamed, such as carrots and beans.
Pasta and rice
Since their primary function is frying, it goes without saying that foods you boil – mainly pasta and rice – are not suitable for use in an air fryer.  For these, the old fashioned way of boiling water is still best. Alternatively, you can get a rice cooker.
Really, you can cook the majority of common foods in an air fryer if the quantity is not too big. Most air fryers come with a 500g capacity, but there are options out there with larger capacities. Air fryers open the door to innovation in cooking, and with a bit of experimentation, you can cook pretty much anything in less than half an hour.
Air Fryer Reviews
As a relatively new kitchen appliance, air fryers remain a fairly small market, with just three major suppliers in Australia – Philips, Tefal and Kambrook. Let's look at their product ranges and see which they are likely to cost you.
Philips Air Fryers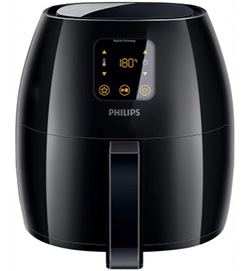 Of the nine different air fryers currently listed on Appliances Online, Philips is responsible for seven of them! When people think air fryers, they tend to think of Philips, and it's easy to see why. Their designs are all sleek looking with convenient designs and easy to use displays.
The most expensive Philips air fryer is the HD9240-90 (pictured), which will set you back a little under $400. This model has an average user score of 4.5 stars on both the Appliances Online and Philips websites, so it comes highly recommended by a lot of consumers. The main advantages of this model is its large 1.2 kg cooking capacity, allowing you to feed up to five people in one go, and a digital screen for easier control of time and temperature.
The cheapest air fryer from Philips is the HD9220-66 model (the red one pictured at the top of the page), which costs much less at about $220. Like the more expensive one before it, this air fryer has an average score of 4.5 stars on both websites. It still has a larger than average capacity of 0.8 kg, yet has a smaller capacity than the HD9240, despite having larger dimensions. It is a high-powered machine that allows you to fry, grill, roast and bake all in one.
The rest of the Philips range comes within the price range of $220 to $380 and all come highly reviewed from consumers. They all seem to have in common a large capacity size, dishwasher safe parts, multiple different options for cooking and easy to use controls.
Kambrook Air Fryer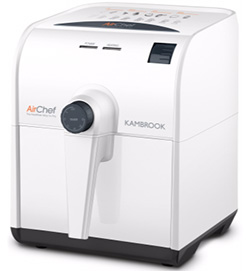 Kambrook currently has just the one product available at Appliances Online, the KAF200WHT Air Chef. The Air Chef costs around $160, making it considerably cheaper than anything provided by Philips. Interestingly, the most notable aspect of the Air Chef is the massive capacity – it can cook up to 2.5 kilos worth of food in one session. This is despite having very similar dimensions to most Philips products.
However, it is less powerful than the Philips products, especially the HD9240-90. It also doesn't specify if it comes with a food separator, which allows you to cook different things at once. However, if money is an issue for you and space isn't, and you want to cook larger quantities of food in one go, then the Kambrook Air Chef could be the best option for you.
Tefal Air Fryer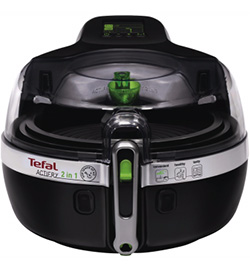 Tefal is known as a premium brand of household appliances, such as clothes irons, and its air fryer listed on Appliances Online is the most costly of the bunch. This air fryer is the Tefal YV9601 ActiFry, which will cost you upwards of $380. We already mentioned this air fryer earlier in the article when we talked about how it comes with a ceramic bowl to allow you to perfectly cook vegetables.
It has a very unique design, with a big digital screen and a steam-free viewing window, allowing you to easily keep track of your food's progress once it's inside. It has a large 1.5kg capacity, and like the Philips products, has a two-in-one food separator.
Which air fryer should I buy?
Really, there is very little to separate the three providers. Philips is the more experienced and established brand when it comes to air fryers, and this shows by the vast number of additional features its units come with. The Philips models might be more expensive on average, but if you want proven frying quality, then they're your go to brand.
On the other hand, Kambrook and Tefal also have high-quality air fryers. The Tefal ActiFry is the most expensive of the lot, while the Kambrook Air Chef is the cheapest, and both excel at different things – Kambrook's is best for cooking large amounts of food, whereas  Tefal's is more suited to cooking different types of food quickly.
Making healthy, low-fat, tasty food in a matter of minutes can be a life saver, so you definitely shouldn't rush into buying a machine that can do all of that! We hope you find our review helpful.