Tax time is just around the corner, which means you'll soon have a little spare cash to splash. If you're thinking about spending some of that tax return on a jazzy new appliance, we've got some suggestions for you! The world of home appliances is filled with weird and wonderful gadgets designed to make cooking, cleaning and other domestic activities a little easier. Check out our list of groovy appliances to get some inspiration on what you can splurge on at tax time.
Top 10 cool appliances to spend your tax refund on
Blender
Ice cream maker
Waffle maker
Pizza oven
Wine cooler
Smart pet feeder
Air fryer
Robot vacuum
Food processor
4K TV
Blender
A blender is arguably a must-have in summer. It's a nifty appliance that can whip up fresh smoothies, juices, baby food and yummy frozen treats like blueberry avocado 'nice' cream, in minutes and without turning your kitchen into a bomb site. Blenders can cost anywhere between $100 and $500, and come in various forms. This includes different standalone units, such as dual blender/food processors and vacuum blenders. Here's our top pick for a blender below.
Smeg 50s Retro Style Blender Pastel Blue − $255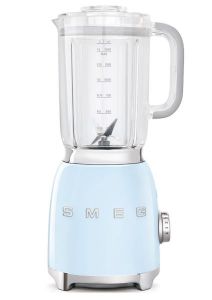 The retro-style blender from Smeg (BLF01PBAU) is available in eight different finishes, including black, white, pastel blue (pictured), red, green, silver and cream; to suit any kitchen aesthetics. It's kitted with a Tritan jug and has an 800W motor that can operate at four speeds. The motor starts the blending cycle softly and gradually work its way up to your selected power setting to prevent splashes.
This Smeg unit also features three pre-set programs which takes the guesswork out of crushing ice, making smoothies and pulsing ingredients. This model also has an automatic switch off function, for when the jug is not fitted correctly. It's available on Afterpay and ZipPay.

Ice cream maker
Instead of buying ice cream at the store, why not create your own unique flavours (shoutout to peanut butter and banana) at home? Or maybe try to make a low-sugar version of your favourite soft serve? Anything is possible with an ice cream maker. It's also a pretty useful tool for your vegan and lactose-intolerant friends. Ice cream makers come in different shapes and sizes, from manual to fully automatic models, ranging in capacity from 1.2L and upwards. They can come pretty cheap too, with prices starting from $100 for a standard model. Here's our top pick for an ice cream maker.
Cuisinart 1.5L Ice Cream Maker − $139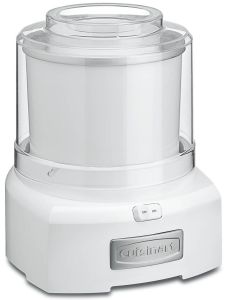 This Cuisinart model (46540) features a heavy-duty motor that can make all your favourite frozen desserts including, ice cream, sherbet, sorbet, frozen yoghurt and even frozen drinks (hello margaritas) in 20 to 30 minutes. It also comes with an automatic mixing arm, BPA-free easy-lock transparent lid and a double-insulated 1.5L freezer bowl, which is big enough to make ice cream for the whole family. This model is also dishwasher safe and comes with a three-year manufacturer's warranty. It's available on Afterpay and ZipPay.

Waffle maker
If you like to whip up a luxury breakfast at home for your significant other, or are looking for an easy brekkie option the kids will love, then you simply can't go past a waffle maker. Did someone say Belgian waffles with extra Nutella? Prices for this appliance typically start around the $50 mark and reach up to $200. These days you can also find waffle makers that double as a toasted sandwich press, so it's a win-win whether you're a savoury or sweet tooth. Find our top pick for a waffle maker below.
Tefal Snack Collection Sandwich and Waffle Maker − $108

This Tefal model (SW852) has two appliances in a single footprint to offer a quick and easy solution for snacks both sweet and savoury. It comes with toasted sandwich and waffle-making box sets, including interchangeable plates that are easy to clean, non-stick and dishwasher-safe. You can switch the sandwich and waffles plates easily, by simply pressing on the plate ejector button and inserting those you want. And what's more, you can also purchase 12 other plates directly from Tefal to make grilled paninis, empanada, doughnuts, and more. This model is available on Afterpay and ZipPay.

Pizza oven
What's better than pizza? Homemade pizza of course! And for that, you need a pizza oven or grill. If you take your Italian food and the art of getting that pizza crust just right seriously, this is worth the splurge. While woodfire pizza ovens can cost a couple of grand, mini or portable pizza ovens are fairly affordable, to the tune of $100 and upwards. Here's our top pick for a pizza oven.
Ovation Pizza Maker and Grill − $129

This Ovation pizza maker (OV15) can cook either fresh or frozen pizza and features a generous 1.15L capacity, enough to accommodate a 12-inch family size pizza. This appliance is also ideal for baking quiches, pastries, breads and also has a grill function. Other specs include dual heating elements to cook your pizza evenly in the middle and on the sides; and adjustable temperature controls (100-250C), plus a 60-minute timer to remind you when your pizza is ready. This model comes with a one-year warranty.

Wine cooler
If you've got a wine selection collecting dust in your kitchen cupboards, now may be the time to invest in a wine cooler. This appliance is designed to store your wine at a controlled, optimum temperature, so that it's always ready to drink. Cheers to that! Aside from their impressive functionality, wine coolers also look stylish in any modern home, especially those with stainless steel and matte black designs. This however comes at a premium, in the ballpark of $500-$3,000. Find our top pick for a wine fridge below.
Hisense 30 Bottle Wine Storage Cabinet Single Zone − $499

This Hisense single-zone wine cooler (HR6WC30) can store up to 30 bottles of your favourite wine, a steadfast choice for aspiring wine collectors; and can fit in smaller spaces around your home, thanks to its compact size (844×490 mm). This model also features wooden shelving to assist in reducing vibration, while preventing chemical aromas from altering the characteristics of your favourite blends. It also comes with a digital display to help you monitor and adjust your unit's temperature, while adjustable feet and a recessed handle provide extra functionality.

Smart pet treater
If you're a pet owner, you probably often wonder how little Felix and Casper get on when you're not home. Do you ask yourself if they're hungry? If they miss you? Well, you could wonder no more, if you had a pet feeder to keep your furry companions' tummy full while you're at work. Even better, if you had a smart pet feeder, you could also keep an eye on your beloved pets via a camera and communicate with them. These devices typical cost around $200, but honestly, these are worth their weight in gold. Find our top pick for a smart pet treater below.
Pettecc Smart Feeder for Pets − $270

This Pettecc Automatic Pet Feeder (SF-106-6924) allows you to set regular mealtimes or dispense dry food (up to 200 grams per portion) throughout the day, to feed your pet small meals. It features a built-in display and app, which you can use to input fixed feeding times and the exact amount of food to be dispended. This model can use your own voice signal (which you can record via the app) to notify your pooch or feline when their food is ready. And we've saved the best for last – this model has a built-in camera which allows you to take photos, record video, and even video chat with your pet! Need we say more?

Air fryer
An air fryer can turn French fries and your other favourite fried foods into a not so naughty meal. It can fry, roast, grill, bake and basically cook anything, using circulating hot air, instead of yucky oil. If you don't have one already, gather up your pennies and head to the store. Big brands such as Philips, Sunbeam and Breville stock some pretty nifty options available in their range, including various formats and capacities to suit any households. These can cost anywhere upwards of $80. Here's our top pick for an air fryer.
Philips Daily Collection Air Fryer − $229

This Philips model (HD9218-51) is a compact unit, with a 0.8kg capacity unit, which can still cook a decent-sized family meal. It comes with all the standard bells and whistles, including various pre-set programs for popular dishes, a set-and-forget function, a removable non-stick coated drawer and a dishwasher washable food basket. Philips claims this air fryer cooks your favourite foods with up to 80% less fat than a conventional deep fryer.

Robot vacuum
Want to take the effort out of vacuuming after the kids and pets? Then it may be time to shell out on a robot cleaner. It's a totally independent, smart vacuum, which automatically guides itself around your home and furniture to suck up dirt, dust and other residues. You can basically have your house cleaned by the robot, while you do other stuff. Win-win. There are lots of robotic vacuums available today, ranging in price from $100, up to $1,500. Find our top pick for a robot vacuum below.
Eufy Robovac 11S Slim Robot Vacuum − $315

Kick back and relax because this slim Eufy robot vacuum (T2108T11) is equipped with multiple cleaning modes and a pre-set cleaning time, so that you can program it to clean your home every day, at whatever time it suits you best. You can even call on additional suction power with its BoostIQ function, while its drop-sensing technology detects and avoids ledges, steps and small drops around your home. This model also features a 0.6L capacity dust box, a triple-filter system and a 1300 pascal suction power to pick up dust, dirt and small debris. When power is low, the Eufy senses and navigates its way back to the charging station. One charge will give you about 100 minutes of runtime. This model is available on Afterpay and ZipPay.

Food processor
If you often joke about needing a sous chef in the kitchen, to help with labour-intensive meals, then it's time to get serious and consider bagging yourself a food processor. It's by far one of the most versatile kitchen appliances (besides a Thermomix) as it can chop, slice, grind, shred, puree and basically help you prepare any meal with ease. That kind of convenience will set up back of few hundred dollars or more, but you do pay for what you get. Here's our top pick for a food processor.
Kenwood MultiPro Classic Food Processor − $233

This Kenwood food processor (FDM785BA) comes with a dual drive system that automatically adjusts to allow both the food processor and blender to run from the same power base. It has a 1.5L ThermoResist glass blender to whip up all sorts of hot and cold ingredients without the glass clouding or shattering. If you've been wanting to clear out your kitchen draw of clunky utensils, this model seems perfect as it comes with attachments for grating, chopping, whisking, kneading and grinding, as well as a citrus press for squeezing fresh juice. Its variable speed dial features eight speeds, as well as a pulse option for extra power.

4K TV
4K TV is all the rage in living rooms across the country and for good reason. Compared to 1080P HD, a 4K screen has four times the number of pixels, to give you a nearly cinematic image quality at home. It's the Goliath of smart TVs (besides 8K which is exxy) and honestly, once you go 4K… you will not go back. This type of technology will set you back anywhere between $1,000 to $5,000. Here's our top pick for a 4K TV below.
Palsonic 65 Inch 4K UHD Smart LED TV − $1,399

This Palsonic 4K UHD LED TV (PT6525SU) comes with all your standard built-in smart TV features to allow you to stream your favourite content on Netflix, Freeview and YouTube, or browse your Facebook feed right from your TV screen. It also comes with a built-in H.265 tuner giving you the option to view your favourite digital and analog TV channels as well. This 4K TV model features four times the quality of full HD, to give you optimised image sharpness, clarity and depth, as well as amazing colour, brightness, and contrast (with HRD). There's also a USB DTV record, to enable you to save digital TV broadcasts to an external device for later viewing, a Bluetooth Air Mouse and two HDMI ports to connect to external devices.

Picture credits: New Africa/Shutterstock.com.