Australian families could find themselves unnecessarily sweating through the summer months amid concern that cooling their homes will leave them feeling the heat from their energy providers.
Last year was Australia's third hottest year on record and as the mercury starts to rise again, many households will be looking to buy new air conditioners or upgrade their existing units to handle the heat. Fujitsu reports that half of its sales come between October and January and Appliances Online saw sales more than double over the October Labour Day long weekend in some states.
But research from Canstar Blue has found that three out of five households (61%) plan to reduce their use of air conditioning this summer in an effort to keep bills low. For many though, the real cost of cooling could be less than they think.
Of the 650 adults Canstar Blue surveyed – who have purchased a new air conditioner in the last two years – 48% said energy efficiency was the most important factor when deciding which brand and model to buy. Just 5% cited appearance as the decisive factor and 36% said the cost of the unit ultimately dictated which one they bought.
Respondents reported average monthly electricity bills of $239 during last summer and estimated their air conditioner use accounted for a quarter (24%) of the cost.
"Those big summer bills can cause a shock and many households look to their air conditioners as the main culprit," said Head of Canstar Blue, Megan Doyle. "The perception is that cooling your home is very costly, but it's not necessarily the case.
"Rather than sweating through the hot months in a bid to avoid large bills, families should consider what else is responsible for the extra cost before sacrificing their air con use.
"It can be easy to use a lot a power during summer, but cooling your home is just a part of it. For example, you'll probably spend more time outdoors, where lawn mowers and other gardening tools can gobble up the kilowatts – as can other tools if you enjoy a spot of DIY. And of course running an extra beer fridge or maintaining your swimming pool can be costly.
"Reducing the unnecessary use of other household appliances during summer, such as clothes dryers, will mean you can worry less about the cost of running your air conditioner."
How much energy does my air-conditioner use?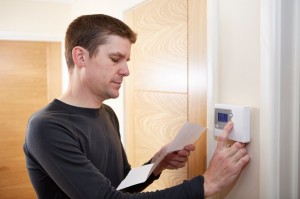 So how much does running your air conditioner in summer actually cost? Based on an electricity price of 28.7 cents per kWh (AGL's fixed residential market price for Queensland), a 5.5 star energy rated model from Fujitsu would cool your home for three hours per day over three months for about $32. That works out at just over $10 per month, or 8.3 cents per hour, and represents just over 4% of the $239 average monthly electricity bill reported from our survey.
That cost is typical of most high-rated air conditioners, but what about those with a low energy efficiency rating? Based on the same electricity price and usage, a 1.5 star energy rated model from the same brand would cost you $185 over three months. Again that is typical of air conditioners with a low energy rating and at almost $62 per month it would make up roughly 26% of that $239 average electricity bill.
What about an air conditioner with an average energy rating? Again based on the same electricity price and usage, a 3 star rated model from Fujitsu would result in a cost of $73 over three months. That works out at just over $24 per month and 10% of that $239 average monthly bill.
These results were calculated using the Energy Rating website – an extremely useful tool that's worth checking out before choosing which air conditioner to buy. And Fujitsu General was used as an example brand because it holds our customer satisfaction award for air conditioners.
The importance of energy efficiency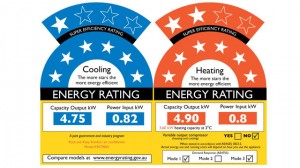 So what have we learnt? Well, if you own an air conditioner with a high energy-efficiency rating, you could probably cool your home during the hottest three months of the year for as little as two cups of takeaway coffee every four weeks. However, if you have a unit with a low rating, then it's likely that its electricity consumption will cost you significantly more – about five times more our example found and about a quarter of the average monthly electricity bill.
It's important to note that this example was based on roughly three hours of air con use each day over the three months of summer and greater usage will obviously result in higher bills.
Regardless of how often you use your air con though, if it has a low energy rating, it might be wise to consider replacing it with a more energy-efficient model. Then you'll just need to decide whether or not the extra cost of buying a high-rating air conditioner makes financial sense given the potential savings to your electricity bill. Units with a high energy rating are generally more expensive to buy and if you're only going to save $100 or so dollars each summer on your electricity bill, it may take a couple of years – or even longer – to see any overall savings. Prices can range from around $1,000 right up to more than $4,000, so it's wise to do your maths before getting out your credit card.
If you are still worried about the cost of running your air conditioner this summer, here are some tips to keep it running efficiently.
Make sure your unit is running as efficiently as possible. This means clearing out the air filters and checking the outdoor unit is clear of leaves or dirt.
Keep your blinds and shades closed as much as you can. When left open, the sun can really heat up a room and negate the benefits of your cooling.
Avoid setting your thermostat at a colder setting than you need. It will not cool your home any faster, but could mean higher bills because the lower the temperature, the more power is needed. Generally the optimum temperature to set your air conditioner at is around 24-25°C in summer.
Other articles you might like
Compare air conditioner brands
Our air conditioner buying guide