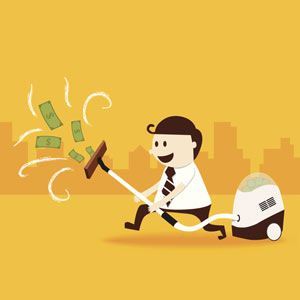 The humble vacuum cleaner is something we use every week or every month, but how important to us is what we use? Apparently, very.
Canstar Blue studies conducted by Colmar Brunton this year show that 39% of Australians dream of owning a top-of-the-line vacuum cleaner.
On average, Australians spent $373 on a vacuum cleaner this year. Those in Western Australia spent the most, with a vacuum cleaner costing them $464 on average. But one in two Australians say the biggest factor for them when choosing a new vacuum cleaner is the price: everyone wants a bargain.
What makes a vacuum cleaner top-of-the-line? It could be anything from how much it costs, or how much gold-plating it has, to its use of the latest technology.
The most expensive vacuum cleaners include the Swarovski crystal-encrusted HYLA GST model. Priced at only $28,000, this little baby is practically a steal. Its water filtration system makes it highly allergy-friendly.
Then there's this 24k gold-plated beauty from GoVacuum, starting at £800,000 (about AUD$1.6m). Only 100 of these limited edition GV62711 models exist in the world. It's ideal for red carpets, but let's face it – if you own one of these, it's one of your many servants who'll be using it. Perfect for picking up any annoying loose bundles of cash or diamond rings dropped behind the couch.
Even better, GoVacuum have also created a rap song to go with this model! And after you've spent the $1m, GoVacuum have thrown in free shipping to anywhere in the world.
Lastly and perhaps most surprisingly, in 2012, Sharp brought out a vacuum cleaner with feelings. 'Cocorobo' not only cleans, but also communicates with people, responds to voice greetings and commands from its owners, and has feelings – a true pet robot. Sharp's inventor Yuji Onishi says Cocorobo's mood will vary from day to day depending on how much you interact with it in person or using your smartphone app.
At the time of its release, Cocorobo was priced at around AUD$1,400 – $2,000. These days its equivalent, the iRobot Roomba, costs only AUD$500 – $900. The Neato Botvac 85 costs about the same and comes with more features and better performance for things like the purebred Maltese's downy hair that lines the floor of your mansion.
One key element of  luxury vacuum is that it should be beautiful. This year Aggie MacKenzie, former host of How Clean Is Your House?, declared that a good vacuum should also look stylish or even cute, "because it's not an appealing job. You've got to be able to open the cupboard without hating the sight of it."
Will gold-plating help? It can't hurt!
Other articles you might like
Canstar Blue vacuum cleaner reviews
Vacuum cleaners – our buying guide
Are robot cleaners the future?