The proliferation of appliance brands and similarities between products on the market can make it hard to know who, or what, to trust. Personal experience is a great guide when it comes to knowing what to expect from a particular brand. But if you're new to the market or looking to try something new, how do you decide which brand to buy?
Recommendations from other consumers can save you some time and heartache by highlighting brands that consistently rate well. Canstar Blue has taken this to the next level by regularly surveying thousands of Australians to seek their opinions about the household appliances they currently own and use. Their experiences are reflected in our annual customer reviews. So, if you want to know which brands really cut the mustard, you've come to the right place.
In this article we'll look at Australia's favourite brands for:
Miele cleans up in satisfaction ratings
In 2018, one appliance brand generally shone brightest for yet another year – Miele. While not known as a particularly cheap brand, Miele evidently leaves a lot of Aussie customers satisfied with their purchases. Miele is a German manufacturer wheeling and dealing in a lot of different appliances, big and small. Many of its products are still made in Germany, known for being durable and reliable, while also water, energy efficient and ease to use. Miele was rated five stars for overall satisfaction in 2018 in the following categories:
This goes to show that consumers just like you see the benefit of paying a little extra for quality. Cheap appliances can certainly do a job for you in the short-term, but if you want long-term value, it could pay to spend more upfront.
Let's go into detail about Miele's recent success and find out which other brands have been impressing in 2018.
Front Load Washing Machines – Miele
As mentioned earlier, the top-rated brand in this year's top loader washing machine ratings was Miele. Miele's front loaders are not known for being particularly cheap, with prices starting at around $1,500 and going up to more than $4,500, but what wins consumers over is that they are known to be reliable, perform well, are pretty quiet, and just do the job well without any fuss.
Doing all the hard work inside is the 'TwinDos' detergent system, which analyses the load and dirt level to dispense just the right amount of detergent.
Many washers boast 4 stars or better for water and energy efficiency. Water consumption is as low as 63L per cycle.
While you won't find any huge-capacity front loaders in Miele's range, what you will find are sub-10kg models that do the job simply and effectively. You also get a two-year manufacturers' warranty to back it up. See our full front load washing machine report here.

Top Load Washing Machines – Fisher & Paykel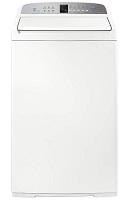 Fisher & Paykel is a New Zealand company that has gone on to take on the world with its tech-forward appliances. Its top loader washing machines generally fall into one of four categories – WashSmart, FabricSmart, CleanSmart and QuickSmart. As the names suggest, each cater towards different strengths. WashSmart models feature super-fast wash cycles as little as around 15 minutes. FabricSmart models are designed to be 'gentle on clothes', while CleanSmart models use the latest grime-busting technology to get rid of tough stains. QuickSmart models are claimed to get the full load cleaned faster.
Again, Fisher & Paykel is not known as a particular cheap brand, with prices starting at around $850, but many models cost $1,000 and up.
Many models boast class-leading water and energy efficiency ratings, which is noteworthy given that top loaders tend to use more water than their front loader counterparts.
Fisher & Paykel top loaders were praised for their performance and reliability, ease of use and design in our 2018 customer ratings. See the full report here.

Clothes Dryers – Simpson
Clothes dryers get a bad rap for being energy-wasting appliances, with some models costing as much as $3 in electricity per cycle to run! However, with smart use, dryers can be a good option for when the sun isn't shining or if it's cold outside. Aussie brand Simpson is a favourite among Aussie customers and is known for being a cheap, yet effective, brand. While you likely won't get the high-tech features some other brands are known for, you'll get a product that's easy to use and effective. Simpson clothes dryers are generally simple in design, and don't use any heat pump or gas technologies to mitigate energy use, but the end result is a cheaper product.
Simpson clothes dryers can be had from as little as $350, and most of the time don't cost more than $450.
The 5kg unit (SDV501) consumes 231kWh, which gives it a 1.5-star energy rating. So consider that a cheaper upfront price will mean higher ongoing energy costs.
The basic functionality and low energy ratings of Simpson clothes dryers wasn't enough to sway owners, with customers praising the brand in terms of performance and reliability, design, drying time and value for money. The complete dryer report can be found here.

Dishwashers – Miele
Miele once again cleaned up in this year's dishwasher ratings, earning five stars from customers across all research categories. Miele produces a wide range of freestanding, built-in and integrated dishwashers to suit a variety of different households. And despite their lofty price tags, Aussie consumers are clearly happy that Miele dishwashers represent good value, rating it five stars in this research category.
Prices start at around $1,300 and can exceed $4,500
Miele dishwashers usually boast 5 star water ratings, consuming as little as 11-12L per cycle
Like the rest of its appliances, Miele's dishwashers generally shy away from gimmicky features, instead focusing on effectiveness and ingenuity. Customers seem to prefer Miele dishwashers for their performance, internal layout, design, and quietness. That last category is particularly noteworthy, as its dishwashers can be as quiet as 40dB, which is a little louder than a whisper and quieter than moderate rain falling on a roof. See our full dishwashers report here.

Fridges – Kelvinator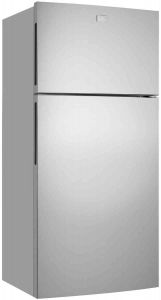 Kelvinator covers the most straightforward traditional top mount and bottom mount refrigerators. The range targets the most important parts of keeping your food and drinks cool through Aussie weather – this isn't the brand to go to for expensive features such as automatic ice cube makers. This means that Kelvinator fridges stay well within a generally affordable price range.
The Kelvinator 453L bottom mount fridge has one of the brand's highest fridge retail prices yet is still very close to average consumer spend on a new refrigerator, at $1,349. Expect features such as glass shelves, LED lighting, FlexStor adjustable door bin storage, two full-width wire freezer baskets and one full-width crisper.
Others in the range can be had from as little as $600 and as much as $1,650.
Kelvinator has defeated several high-end brands in our 2018 review. Its fridges received an outstanding five stars for overall satisfaction and across all other ratings category. Read the details for yourself here.

Ovens – Bosch
Another German appliance brand, Bosch produces anything from alternators for your car, to hand drills to pretty much any appliance you can name, including ovens. Bosch ovens are known for reliability and ingenuity and offer many different models, including both single built-ins and double built-ins.
As you might expect, prices aren't exactly cheap, with most Bosch ovens retailing for in excess of $2,000. Double ovens generally cost more, starting in the upper $2,000 price range.
Bosch has a range of pyrolytic self-cleaning ovens and ones with 'HotAir' Eco modes, aimed at energy efficiency, especially with baking.
Bosch was a clear winner, rated five stars for overall satisfaction in our 2018 ovens review. Customers loved Bosch ovens for their performance, reliability, functionality, design and ease of cleaning. Despite paying high prices for a Bosch oven not scrimping on the purchase price may actually save you in the long run as ovens are often in the home for 10+ years. Our full ovens report can be found here.

Vacuum Cleaners – Miele
If you're looking for something that really sucks, have you considered a Miele vacuum cleaner? Aussies love their Miele vacuum cleaners and are obviously willing to spend a little more to get known quality. Miele produces a range of cylinder, upright, and robot vacuums. Many boast high-powered motors of 2000W or more, and some are class-leading for weight, weighing 6.5kg or less. Like the rest of the Miele appliance range, there aren't any whizz-bang features or laserbeams or anything of the sort. But what you get is straightforward performance with durability.
Aussies are clearly willing to pay a bit more for a quality vacuum cleaner, as most Miele models cost more than $500, while some are priced over $1,000.
Consumers praised Miele vacuums for their quietness, effectiveness and ease of storage. It also scored top marks in terms of value for money, which may prove that price isn't everything when it comes to a good vacuum cleaner. See the full 2018 report here.

Televisions – Sony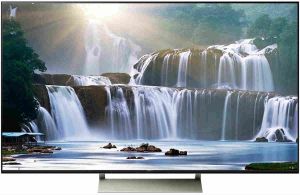 Sony TVs took out top spot in our televisions ratings, which is perhaps unsurprising given the Japanese company's tech-forward approach in the TV area. Featuring mainly OLED, 4K and HD TVs, Sony frequently boasts some of the most eye-catching new technologies.
Sony TVs are a little bit dearer compared to some other brands. For sizes starting at 32 inches, you can expect to pay close to $700, while screen sizes above 65 inches can fetch premiums of over $5,000.
The bonus of buying a Sony TV is that smart functions come pretty much as standard across most Sony models.
Customers loved Sony TV's for their picture quality and sound quality, as well as ease of use and smart compatibility. Given its premium prices, it did score three stars in regards to value for money. So while Sony is not a cheap brand of TV, if you want uncompromising home theatre or just a good quality TV, you might like to keep Sony in mind. See the full report here.

Other Appliance Brands Australians Love
Aside from the large items above, Australians also loved a wide variety of brands of smaller appliances. In this case, these brands of blenders, clothes irons, microwaves and coffee machines, may look right at home on your kitchen counter… or ironing board.
Australians willing to spend more on quality appliances
If there's one thing to take away from this review, it's that there's one common theme among pretty much all customers and all appliance categories. And that is that many people see value in spending a bit more money to get known quality. While it's tempting to just go out and buy the cheapest brand of whatever you're after, the numbers say that there is merit in spending more. After all, you probably get what you pay for.
In the case of Miele, the company is not known for being cheap – rather, quite expensive. However, Australians still see great value in its appliances. Spending more usually equates to a more durable or better-performing product, better features, and ease of use. These companies pump time and money into developing products that customers love, so in many cases prices are well justified.