Did you know that, according to Queensland coffee machine retailer Gilkatho, Australians consumed roughly 67,500,000kg of coffee in 2011/12? It apparently works out to be roughly 2.9kg per person. Interestingly, this figure has increased by 10.5 million kilograms since 2008/09.
So, with all this coffee pouring into the country, what's controlling the price per cup? It may never have crossed your mind before, but you might be surprised by the answer … as well as where in Australia it's currently most expensive to purchase your morning cup from.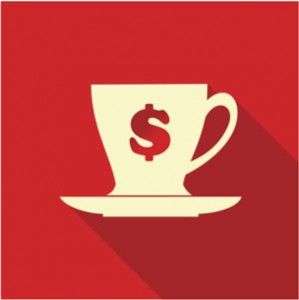 The bright minds over at the Gilkatho Cappuccino Price Index explain that the price of coffee essentially boils down to two key things. Firstly, the price of beans being imported into the country or harvested here. Secondly, the costs of running a business such as staff wages, insurance, rent, food for customers etc. Gilkatho maintain, "Retail coffee prices rise over time as a consequence of the many rising costs associated with running a food business."
This is the average 'street price of a takeaway cappuccino' across major Australian cities:
Sydney – $3.25
Melbourne – $3.42
Adelaide – $3.46
Canberra – $3.47
Hobart – $3.57
Brisbane – $3.61
Perth – $3.93
Gold Coast – $3.94
National – $3.54
Gilkatho Cappuccino Price Index, June 2013
Goodfood recently reported that café owners and roasters don't see the global price of coffee affecting the price of a cup by too great a margin. One café owner stated that roasters have raised the price of coffee in the last five years, while roasters maintain they inflate retail prices to ensure the stability of the commodity as a whole.
How you can save money and still drink great coffee
Some businesses buck the conventional and opt for something entirely new. For example, Business Insider recently reported on a coffee shop in London that doesn't charge money for food or drink – but rather 5 pence per minute you spend there.
While this doesn't really help espresso addicts down under, you can take away an important lesson from this. There are so many coffee shops out there, so perhaps you could be getting better value from one near you. Try comparing coffee shop chains with our customer satisfaction ratings to find a better place to stop in for a cup.
That's just one way to save on coffee; the second it to brew coffee in the comfort of your own home. Two thirds of respondents to our 2013 survey told us they've saved money on café coffees by purchasing an espresso coffee machine for their home. Three in five consumers did one better and stated outright they like the coffee they make at home more than the ones they buy in cafes.
If you're interested in becoming a barista in the kitchen, you can compare well known coffee machine brands on our website.