If you're a Kiwi or Aussie, then chances are you've become a bit of a self-professed coffee head. Our coffee culture down under is second to none, and many northern hemispherians rave about our coffee culture. From buying one at the local café every day on the way to work, to making our own brews at home with fine-tuned tastebuds, we have coffee covered.
Since the explosion of coffee culture, many brands have introduced a wide range of espresso machines, ranging from $100 to over $1000. Every appliance brand seems to have an espresso machine out there, but it's important to find one that's right for you. This is where the Brazen Plus Brew System by Behmor comes in. It's a versatile character, and is sure to suit a wide range of people.
What is the Brazen Plus Brew System?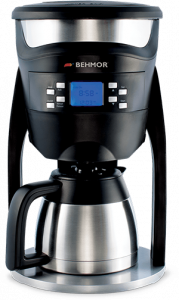 Source: Behmor
The Brazen Plus is a versatile machine that is sure to excite large portions of consumers. Some might even say it's a brazen undertaking, wanting to appeal to a wide range of consumers each with different coffee choices. The Brazen Plus' key features are:
Adjustable temperature settings and pre-soak functions: These settings are usually restricted to professional-grade coffee machines, and you can now bring a slice of your barista home with you with these features. Some coffees benefit from a slightly different temperature. The Brazen Plus is accurate to within 0.5°C. You can also pre-soak the coffee grounds, which can allow for a richer flavour in every cup. Different types of coffee can benefit from different pre-soaking times. The Brazen Plus allows you choose from 15 seconds, up to four minutes if you've got some time to kill for a well-soaked coffee. 30 seconds seems to be the sweet spot, but your tastebuds may think differently! Coffee is like chemistry class all over again, but the Brazen Plus has made it easier to get an A on that test.
Temperature calibration with altitude correction: If this doesn't impress you, we don't know what will. It might come as a surprise to you that the best coffee beans in the world are grown in mountainous regions. Places like Colombia and Kenya produce some of the world's most renowned coffee, and these beans are grown in elevations at or over 1,500m. Altitude just seems to do something to coffee. Simple blends are usually grown at low altitudes like Hawaii, and fruity, spicy and floral blends are usually grown at higher altitudes, like regions in Papua New Guinea. Altitude also affects how the coffee tastes in your home, and having the settings calibrated to your home (you may live atop a mountain, or below sea level!), will ensure the coffee taste stays consistent.
Water flow and the shower head: You'd be forgiven for thinking this belongs in a shower article instead, but the Brazen Plus boasts superior coffee saturation. The oversized showerhead and pulsed water flow ensure that the coffee bed is totally saturated, which allows for optimal coffee extraction.
Specialty Coffee Association of America (SCAA) Certification: The SCAA is the foremost coffee watchdog in America, and to have their tick of approval must surely mean something. The Brazen Plus has several features that impressed the SCAA:
It takes 5 mins, 30 seconds to heat 1.2L of water to 200°F in the Brazen Plus. This falls well within the recommendations of 4-8 minutes by the SCAA.

The SCAA was also impressed by the Brazen Plus' customisable temperature control.

The original Brazen won the People's Choice Award for Best New Product at the 2012 SCAA Show – who knew there was an awards night for coffee?! The Brazen Plus only claims to go further with creating the perfect brew.
You can read more about the SCAA certification process here, but the important thing to know is only a few home brew machines made the list, and the Brazen Plus was one of them.
Is the Brazen Plus worth the money?
By many Australian and Kiwi standards, the Brazen Plus packs a lot in for its relatively measly asking price of AUD $249, or NZD $260. The real question is, however: 'Do you really need it?' Mid-200 dollars is nothing to sneeze at, and chances are if you're not a total coffee geek, your current way of making coffee is likely to keep you content.
The Brazen Plus is for the coffee connoisseur who's just as much into making the coffee as they are drinking it. It has standard features usually reserved only for the most high end machines and those found in cafes. The bottom line is, if coffee is becoming more of a passion or hobby as opposed to a beverage you drink, we suspect the Brazen Plus will be like Charlie to the Chocolate Factory. However, if all you're looking for is that caffeine hit in the morning, the Brazen Plus may be too fiddly for your liking.