Don't walk, RUN! Big W has just dropped one of its biggest bombshells in Dyson vacuum cleaner sale history.
The Dyson V7 Animal Origin Cordless Vacuum is normally priced at $699, but is available for $399 at Big W from today (January 16) until January 30, or until stocks last.
The $300 saving is proving to be a hit with consumers jumping online to spread the word.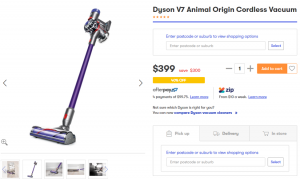 While it's no V11, this older generation V7 vacuum offers up to 30 minutes of suction time, plus its acoustic improvements have resulted in a much quieter machine with no loss of suction apparently.
A remapped electronic motor and two tiers of cyclone chambers claim to deliver powerful suction by increasing airflow and capturing fine dust.
Its max power mode decreases the run time but offers up to six minutes of high suction power.
It features a mini motorised tool for pet hair and ground-in dirt. It can also turn into a handheld, allowing you to clean the hard to reach areas.
Other accessories include a combination tool, crevice tool and docking station.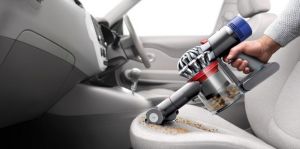 Other Dyson Vacuums at Big W
Aside from the V7 model, Big W also offers a number of other vacuums from the brand including:
Dyson V6 Cord-Free Vacuum: $449*
Dyson Ball Multi Floor Vacuum Cleaner: $499*
Dyson V6 Animal Origin Handstick – Sprayed Blue: $529*
Dyson V6 Animal Extra Cordless Vacuum: $549*
Dyson Big Ball Origin Barrel Vacuum: $549*
Dyson V7 Origin Cordless Vacuum: $599*
Dyson V7 Animal Cord-Free Vacuum: $699*

*Prices taken from Big W, correct as of January 2020