You've landed on this page because you have an extremely bulky corded vacuum that you want to replace, you've got a handstick vacuum that has disappointed you, or you're simply curious to know more about what the heck this vacuum does. So, without further ado, let's get onto the review.
Typically, with stick vacuums you get halfway through vacuuming a room and the battery runs out. So, then you're left with a half-cleaned room and a three-hour wait time for the battery to re-charge. And there goes your Saturday! Bosch is here to get rid of your Saturday blues with the 'Athlet RuntimePlus' handstick vacuum, boasted for one of the longest runtimes around. But it will cost you! So, read on to find out if it's worth the price.
What is the Bosch Athlet RuntimePlus?

The Athlet RuntimePlus handstick is, as the name might suggest, Bosh's stick vacuum with an extra-long run time. Most budget-friendly stick vacs in the market have a 15 to 30 minute runtime and are targeted towards small cleaning tasks, but Bosch boasts its newest addition for cleaning the whole house.
How does the Bosch Athlet RuntimePlus work?
This vacuum features a motorised AllFloor HighPower brush designed for all floor types including carpet, parquet and tiles. It features Bosch's Smart Sensor technology, which monitors airflow rates throughout the vacuum to ensure the suction performance doesn't drop. An LED indicator will light up to inform you when filters become clogged and need cleaning.

How long does the Bosch Athlet RuntimePlus battery last?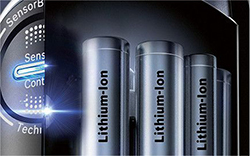 So, how long does the Athlet Runtime Plus 25.2V battery last for? According to Bosch, this vacuum can operate for up to 75 minutes before it needs to be recharged. This claimed runtime is longer than the Dyson V10 and Samsung's POWERstick PRO. However, this is when you use the vacuum on its normal setting; when used on other modes, the battery time will decrease to the following:
Level 1: up to 75 min for normal cleaning jobs
Level 2: up to 37 min for difficult cleaning jobs
Level 3: up to 12 min for stubborn cleaning jobs
The Athlet Runtime Plus has a three-stage battery charging status indicator, said to take six hours for a full recharge or three hours for an 80% recharge. It also has a three-stage electronic protection system on its batteries, claimed to prevent any overcharging, overheating and deep discharge, plus they don't experience memory effect (i.e. the battery won't become weaker over time).
Bosch Athlet RuntimePlus Design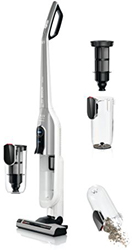 Expect the following specs:
Dust container: 9L
Weight:2 kg
Size (D x H x W): 185 x 1160 x 285mm
It has a freestanding design for easy placement – so no docking station required. This makes it easy to store away and charge at any power outlet, saving you on space. It's also stated to have a hygienic filter for clean exhaust air.
Maintenance
In terms of maintenance, the Athlet Runtime Plus features an EasyClean system, said to make cleaning tangled hairs from the brush roll "effortless". The nozzle roller brush is also removable and has special engineered grooves, allowing you to cut away tangled hairs with scissors and then suck them up without having to pick them out by hand. Plus, it has LED display signals if the filter needs cleaning.
Bosch Athlet RuntimePlus Accessories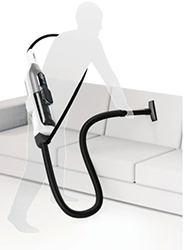 You can transform the Athlet vacuum with the following accessory kit:
Adaptor with an integrated variable power switch
Adjustable shoulder strap
Flexible suction hose
Upholstery nozzle
Crevice nozzle
Attachable short handle
These additional tools are designed to help clean upholstery, tight spaces and hard to reach areas.
How much does the Bosch Athlet RuntimePlus cost?
The Bosch Athlet RuntimePlus costs $699. As far as stick vacuums go, it's certainly sitting towards the premium end. Handstick vac prices typically range from as low as $99, up to as high as $999. This unit is also covered by a two-year replacement warranty for peace of mind.
Bosch Athlet RuntimePlus: $699 (RRP)
Should I buy the Bosch Athlet RuntimePlus vacuum?
Longer vacuuming times with handstick vacuums are certainly a big plus, but be aware that runtimes can decrease when you use extra 'boost modes' or add attachments. Nevertheless, the Athlet Runtime Plus from Bosch should last longer than most rival handsticks, so it's certainly one to consider if you're keen on a vacuum that doesn't give up after 10 minutes. It can be used on all floors, even thick pile carpets, plus it comes with several additional accessories for ease of use.
With a $699 price tag, the extra runtime and accessories don't come cheap. While the convenience of not having a heavy barrel to lug around the house, or not having to re-plug the power chord from room to room might sound nice, your bank account might think otherwise. So, the choice is yours! If you want to know more about what Aussies think of different vacuum brands, check out our customer ratings via the link below.