Avid cooks are likely well aware of the fiery debate over which is better – electricity or gas – when it comes to the best cooktops. One thing's for sure, the latest design from Bosch takes away one of the biggest cons of conventional gas cooktops.
For those who prefer gas cooking, there's one major drawback – temperature control. Conventional gas cooktops just aren't as easy to finely tune to the right temperature for your cooking needs, particularly in the low temperature range. It's pretty frustrating to try to carefully lower the heat to gently simmer a sauce or melt delicate chocolate only to nudge that dial just a little too far and extinguish the cooktop entirely. It takes time and effort to really get to know your cooktop and become adept at getting the temperature just right.
But now there's no need to go through the long process of trial and error, and burnt food. Bosch has created a gas cooktop that has incremental temperature settings – so it does the fine tuning work for you.
What is the Bosch FlameSelect Cooktop?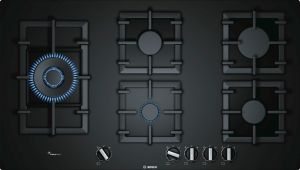 The Bosch FlameSelect is a line of gas cooktops which offer incremental flame size control for each hob, just like the power settings of an electric cooktop. Traditional gas cooktop dials offer imprecise control over flame size, which often involves fiddling around with the dial and gauging the size of the flame by sight to achieve the right heat intensity.
The delineations are controlled by patented valve technology, which creates consistently sized flames at each increment. Nine distinct incremental flame sizes on the FlameSelect make it easier to cook consistently and at the desired heat.
The FlameSelect cooktops come in a choice of two surfaces – black tempered glass or stainless steel. Tempered glass cooktops can be installed either flush or slightly raised, both with rounded edges for a modern look and ease of cleaning. Pan supports are available in a choice of cast iron or steel, with different models designed as either single pan supports for easier moving and cleaning or continuous pan supports for the best stability.
For the easiest cleaning, you can upgrade to enamel pan supports which can safely go in the dishwasher.
What makes the Bosch FlameSelect stand out?
Defined power levels are the biggest feature of the Bosch FlameSelect range. It can make cooking so much easier when you can have such fine control of the flame with such ease. Traditionally, gas cooktop knobs are completely continuous, with no clearly delineated increments.

How much does the Bosch FlameSelect cost?
It's a high-end installation, designed for a quality gas cooking experience – so you should expect to pay premium prices to add a FlameSelect to your kitchen. The recommended retail price ranges from $1,099 to $1,999, depending on the size and surface type. However, keep an eye out for lower prices with your favourite retailer.
| Model | RRP |
| --- | --- |
| Tempered glass 90cm (five hobs) | $1,999 |
| Tempered glass 75cm (five hobs) | $1,799 |
| Tempered glass 60cm (four hobs) | $1,599 |
| Stainless steel 90cm (six hobs) | $1,599 |
| Stainless steel 90cm (five hobs) | $1,499 |
| Stainless steel 75cm (five hobs) | $1,299 |
| Stainless steel 60cm (four hobs) | $1,099 |
Should I buy a Bosch FlameSelect cooktop?
People already familiar with gas cooking may particularly enjoy the FlameSelect, as it gives back greater control while retaining all the advantages of cooking with gas. It could also make an easy transition for those used to electric cooktops and feeling intimidated by the mechanism of gas cooktops.
That said, it's an expensive appliance and may not be worth the money and effort if you already have a very good cooktop. If you're looking to upgrade to the best of the best, the Bosch FlameSelect should be on your list of contenders.