Review of Sunbeam Portable Heaters
Sunbeam is known as a small appliance specialist, producing a variety of products from cleaning to cooking, to entertaining. It has been around for over 100 years with the aim to simplify the lives of everyday Australians. It does just that in its small portable heater range, offering several panel and ceramic models to get you through the winter months.
Sunbeam Panel Heater
Sunbeam has one panel heater – the Sunbeam HE4200 Convection Panel Heater. Panel heaters are also known as 'convection' heaters, as they use air convection currents that transfer heat upwards and circulate the room. Sunbeam's current panel heater is recommended for smaller living areas.
Sunbeam HE4200 Convection Panel Heater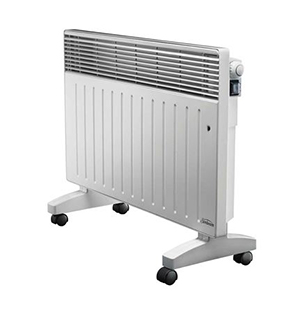 The Sunbeam HE4200 model comes in a white, slimline design with a pressed metal exterior and wheeled feet for easy manoeuvrability. There are two heat settings available and an adjustable thermostat with a maximum power of 2200W. It comes with a 2.7m cord and an indicator light. Over time as dust accumulates, it can be wiped with a damp cloth or vacuumed carefully across the grille, ensuring that the heater is switched off prior to cleaning. Harsh or abrasive cleaners are not recommended as they may damage the surface.
Dimensions (H x W x D): 525 x 163 x 953mm
Warranty: 2 years
SRP: $139*
Sunbeam Ceramic Heaters
For a more compact solution that is contemporary and lightweight, you may like to give a ceramic portable heater a try. Ceramic elements self-regulate energy flow depending on its temperature. These are ideal for instant heat in your bedroom or study. Sunbeam claims that its ceramic elements operate at such a low heat setting that it will not ignite even highly flammable materials like tissue paper, making it a safe appliance to have around the home.
Maintenance wise, you are able to use a soft damp cloth to wipe the exterior of the heaters and wipe with a dry cloth to finish. Sunbeam has three models in the ceramic heater range.
Sunbeam HE2125 Compact Oscillating Ceramic Fan Heater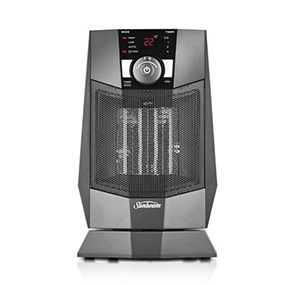 The Sunbeam HE2125 model is designed with three heat settings – high, low and auto – as well as a fan only option to help maintain your desired room temperature. If you're looking for a portable appliance with double action, keep this one in mind as the fan setting can also circulate cool air in summer. It is equipped with an hour timer, allowing you to pre-set the heater to switch off after the selected time, up to 7.5 hours at a time. It also has a 90° oscillating base for heat distribution.
Several safety features include auto-off, which claims to detect any abnormally high temperatures and automatically shut off the heater to prevent overheating, and a thermal back-up device, which is an additional back-up safety feature that stops the power flow to the element if the appliance overheats. There is an adjustable thermostat with a maximum power of 1800W. Sunbeam HE2125 model also features a LCD display and a power on light to indicate if the heater is connected to the power outlet.
Dimensions (H x W x D): 355 x 200 x 230mm
Warranty: 2 years
SRP: $89.95*
Sunbeam HE2105 Compact Oscillating Ceramic Fan Heater
A very similar heater to the one above but in a previous model is the Sunbeam HE2015. It has three heat settings with a maximum power of 1800W as well as a fan only mode and a standby mode. It also features an adjustable thermostat, 90° oscillating base, safety auto shut off and tip over cut out switch. The main difference is its size and LCD display screen, which is a more modern design in the latest model.
Dimensions (H x W x D): 320 x 171 x 214mm
Warranty: 2 years
SRP: $79.95*
Sunbeam HE2055 Compact Ceramic Fan Heater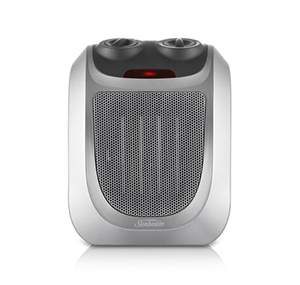 This model is the cheapest of the Sunbeam ceramic heater range, but it still produces a maximum power of 1800W. It has a space-saving design with a moulded carry handle for comfortable transportability. The Sunbeam HE2055 fan heater has an adjustable thermostat and two heat settings – low and high – as well as a fan only setting. It also features an auto off tip over switch and Sunbeam's Total Safety System overheat protection where the electricity is automatically reduced if ceramic elements become too hot.
Dimensions (H x W x D): 285 x 229 x 205mm
Warranty: 2 years
SRP: $69.95*
Are Sunbeam portable heaters worth the money?
Sunbeam aims to make appliances that meet Australian needs. But its portable heater range is fairly small and therefore doesn't cover a variety of heating needs beyond the basics. They tend to sit in the mid-market, with prices starting from about $60 and maxing out at close to $150. The adjustable thermostat function certainly makes a difference to the price of these heaters, but there seems to be no other extra features of note. Nevertheless, even its smallest model produces around 1800W of power, so if you're looking for something simple that can still warm you up in the mornings, Sunbeam may have a portable heater for you.
Portable Heaters Reviews & Ratings
*Prices taken from Appliances Online, correct as of August 2017
About the author of this page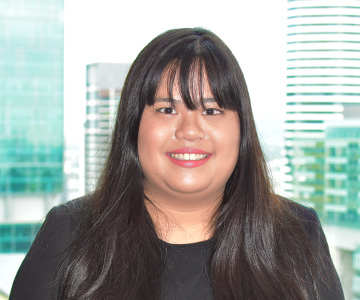 This report was written by Canstar Blue's home & lifestyle journalist, Tahnee-Jae Lopez-Vito. She's an expert on household appliances, grooming products and all things grocery and shopping. In addition to translating our expert research into consumer-friendly ratings reports, Tahnee spends her time helping consumers make better-informed purchase decisions on all manner of consumer goods and services, while highlighting the best deals and anything you need to be aware of.
What do customers think about Sunbeam Portable Heaters?
In 2017, Australian customers gave Sunbeam 3 out of 5 stars for Overall Customer Satisfaction for Portable Heaters.
Sunbeam Portable Heaters
Canstar Blue
Award:
Overall Satisfaction