Portable heaters can take up valuable floor space, and struggle to keep you warm if there's lots of furniture or people in its path. The Caloray Disc takes heating up high, for a more space-efficient warmth solution. But is it right for your home and family? Find out with this Canstar Blue review.
All floor and tabletop heaters, from the bargain bin last-minute purchase right up to the slick high end piece, have one thing in common – they take up valuable space. Heaters can add visual clutter as well as literally clutter, when it's one more thing to dodge while navigating a space and one more thing to find a storage space for when the weather warms up and it's no longer needed.
These heaters can also have a targeting problem – they rely on an unobstructed path between the heater and the people they need to heat, which can be tricky where there's lots of furniture or people spread over a wide space. This is a particular problem when enjoying the great outdoors. Everyone fights for that coveted spot next to the outdoor heater, and the person on the other end of the table is left shivering with barely any heat reaching them.
The Caloray Disc heater was designed to offer a solution to all of these problems.
What is the Caloray Disc heater?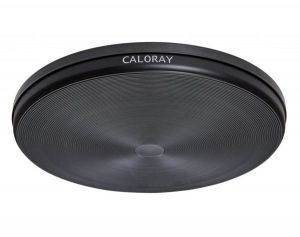 The Caloray Disc heater is a radiant and convective heater, suitable for both indoor and outdoor use in residential or commercial spaces. It's the world's first circular 'non-glow' heater – meaning there's none of that orange glow as usual with heaters – remains visually the same, no visual intrusion.
If you like the Caloray Disc heater, you may also be interested in these other heating appliances:
How does the Caloray Disc heater work?
In radiant heating mode, the Caloray Disc sends rays of heat outwards to warm the surfaces beneath the heater. That means the floor, furniture, and people occupying the space reached by the rays. This mode is most practical for outdoor or other open spaces, as it focuses heat.
In convective heating mode, the Caloray Disc heats the air to create natural air currents which move the warm air around the room. This method of heating is most effective in an enclosed space (i.e. four walls and a roof) otherwise natural air movement will whisk the warm air away.
The Caloray Disc is designed to be used in multiples to cover larger areas thoroughly, without leaving cold spots. Power connection is via a 3 pin plug, with each Disc including a 100mm ceiling mount bracket and a 1.2m cable and plug.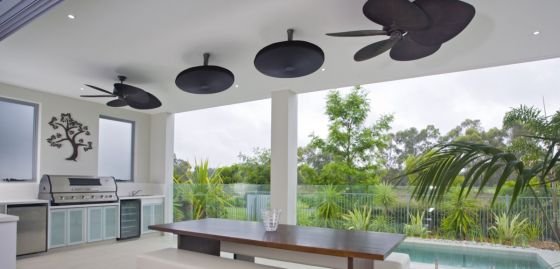 What makes the Caloray Disc heater stand out?
As mentioned previously, the Caloray Disc is purportedly the world's first 'non-glow' circular heater – meaning it's a rare find for those who dislike the look of a glowing electric heater. The design is also unique aesthetically, a smooth and minimalistic black that it blends seamlessly into your room without adding visual clutter to your space.
Ceiling-mounted heaters are a more efficient use of space than traditional floor heaters, as well as making it easier to distribute heat across a wider footprint as it's far less likely to have furniture in the way. In fact, the Caloray Disc was designed specifically to heat areas that are traditionally more difficult to heat and keep warm.
How much does the Caloray Disc heater cost?
As a high-end heater with a unique design, you shouldn't expect to find the Caloray Disc at bargain buy prices. With a price tag of RRP $770, it's not an impulse purchase – rather, it's an investment into your home's design and comfort. The Caloray Disc is designed to be a permanent or long-term fixture in your home or business to provide both warmth and aesthetic value.