Getting the car cleaned is a tedious task and it can also take a large chunk out of your day. The most convenient vacuums to use in your car are handheld and cord-free handstick vacuums. But which are really up to the job? The last thing you'll want is a vacuum that will 'drive' you crazy! In this article, we review vacuum cleaners for your car to help you pick the best for your needs and budget.
Dyson V8 Absolute+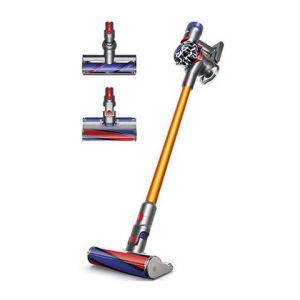 At the high end of the price spectrum, you will find the Dyson V8 absolute+. It's an all-round vacuum claimed to be ideal for cars, boats, caravans as well as your home, and for the price tag, you'd hope it can do it all.
This Dyson vacuum is a portable cord-free design, featuring a 0.54L dust container with an HEPA filtration system to capture dust and allergens. Its V8 motor is claimed to provide 150% more rotating brush power compared to the Dyson V6 and is 50% quieter. It uses a high capacity lithium-ion battery that is claimed to deliver up to 40 minutes of fade-free suction or 25 minutes with the motorised floor tool. There are a number of tools featured with this model including a crevice tool, soft dusting brush, soft roller cleaner and a mini motorized brush to remove pet hair and stubborn dirt from car floor mats.
The main benefits of this vacuum are the increased power and battery life compared to the previous model as well as the HEPA filtration system. The downside is its price tag but you can find the previous model – the Dyson V6 – for a lower price, still featuring similar accessories and technology but with less power and shorter battery life.
Bosch 21.6V Readyy'y 2-in-1 Lithium Ion – BBHL2214AU
A car vacuum cleaner in the mid-price range is the Bosh Readyy'y 2-in-1 vacuum. This cordless model provides dual functionality with its ability to be used as a handstick vacuum as well as a rechargeable handheld vacuum, which can be quickly detached and used for small areas.
Similarly to the Dyson V8 mentioned above, this vacuum uses a lithium-ion battery, claimed to provide high performance, short charging time and long battery life. It is claimed to provide up to 45 minutes of run time and require 4 to 5 hours of charging time. Bosch also boasts an aerodynamic long life motor and a three-stage electronic protection system aimed to prevent overcharging, overheating and deep discharge of the batteries. The 21.6V battery has 2 performance levels:
Level 1 – normal cleaning tasks and maximum runtime
Level 2 – difficult cleaning tasks and shorter runtime
It features a detachable EasyClean roller brush with specially engineered grooves that allow you to cut away tangled hair with scissors, which the vacuum then sucks up without you needing to pick them out by hand. It is a fairly lightweight model, 2.6kg in total, and has a 0.4L dust container capacity. Several other design elements include a flexible nozzle joint, freestanding function and a hygienic filter claimed for clean exhaust air.
Hoover 12V Wet & Dry HandiVac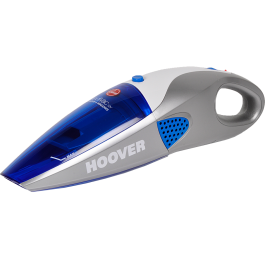 For a handheld car vacuum cleaner under $100, the Hoover 12V HandiVac allows you to clean up basic messes and spills. Its wet and dry functionality is a fairly standard feature for handheld vacuum cleaners, but its compact design allows you to vacuum all throughout the car with several additional attachments included – a crevice tool and a squeegee tool for wet pickup. Besides that, you won't find any other extraordinary features with this model, but for the price it may suffice.
It uses a 12V battery for suction power and has a 1 year warranty. When cleaning the car ashtray, it's noted to have all contents fully extinguished before vacuuming to avoid flair ups and this goes for all vacuum cleaners.
Black & Decker 12V DC Dustbuster Flexi Car Vacuum – PD1200AV
The Black & Decker 12V Car Vacuum has dual functionality so you can use it like a traditional handstick vacuum or a removable handheld, which helps to clean hard to reach areas. This vacuum is specifically designed for car use with its 12V car power adaptor so you can throw it in the back of the boot and keep it around for when you accidently spill a packet of chips.
The 0.56L transparent dustbowl allows you to see when the vacuum needs to be emptied. Its side empty door is claimed to be an easy to empty system to ensure all dirt goes straight into the bin without mess. It features a crevice attachment and soft brush in one tool with a storage bag to keep all the accessories in one place. The integrated hose is said to allow you to reach all areas where other handheld vacuums can't. Additionally, it has cable storage for you to wrap around the 5m cable before storing.
With this car vacuum, Black & Decker boasts cyclonic action to spin dirt away from the filter and help to maintain its powerful suction power. It's claimed to be designed with a triple action filtration system for performance and long lasting vacuuming, along with a filter cleaning wheel for easy and hands free cleaning of the filter.
Black & Decker 12V Dustbuster Auto Car Vacuum with Accessory Kit – NV1210AV
Another car vacuum cleaner from Black & Decker is the 12V Dustbuster Auto Car Vacuum, also fitted for a car power adaptor. It's claimed to have a comfortable ergonomic design, featuring a 5m cable. Several attachments included are a flexible hose, a push in crevice tool, an accessory adaptor, large upholstery brush and push in brush. The long crevice tool is claimed to be useful for cleaning underneath car seats. Both the crevice tool and brush can be stored on board.
This model does not feature the cyclonic action system that is available in the above model; instead it uses a double action filtration system also designed for performance and durability. It has a slightly smaller dustbowl capacity, coming in at 0.37L. At the time of writing, it also ranged from $70 to $90 from major retailers.
Kmart 12V Wet & Dry Vacuum Cleaner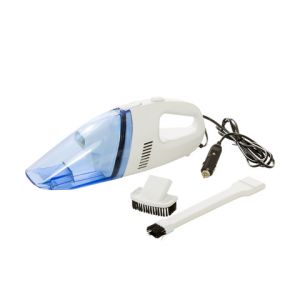 For a cheap alternative, you may like to consider the Kmart handheld car vacuum cleaner. It features the benefits of cleaning both wet and dry mess and is apparently ideal for the interior of your car with a 12V lighter socket plug. Kmart states it's tested to Australian electrical standards.
Similarly to some other models above, it includes a crevice and brush tool. Although it's a simple design, it may be handy to keep in the car for those occasional spills, especially on road trips. You'd do very well to find a cheaper vacuum cleaner than this – even ALDI would struggle to match this price.
Should I invest in a car vacuum cleaner?
Instead of lugging around a barrel vacuum and getting the extension cords out every time you need or want to give your car a good clean, a compact handstick or handheld car vacuum cleaner will certainly prove a convenient option. But there can be a huge difference in quality between car vacuum cleaners, as the prices mentioned above illustrate. For a car vacuum that won't drive you crazy, pay attention to:
Its suction power
The charge length
Its battery life
Extra attachments
The addition of having a specifically designed car power adaptor – such as on the Black & Decker 12V Dustbuster Auto Car Vacuum – removes the need to drive your car as close as possible to a power point to plug in your vacuum. Whether you strictly maintain a spotless car – or it's a complete mess in a day – there is certainly merit to buying a good car vacuum and plenty of options out there for you to consider.