Every great idea has to start somewhere…unfortunately every bad idea does too, and quite often those ideas make their way straight into our kitchens.
Whether it's designed to help you peel asparagus or devein prawns, here are some kitchen utensils and appliances that manage to clutter our cupboards quicker than they can allegedly peel ten cloves of garlic.
Twirling spaghetti fork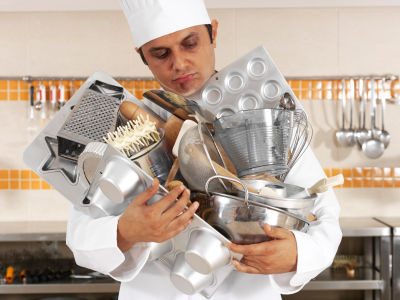 Whoever invented this must have found eating spaghetti to be a challenging – not to mention physically exhausting – experience. Thank goodness the twirling spaghetti fork has been developed to take the hard work out of this overwhelming task.
How it works: Stick the twirling spaghetti fork in your bowl of pasta (or noodles – the beauty of this fork is it will work on most varieties, not just spaghetti as the name suggests), press the on button and watch this ingenious invention take care of the rest.
Corn cob butter disperser
Don't you just hate it when you have to use a knife to put butter onto your corn cob? How unseemly! Fortunately the Corn Cob Butter Disperser allows you to avoid this horror.
How it works: Place a knob of butter into the device and run it up and down the corn cob. Butter will be dispersed evenly along the corn creating a magnificently tasty corn eating experience.
Avocado slicer
Avocado slices of different sizes just won't do – where's the symmetry, where's the order? Another device designed for those occasions when a knife just won't do.
How it works: Halve your avocado using a knife, then run the avocado slicer down the center of the open half to create perfectly uniform slices of this salad staple.
Pizza oven
Aussies love their pizza, and cooking it at home can be quite difficult (especially if your oven has a heavy door or a confusing dial). So rather than saving on ever diminishing bench space, why not fill that spare corner with a smaller version of the oven you already own to cook your pizza in?
How it works: Exactly like an oven…only less practical in virtually every conceivable way.
What is the most pointless utensil in your kitchen?
To help you find kitchen utensils you'll actually use, make sure you check out our kitchen retailer customer satisfaction ratings.