ALDI is sweeping Aussies off their feet by bringing back one of its most popular Special Buys for less than half the price you'll find it elsewhere. We're talking, of course, about the DEEBOT OZMO Robotic Vacuum.
The famous two-in-one robot cleaner with dual vacuum and mop capability is available in stores for a limited period only. The new DEEBOT OZMO 900 costs just $399 (valued at $999 at other retailers).
ALDI and Ecovacs teamed up last year to release the DEEBOT OZMO 610 for $299 as a Special Buy which sold out within days, sending shoppers into meltdown.
Buying Director at ALDI, Shay Stearnes, said they have extended their partnership with Ecovacs to give customers a chance to snag one of the latest models from the brand for the affordable price that Aussies usually expect from the discount supermarket chain.
"The DEEBOT OZMO Robotic Vacuum Special Buy received amazing feedback from ALDI shoppers last year. Given its incredible popularity, we are excited to once again partner with Ecovacs to offer a more advanced model at an extremely low price," she said.
Head of Ecovacs, Karen Powell, added the model gives users a taste of how virtual mapping technology can be used to create a versatile, efficient and time-saving cleaning solution.
"Ecovacs Robotics continues to innovate and deliver smart cleaning systems which can understand and adapt to everyone's own home environment, to suit your individual cleaning needs and schedule," she said.
What can the DEEBOT OZMO 900 do?
When it comes to the basics, the DEEBOT OZMO 900 has many of the same functionalities you would expect from a smart vacuum. These include:
OZMOTM mopping system: contains a 240ml water reservoir and an electronically controlled release function, which enables the mop up of liquid and dirt with a wiping motion
Integrated Google Home and Amazon Echo capabilities: use your voice to start, pause and stop the robot vacuum, and send it back to the charger
Obstacle detection technology: robot uses anti-collision sensors to avoid objects and circumvent obstacles around the home
Automatic charging: once the DEEBOT OZMO 900 hits low battery, it will automatically return to its charging station to recharge
Auto boost suction power: helps the vacuum 'sense' when it's on carpet and automatically ramps up its suction power for an apparently deeper clean
Max mode: allows you to increase suction power up to two times for stubborn areas
ECOVACS home app and scheduling: manage mapping and virtual boundary features, as well as control and monitor the clean
Interchangeable suction attachments: accessories like the Tangle-Free Intake, which collects hairs without tangling or causing blockage
It also has all the standard features of the Ecovacs Robotics DEEBOT range, such as stair safety sensors, obstacle detection technology, a high-efficiency filter, auto start and voice reporting.

What are shoppers saying about the ALDI Special Buy robot vacuum?
The DEEBOT OZMO vacuum has received mixed reviews online with shoppers sharing very polarised feedback on social media. Here's what Aussies had to say:
"Got one last year and I feel it works well and represents good value for money."
"My parents bought the one they had out last year. They love it!! They brag about it and I've seen it scoot around their house before. Works relatively well."
"I love mine!! Have two dogs, two teenagers… put mine on for school drop off or pick up and it goes back to its station when the job is done."
As expected, not all were impressed with the smart vacuum, with some suggesting the cheap deal meant cutting a chunk off the lifespan of the vacuum.
"I bought the last ECOVACS one. Battery died after 5 months and had to take it back."
"I bought last year's one. Don't remember it being that expensive. App never worked but otherwise sucks up fluff and does a light mop well. Very loud though."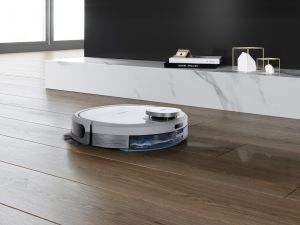 How does the DEEBOT OZMO compare to other robot vacuums with mops?
From ALDI's Thermomix-dupe to its budget-friendly mattresses, many shoppers won't be surprised to see a smart vacuum like the DEEBOT OZMO 900 sold at a fraction of the retail price of similar models. But what about its rivals? There aren't many robot vacuums to choose from in Australia, compared to what countries like China or the UK have. Although that doesn't mean there aren't similar models still worth checking out.
Ecovacs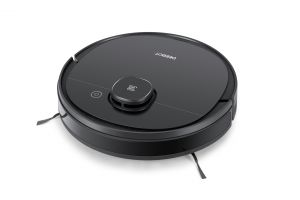 The DEEBOT OZMO 900 and DEEBOT OZMO 950 from Ecovacs' range of smart vacuum cleaners are the only dual-function models that Aussies can buy year-round. Designed to vacuum, mop and sweep, both of these models share plenty of similarities and retail for $999 each. Ecovacs' robotic cleaners are usually available at retailers like Appliances Online and JB Hi-Fi.
Some unique features of the brand's flagship model, the DEEBOT OZMO 950, include:
Smart NAVI 3.0 laser mapping and navigation technology: scans and stores multiple maps of the different levels of a house
Floating brush 2.0: sweeps up to 4mm deep cracks
5200 m(A)h battery: allows for up to 200 minutes running time and cleans large areas measuring up to 200m2 in a single charge
Xiaomi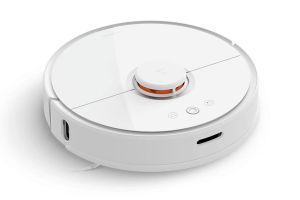 A pretty common recommendation from social media users is a Xiaomi robot vacuum, such as the Xiaomi Roborock S50 Robot Vacuum Cleaner. Available from retailers like Kogan, this model has many of the same features as the DEEBOT OZMO 900 in addition to vacuuming, mopping and sweeping, such as:
Laser distance system: monitors surroundings while it moves around the home
Built-in bionic tank: intelligent system which is said to automatically control the water, ensuring the mopping function stops when the system breaks down
Mijia app: gives you control over the cleaning process and cleaning times
The Xiaomi Roborock S50 Robot Vacuum Cleaner retails for $589.
iRobot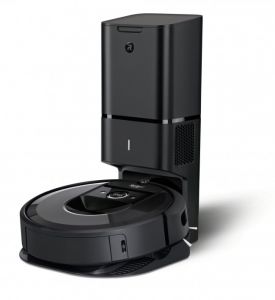 iRobot is the brand behind the Roomba and a heavyweight in the space of smart vacuums. Its range of robot cleaners doesn't include hybrid models that provide both vacuuming and mopping capabilities. The closest type you can really get to the ECOVACS alternative is from the iRobot Braava range, which performs a dry sweep before mopping. But generally, the Roomba series is the brand's go-to line for robot vacuums while the Braava collection sticks to robot mops. Common features include:
Imprint technology: learns and adapts to your cleaning routine to figure out what it thinks is the best way (and time) to clean
Dirt detect: has a sensor which alerts your robot about dirtier areas and ensure they're cleaned more thoroughly
vSlam technology: uses an optical sensor create a detailed map of its surroundings
iRobot home app: control when, where and how the robot cleans
iRobot's Roomba robot vacuum range starts from $499, up to $1,899, while Braava mops usually cost between $399 and $1,149.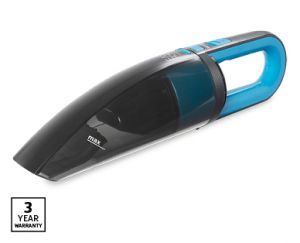 What else can you get from ALDI's Special Buys this week?
ALDI will also be selling other cleaning essentials, car accessories and food specials, including:
Wet/dry cordless vacuum cleaner: $34.99
Steam mop with soap dispenser: $59.99
Audio head unit with reverse camera: $99.99
The bottom line on the DEEBOT OZMO 900
ALDI really puts the special in Special Buys, with some hugely popular and heavily discounted items like the DEEBOT OZMO Robotic Vacuum only available for a week before disappearing into sale heaven – and that's only if the products haven't sold out.
So, is the DEEBOT OZMO 900 worth buying during this week's Special Buys? Whether this two-in-one robot cleaner is the best for your home ultimately depends on what you need out of a vacuum cleaner. If you're in market for a set and forget robot vacuum to do the hard work for you, it's certainly worth a close look.
If you're already considering the Ecovacs model, then it might be worth checking ALDI out. DEEBOT robot vacuums aren't strictly available from ALDI, but the Special Buys are a definite way to save money on this smart appliance.