Fact Checked
Nobody likes humidity. In addition to being downright uncomfortable, high levels of humidity in your home or workplace can cause horrible smells, mould and can even increase your chances of respiratory illness. Fortunately, buying a dehumidifier can easily sort out the humidity around you. They are small, cheap and easy to use, and they can save you a lot of discomfort as a result. So if you have a humidity problem in your everyday life, check out this Canstar Blue buying guide to help find the best dehumidifier for your needs.
What is a dehumidifier?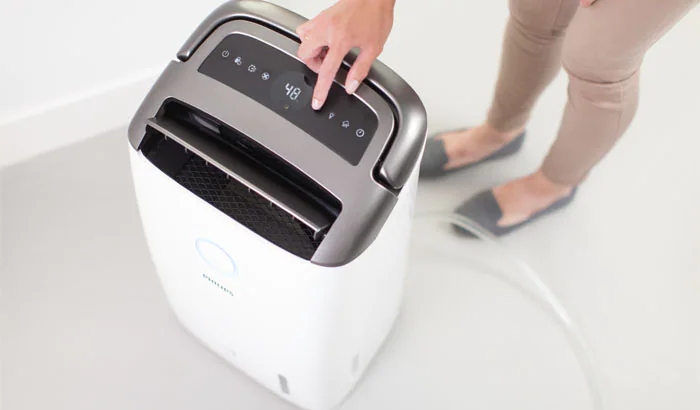 A dehumidifier is a household appliance that removes moisture out of the air to reduce the level of humidity. They act a bit like vacuum cleaners, in that they suck out air from the room at one end and blow it back into the room after extracting the moisture.
Dehumidifiers can help minimise the growth of mould and get rid of dust, remove bad odours, and keep creepy crawlies like spiders and cockroaches away. Dehumidifiers are particularly useful for people with asthma or those who suffer from allergies as a result of animal dander, dust mites, pollen, and mould.
What are refrigerator dehumidifiers (compressor dehumidifiers)?
Refrigeration (or compressor) dehumidifiers draw in air through a filter and over cold coils. Most home dehumidifiers suck up moist air through a grille, before directing the warm air over cold pipes via a coolant. As the air cools, the moisture turns back into a liquid and drips off the pipes. This prompts the now moisture-free air to pass over a heating element and return to its original temperature. The dry air is then released back into the room through another grille.
In Australia, refrigeration (or compressor) dehumidifiers are the most common type of dehumidifiers. These generally work better in higher temperatures and humidities, potentially making them the most suitable option for most Aussie households.
What are absorption dehumidifiers (desiccant dehumidifiers)?
Also known as desiccant dehumidifiers, absorption dehumidifiers use absorbent material to extract water from the air and heat it internally. This is mainly achieved by drawing in moist air through a duct and moving the air past a wheel made of water-absorbing material. It's then blown back into the room, through an exhaust duct, with the help of a fan inside the dehumidifier.
There's some suggestion that absorption dehumidifiers have a more complex structure than compressor models, potentially making them less energy efficient. Studies have also shown that absorption dehumidifiers work better in lower temperatures. So, while they can still do the job, desiccant dehumidifiers may not be as appropriate for some Australian climates compared to compressor models.
Here are the key differences between desiccant and compressor dehumidifiers:
| Absorption dehumidifier | Refrigeration dehumidifier |
| --- | --- |
| Maintains high performance even in low temperatures (1-15°C) | Only works well in higher temperatures |
| Portable and lightweight (5-9kg) | Bulkier and heavier (over 10kg) |
| Minimal noise | Tends to be noisy |
| May include a heater (higher wattage) | Consumes less power |
| Increases room temperature by 3-5°C | Increases room temperature by 1-2°C |
General guide
What size dehumidifier do I need?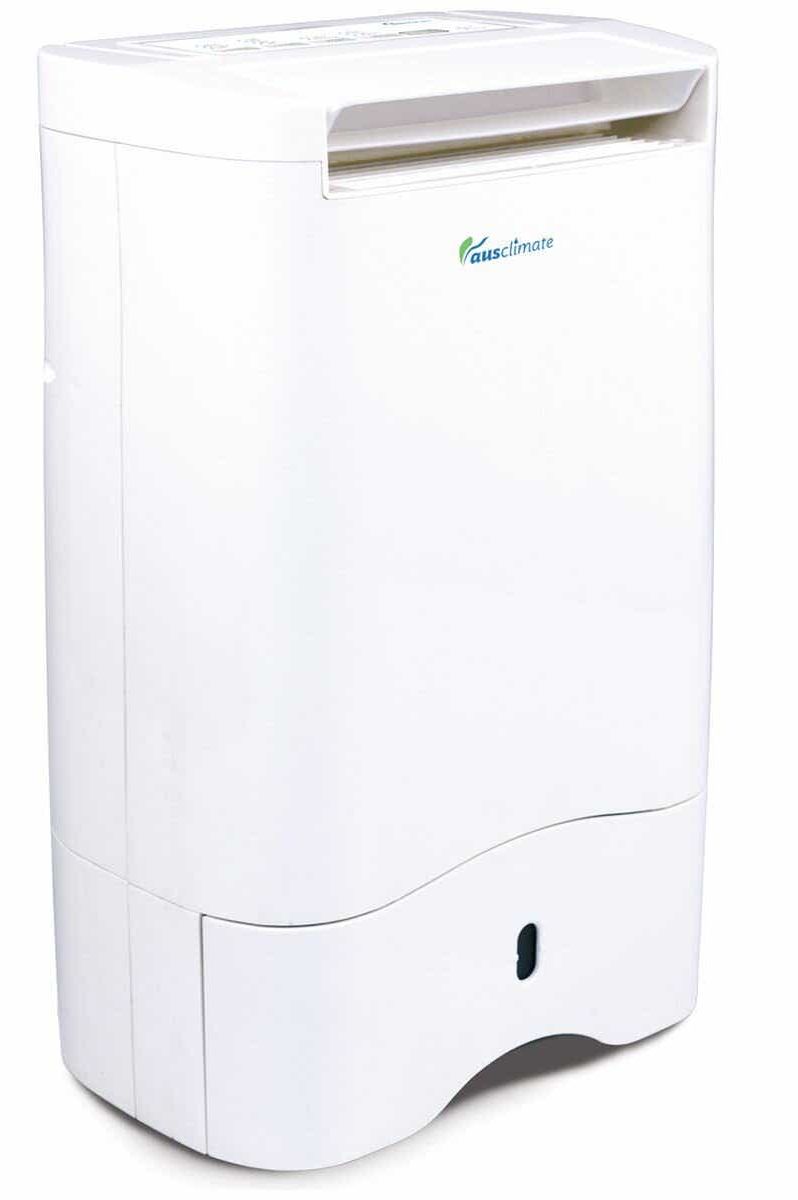 Many brands provide a recommended room size as part of their product specifications, making it easier to narrow your options. So, it's a good idea to measure the room(s) you plan to use the dehumidifier in before shopping.
Generally speaking, there are three standard sizes that dehumidifiers come in, and these are determined by how many pints of moisture a unit can remove in 24 hours. These include:
Large dehumidifier: 70 pints (approximately 40L)
Medium dehumidifier: 50 pints (approximately 29L)
Small dehumidifier: 30 pints (approximately 17L)
Ausclimate suggests choosing a model with a recommended room size that is either equal to or larger than the size of the space you want to dry. The brand also says households with extra high ceilings should opt for a larger recommended room size, rather than equal.
Large capacity dehumidifiers
Large capacity dehumidifiers can remove up to 70-75 pints (or approximately  40L-43L) of moisture in any 24 hours, and can handle a wider range of humidity levels with little additional noise. They are best suited for large wet spaces but are worth investing in even if you have a smaller space, as the difference in cost between large and medium capacity models is pretty modest.
Medium capacity dehumidifiers
Medium capacity models are ideal for spaces that aren't quite as damp, as they remove about 50 pints (approximately 29L) a day. They weigh about the same as large-capacity models (17-20 kgs) and cost about the same upfront, but are quite often slightly cheaper.
Small capacity dehumidifiers
Finally, small capacity models can remove anywhere between 25-40 pints (or approximately 14L-23L) per day. They are commonly used to dehumidify small spaces that are damp rather than wet and are the cheapest option available. Although despite the low cost of a smaller unit, there are a number of reasons why a large capacity model is a better purchase, which we'll explore below.
Are larger dehumidifiers better?
Larger dehumidifiers are typically better because they don't have to work as hard to dehumidify a space. This means they can do the job faster and more safely, while a smaller unit runs the risk of overheating and becoming less efficient in the long run. Larger models can also shut themselves off when they've reached their goal, making them more energy efficient.
In addition to having more features and improved functionality, larger units can remove moisture from the air faster and have a larger water tank, meaning you don't have to empty it as often, which reduces the stress on you and your dehumidifier. A final benefit is that larger models tend to be quieter, allowing you to enjoy the benefits of a dehumidified room without the noise distraction.
However, the price difference shouldn't discourage you from buying a large or medium capacity unit. Ideally, it is recommended that you only buy a small capacity unit if you either can't afford a larger one or won't be able to lift them.
5 features to consider when buying a dehumidifier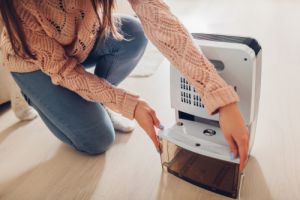 If you've settled on a higher quality model, then you should also pay attention to some of the most common features that dehumidifiers come equipped with. Some of these can be lifesavers, saving you both time and money. The following are definitely worth looking for:
Humidistat
Auto-restart
Hose connection
Washable air filter
Auto-frost and low-temperature functions
Here's a breakdown of the features.
Humidistat: A humidistat allows you to achieve a certain level of relative humidity for the room. Depending on the model you buy, this can either be precise or basic settings like low to high. There are also a few models that come with pre-set humidity levels between 40% and 80%, or labels based on rooms (i.e. living room or bedroom).
Auto-restart: Units with an auto-restart feature will automatically start up again after a power outage.
Hose connection: If you don't want to bother manually emptying the water tray, you might want to consider a continuous drainage option like a hose connection. A hose connection lets you divert the condensed water directly to the drain so you don't have to do it yourself.
Washable air filter: Select models have washable air filters similar to those you find on air purifiers. These air filters capture airborne contaminants and having one that is washable can prolong the lifespan of your unit and maintain its effectiveness.
Auto-defrost and low-temperature options: If you happen to live in a low-temperature area, an auto-defrost feature could be crucial. Anti-frost sensors turn off the dehumidifier if frost starts to form on the coils, and can be extremely helpful if your climate is regularly below 15°C.
Will a dehumidifier help after a flood?
Yes ─ dehumidifiers can help reduce humidity and dampness in the air after flooding or heavy rain and contribute to the process of drying out soaked carpets, floors, walls, and furniture. They may also be used to remove humidity from photographs (including film negatives), books, paper records, and magnetic media such as videotapes that have been wet.
Running a dehumidifier after a flood can be useful because moisture is still often present in the air even when the water is gone. Unfortunately, moisture creates the perfect breeding ground for mould to grow. This can potentially lead to health problems if inhaled ─ especially among those who are sensitive or allergic to spores produced from mould ─ although most people don't experience any health issues when they come into contact. Using a dehumidifier is also great for getting rid of bad smells and dampness.
How long should you run a dehumidifier?
This depends on the size of the water-affected area, the level of humidity, and the severity of the water damage. The ideal relative humidity for a home is about 50%, although it's suggested you run the dehumidifier until the relative humidity reaches around 30% – 50%.  Otherwise, bacteria can grow as a result of low humidity (i.e. where the relative humidity goes below 30%).
Which brands sell dehumidifiers in Australia?
Dehumidifiers typically cost anywhere between $300 and $1,000. Here's a list of dehumidifier brands available in Australia:
Ausclimate
Ionmax
Breville
Kmart
Kogan
De'Longhi
Dimplex
Philips
Ausclimate dehumidifiers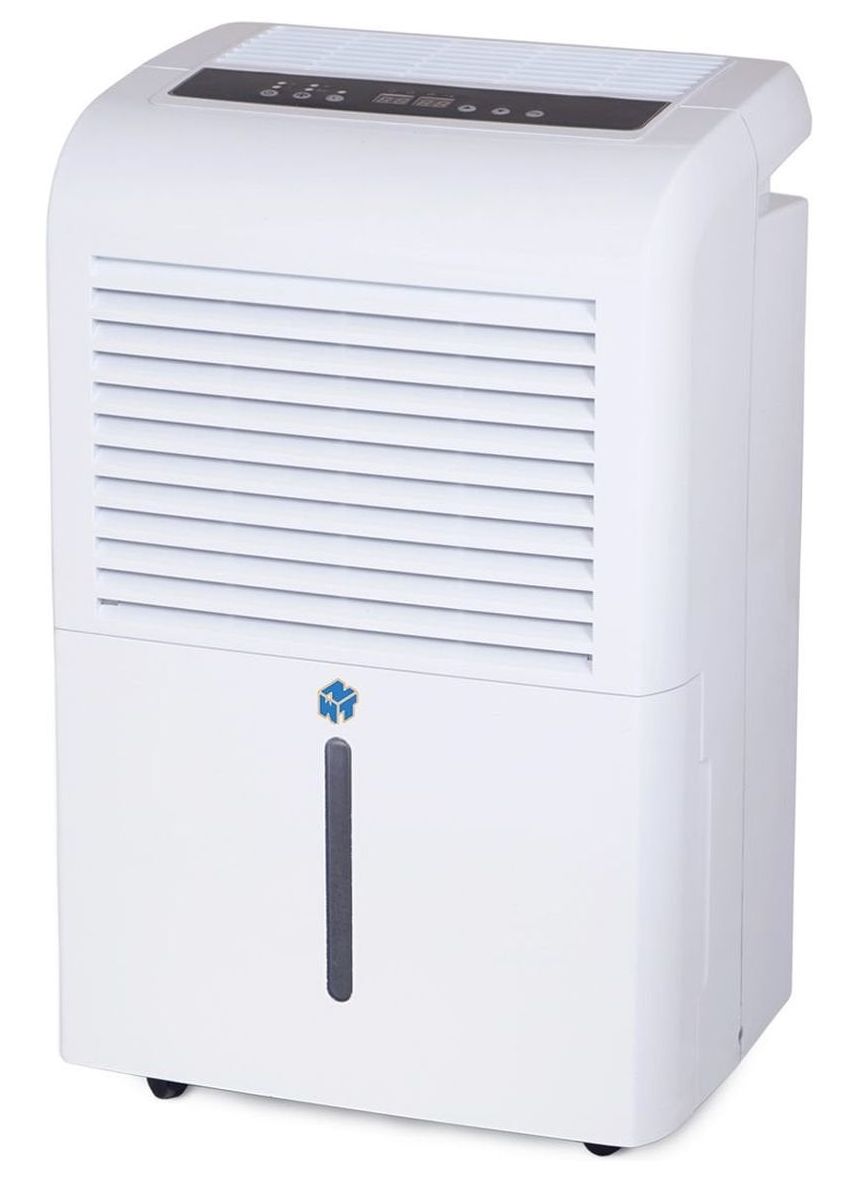 Ausclimate is not only one of the leading brands for dehumidifiers and air purifiers, but it also houses a wider range of models compared to other household names. You can find capacities starting from 10L and reaching up to 50L, covering anything from small bedrooms to apartments, boats, and caravans. Although Ausclimate dehumidifiers are on the pricier side, usually available between $385 and $650. Some models include:
Ausclimate NWT Compact 12L Dehumidifier (WDH-610HE): $385 RRP*
Ausclimate NWT Medium 20L Dehumidifier (WDH-716DE): $549 RRP*
Ausclimate NWT All-Seasons 35L Dehumidifier (WDH-930EDH): $649 RRP*
For chilly seasons and places that tend to stick on the cooler side, you can find models like the Cool-Seasons Premium 10L Desiccant Dehumidifier which is ideal for removing moisture when indoor temperatures are as low as 1°C. Unlike some other dehumidifiers, this unit even has a laundry mode function which allows the model to work as a dryer and help dry indoor laundry.
Ionmax dehumidifiers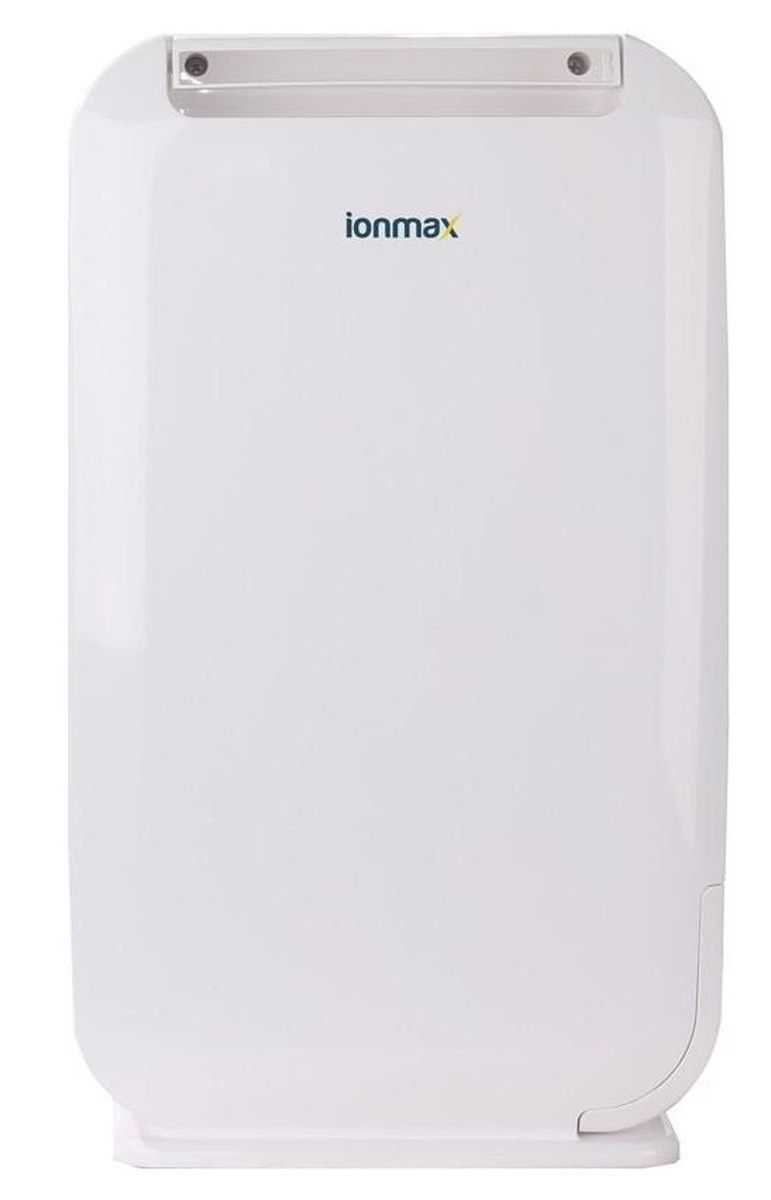 Ionmax is another big name brand for air treatment appliances and offers a variety of desiccant dehumidifiers, with a compressor dehumidifier also available. Prices typically start from $299 and go up to $599.
Ionmax has several models to choose from, with size capacities ranging from 6L to 12L. A few include:
Ionmax Desiccant Dehumidifier (ION61): $299 RRP*
Ionmax Compressor Dehumidifier (ION622): $299 RRP*
Ionmax Dehumidifier (ION632): $599 RRP*
For those living in particularly warm climates, the brand claims the Ionmax ION622 is the ideal choice. It's said to remove 12L of moisture per day and to cover areas of up to 50m². It features an LCD display panel which can be dimmed down with five levels of dimness, allowing you to use it and not be disturbed while you sleep, with a 24-hour timer for convenience. There's also an automatic system that pauses the process when the desired humidity level has been reached and restarts the setting if the humidity levels change in the room.
Breville dehumidifiers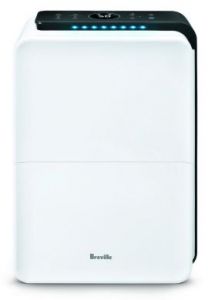 From coffee machines to blenders and toasters, Breville has you covered with a vast range of small appliances around the house, including dehumidifiers. There are several dehumidifiers to choose from, with prices starting from $399 and reaching up to $679. Some models include:
Breville The Smart Dry Connect Dehumidifier (LAD208WHT2IAN1): $399 RRP*
Breville The All Climate Dehumidifier (LAD250WHT2JAN1): $499
Breville The Smart Dry Ultimate Dehumidifier (LAD500WHT2JAN1): $679 RRP*
Breville's dehumidifier range boasts a variety of features, including Live Humidity Control, laundry mode, air filtration, and continuous drainage options. Most of the products are recommended for small and medium rooms, although the Smart Dry Ultimate Dehumidifier is said to be ideal for large spaces.
Kmart dehumidifiers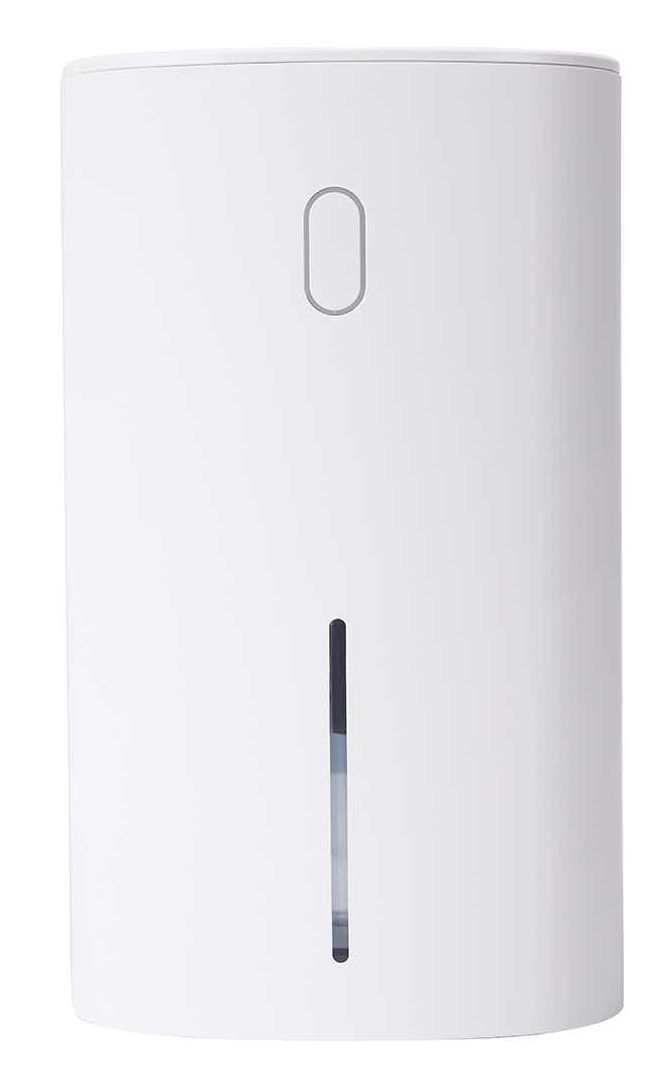 Kmart sells a bunch of budget-friendly appliances for air treatment, with prices ranging between $47 and $159. The Anko small dehumidifier is currently the only dehumidifier available, at the time of writing, and retails for $89. It's said to help regulate the level of humidity in small spaces measuring between 4m² and 6m².  This model also comes with a Thermo-Electric Peltier module for cooling, and a removable 1.3L water collection tank designed to automatically switch off once it's full. You can also expect LED indicator lights and a water level window.
Kogan dehumidifiers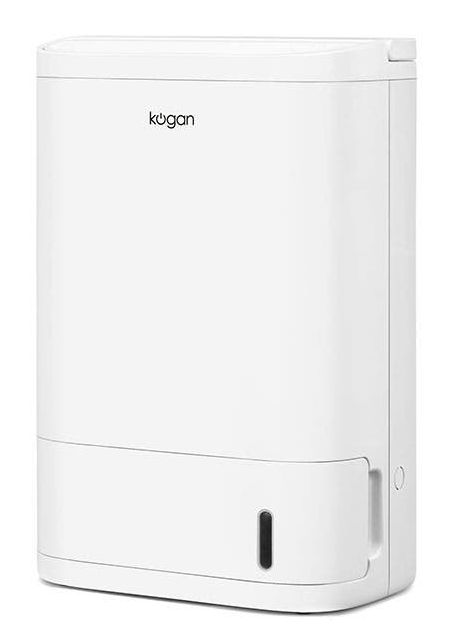 Kogan similarly offers fairly affordable dehumidifiers, typically retailing between $200 and $500, plus other brands like Midea, Ausclimate, and Ionmax. A couple of models include:
Kogan Mini Dehumidifier: $199 RRP*
Kogan SmarterHome Smart 7L Desiccant Dehumidifier: $499.99 RRP*
For a convenient option, Kogan's Smart Desiccant Dehumidifier can work according to specific schedules and provides three humidity levels and power settings to choose from. It can also get rid of up to 7L of moisture in the air and contains a pre-filter to collect large particles such as hair and dust. The compact mini dehumidifier can alternatively remove up to 2L of moisture and features a timer control designed to run between four and eight hours.
De'Longhi dehumidifiers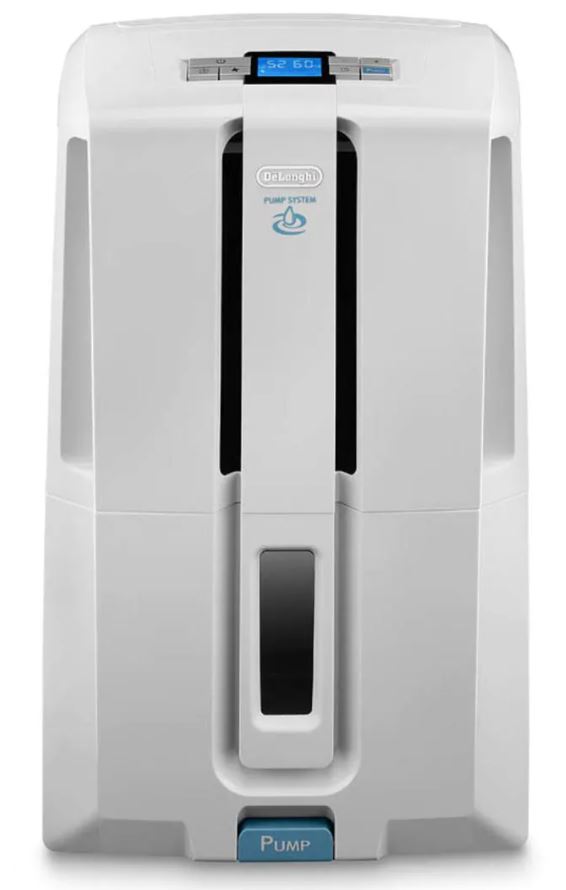 While it might be best-known for coffee machines, this Italian manufacturer creates small appliances for all around the home. De'Longhi's dehumidifier range has a few models to choose from, with prices ranging from $359 to $649. Common features across the range include a double filtration system, two-action filtration system, a  laundry function, and a water level indicator.
Some De'Longhi dehumidifiers include:
De'Longhi Tasciugo AriaDry Multi Dehumidifier (DEX214): $359 RRP*
De'Longhi Tasciugo AriaDry Multi Dehumidifier (DEXD216F): $449 RRP*
De'Longhi AriaDry Pump Dehumidifier 30L (DD230P): $649 RRP*
The AriaDry Pump Dehumidifier (DD230P) is the brand's powerhouse dehumidifier and is claimed to remove up to 30L of excess moisture in 24 hours. It features an anti-dust filter and a water level indicator, allowing you to see the performance and water level. Additionally, its electronic antifreeze device allows you to use the unit at ambient temperatures down to 5°C, according to the brand.
Dimplex dehumidifiers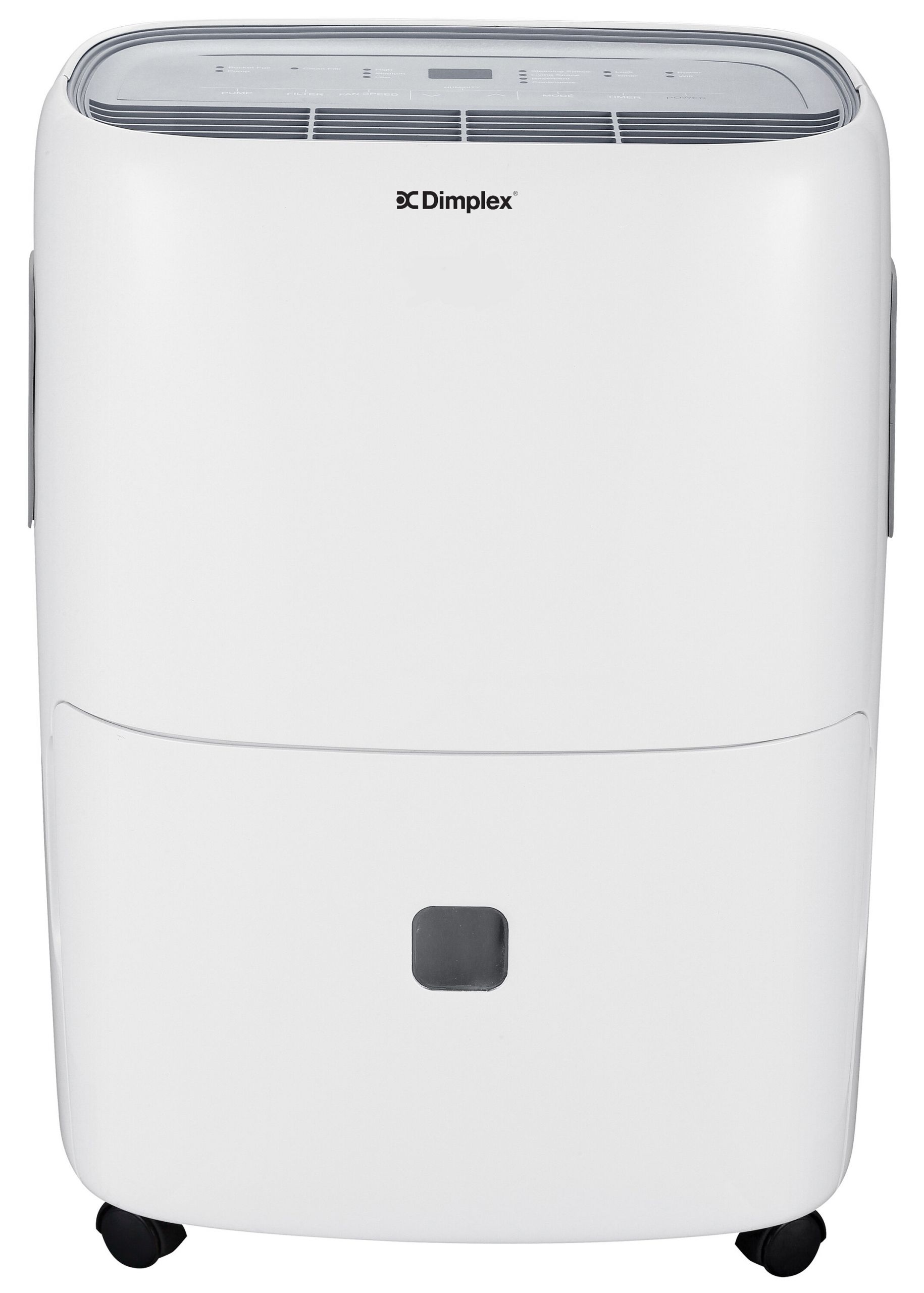 Dimplex is also worth checking out for relatively affordable dehumidifiers, with a couple of models available from $400 to $600. These can hold between 25L and 50L of moisture, depending on the unit. The dehumidifiers currently available include:
Dimplex 25L Dehumidifier (GDDE25E): $400 RRP*
Dimplex 50L Dehumidifier (GDDE50E): $600 RRP*
Common features include a 24-hour timer, filter wash reminder, and electronic controls which allow you to set the relative humidity level between 30% to 80%. There are also pre-set modes, including Living Room, Bedroom and Continuous for convenience. Both Dimplex dehumidifiers also come with an auto-defrost function and a two-year warranty.
Philips dehumidifiers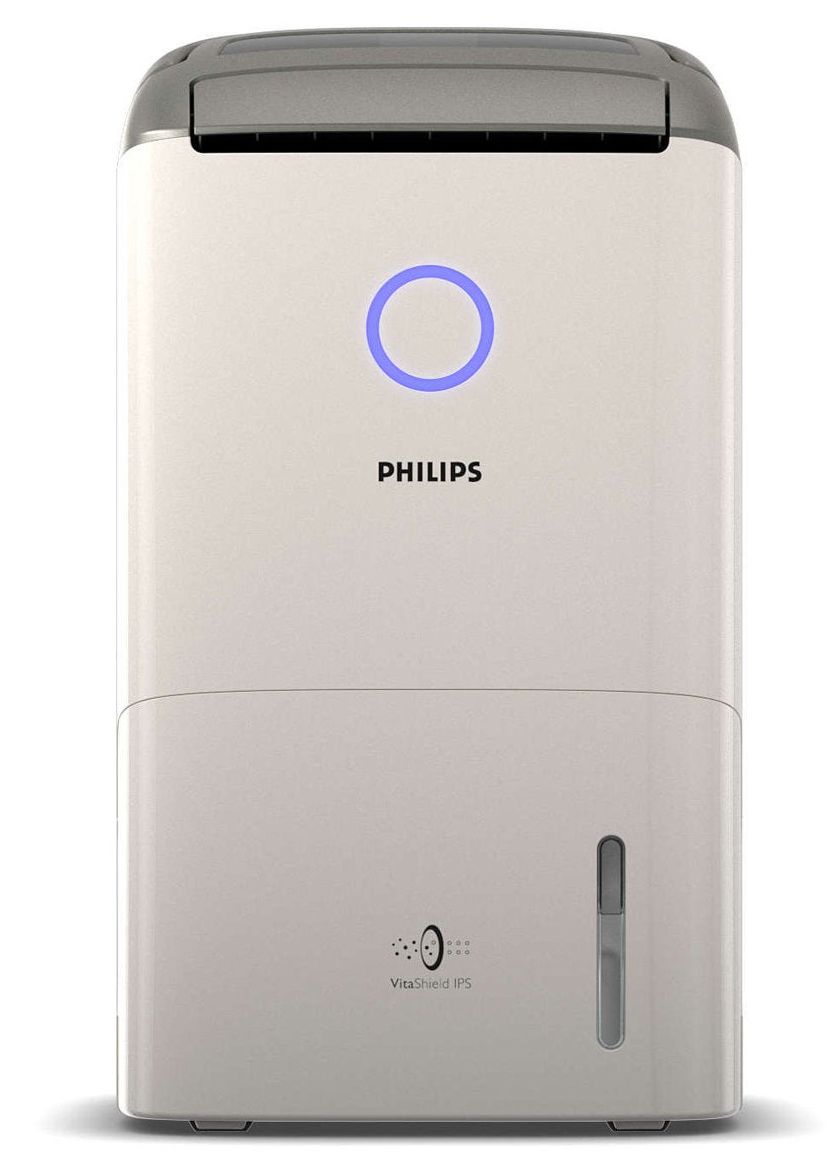 If you're considering getting an air purifier as well as a dehumidifier, many brands like Philips offer units designed to perform as both. The Philips Series 5000 2-in-1 Air Dehumidifier is currently the only dehumidifier from the manufacturer and retails for $999. It features pre-set humidity levels between 40% and 80%, five fan speed settings, and a healthy air alert that lets you know when to replace the filter. If it isn't replaced, the dehumidifier will stop working to avoid providing ineffective purification. There's also a purifier-only mode so you can use the Philips dehumidifier as a standalone purifier.
Dehumidifiers vs air conditioners
Air-conditioners and dehumidifiers are extremely similar in both function and appearance but ultimately produce very different results. The two key differences are: how they deal with moisture and how they affect air movement.
Warm and cool air movement
To put it simply, air conditioners move warm air and dehumidifiers don't. Air conditioners have fans that circulate room temperature air over cooling coils that then pumps out cold air. Dehumidifiers also have a fan, but they are used for pulling in moist air and expelling dry air.
Air-conditioners move the warm air outside, whereas dehumidifiers dump the warm air straight back to where it came from. So really, if you want to stay cool, a dehumidifier is not the solution.
Moisture
Both machines condense moisture onto cooling coils, but they deal with this moisture very differently. Air conditioners pool the moisture into a pan which then drains outside, whereas dehumidifiers are built to pull water from the air. This excess moisture then remains in the unit until it is drained.
Basically, it's important to remember that while dehumidifiers and air conditioners look and act similar, they perform different functions, and generally aren't interchangeable. Air conditioners can keep you cool or warm, while dehumidifiers remove the moisture from the air and make everything less sweaty.
This article covers most of the basics you'll need to know when it comes to buying a dehumidifier. But in the end, it will come down to your personal preferences and budget. And if you're looking for the best option for your needs, check out our ratings on dehumidifiers to see what's available.