Nobody likes humidity. In addition to just being downright uncomfortable, high levels of humidity in your home or workplace can cause horrible smells, mold and can even increase your chances of respiratory illness. Fortunately, buying a dehumidifier can easily sort out the humidity around you. They are small, cheap and easy to use, and they can save you a lot of discomfort as a result. So if you have a humidity problem in your everyday life, consult this buying guide to help find the best dehumidifier for your needs.
What is a dehumidifier?
A dehumidifier is a household appliance that, as the name suggests, reduces the level of humidity in the air. Usually used for health and comfort purposes, dehumidifiers extract water from the conditioned air.  They are a bit like a vacuum cleaner, in that they suck out air from the room at one end and blow it back out again after sucking the moisture out of it.
In addition to their common household use, dehumidifiers can also be used for both office and industrial purposes. This buying guide, however, will only focus on home dehumidifiers, as they are the ones you'll likely be considering. We'll get started with how they work.

How do dehumidifiers work?
Dehumidifiers work in two ways – refrigeration and absorption. This section will go into detail on both of these methods. Both types of dehumidifiers work better in different environments.
Refrigeration
Refrigeration (or compressor) dehumidifiers draw in air through a filter and over cold coils. Most home dehumidifiers use this method and the full process is as follows:
Moist air is sucked in through a grille
The warm air passes over cold pipes through a coolant.
As the air cools, the moisture turns back into a liquid and drips off the pipes
The now moisture-free air passes over a heating element and returns to its original temperature
The dry air passes back into the room through another grille
The moisture that was in the air drips into a tray which needs to be emptied from time to time.
These are the most common types of dehumidifiers. It is claimed that they work better in higher temperatures and humidities, so they are perhaps the most suitable type for Australian households.
Absorption
Also known as desiccant dehumidifiers, they use absorbent material to extract water from the air and heat it internally.  Their process can be simplified to the following steps:
Moist air is drawn in through a duct
This moist air moves past a rotating wheel made of water-absorbing material
The air is drawn by an electric fan and blown back into the room
An air duct is heated, and a moisture absorbing wheel rotates through this heated air space and has hot air blown past it
The hot, wet air is blown out through and exhaust duct
As you might be able to tell, absorption models are more complicated in their design and are believed to be less energy efficient, according to www.which.co.uk. Absorption dehumidifiers work better in lower temperatures as well, so they are perhaps not as appropriate for the Australian climate as refrigeration models. However, this isn't to say that you shouldn't buy an absorption model. They can still do a job in hot temperatures, it's just that studies have shown refrigeration models to perform better in these conditions. Speak to an expert about your living conditions before you buy to find out which of the two are more suitable for you.
Absorption
Refrigeration
Maintains high performance even in low temperatures (1-15°C)

Portable and lightweight (5-9kg)

Minimal noise

May include heater (higher wattage)

Increases room temperature by 3-5°C

Only works well in higher temperatures

Bulkier and heavier (over 10kg)

Noisier

Less power consumption

Increases room temperature by 1-2°C
What size is best for you?
Now you know the differences between the two types of dehumidifiers, you also need to understand the different size classes. As with any device, you should measure the space you plan on putting your dehumidifier in, but this isn't crucial, as many household dehumidifiers are portable and can be placed anywhere in a room. However, if you want to buy the largest one you can afford, measuring the space in your home is a good idea. There are generally three standard sizes of dehumidifiers.
70 pints – Large capacity
50 pints – Medium capacity
30 pints – Small capacity
Dehumidifiers vary according to how many pints of moisture they can remove in 24 hours.
Large capacity dehumidifiers
Large capacity dehumidifiers (like the Dimplex model pictured) can remove up to 70-75 pints of moisture in any 24 hour period, and can handle a wider range of humidity levels with little additional noise. They are obviously best-suited for large wet spaces, but as we said before, buy a large capacity model if you can afford it, as the difference in cost between large and medium capacity models is modest to say the least.
Medium capacity dehumidifiers
Medium capacity models are ideal for spaces that aren't quite as damp, as they remove about 50 pints day. They weigh about the same as large capacity models (17-20 kgs) and cost about the same upfront, but are quite often slightly cheaper.
Small capacity dehumidifiers
Finally, small capacity models can remove anywhere between 25-40 pints per day, with the average being around 30. They are commonly used to dehumidify small spaces that are damp rather than wet, and cost the least overall. Despite the low cost, there are a number of reasons why you should look for a large capacity model over a small one.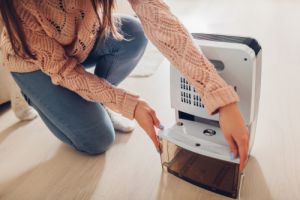 Why bigger is always better
There are several reasons why you should always look for a larger capacity model if possible. Primarily, large capacity models don't have to work as hard to dehumidify spaces. A larger capacity model can do in a few hours what a smaller one would take an entire day to do – putting more stress on the smaller unit's internal parts and harming its longevity. Larger models can also shut themselves off when they've reached their goal, so they are also more energy efficient.
In addition to having more features and improved functionality, larger units can remove moisture faster and have a larger water tank. Having a larger tank means you don't have to empty it as often, which reduces the stress on you and your dehumidifier. A final benefit of larger units is that they tend to be quieter, meaning you can have them be in the same room as you without being a distraction.
All in all, the $30-50 difference in price shouldn't discourage you from buying a large or medium capacity unit. Ideally, it is recommended that you only buy a small capacity unit if you either can't afford a larger one, or won't be able to lift them.
A guide to cheap air conditioners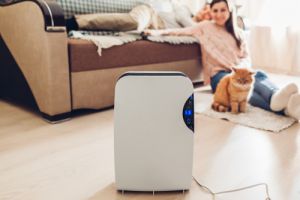 Special features to look for
If you've settled on a higher quality model, then you should also pay attention to some of the most common features that dehumidifiers come equipped with. Some of these can be life savers, saving you both time and money. The following are definitely worth looking for.
User-friendly controls: As you might expect, the more expensive models have a higher degree of flexibility when it comes to their controls. These controls should be easy to understand and use, and the two most common examples of features that a dehumidifier might have are a timer and humidistat, which we explain below.
Auto-restart: Units with an auto-restart feature will automatically start up again after a power outage. If you want a machine that can run with minimal human intervention, then this feature is a must.
Hose connection: If you don't want to bother emptying the water tray constantly, you might want to consider a continuous drainage option like a hose connection. A hose connection lets you divert the condensed water directly to the drain so you don't have to do it yourself.
Washable air-filter: The better models available have washable air filters similar to those you find on air purifiers. These air filters capture airborne contaminants, and having one that is washable can prolong the lifespan of your unit and maintain its effectiveness.
Humidistat: A humidistat allows you to target a relative humidity for the room, and depending on the model you buy, this can either be precise or just basic settings like low to high. The ideal relative humidity for a home is about 50%, although anywhere between 40-60% is good too. If your humidifier comes with this feature, experiment for a bit to see which humidity level feels the most comfortable for you and set it from there.
Auto-defrost and low temperature options: If you happen to live in a low-temperature area, an auto-defrost feature could be crucial. Anti-frost sensors turn off the dehumidifier if frost starts to form on the coils, and can be extremely helpful if your climate is regularly below 15 degrees, but most of you are unlikely to need this feature.
What brands should you look for?
Here's a list of dehumidifier brands available in Australia:
Ausclimate
Breville
Cli-mate
DeLonghi
Dimplex
Dyson
Goldair
Ionmax
Kogan
Philips
On Appliances Online, there are 21 different models of dehumidifiers to choose from, so the selection process shouldn't be too tedious for you. If you want a budget option, then Ionmax offers an option for $100. But if price is no problem, then the costliest option is Ausclimate's Supreme All Season 50L model which will set you back more than $800.
Here are the details on some of the more prominent brands:
Ausclimate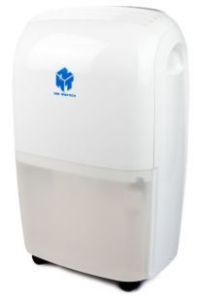 Ausclimate is an Australian owned company providing dehumidifiers and air-purifiers. There are three main ranges to choose from, including compressor, cool-seasons and commercial dehumidifiers, with prices ranging from $350 to $1,100 for residential units.
Its NWT medium 20L dehumidifier will set you back $449 RRP, and is suited for main bedrooms and other rooms measuring up to 30m squared. There's also a compact 12L option for those looking to buy a dehumidifier for a caravan, boat or smaller household rooms.
Ausclimate NWT compact 12L dehumidifier: $349 RRP*
Ausclimate NWT medium 20L dehumidifier: $449 RRP*
Ausclimate cool-seasons 7L desiccant dehumidifier: $449 RRP*
Ausclimate cool-seasons 10L desiccant dehumidifier: $599 RRP*
Ausclimate NWT Supreme all-seasons 50L dehumidifier: $849 RRP*
Breville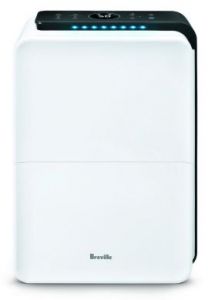 From coffee machines to blenders and toasters, Breville has you covered with a vast range of small appliances around the house, including dehumidifiers. There are four models to choose from at the time of writing, with prices ranging from $350 to $600.
Breville's Smart Dry Ultimate Dehumidifier is designed for large rooms with a three stage air filtration system, claimed to remove allergens, bacteria, odours and smoke. There are two automatic speeds to choose from, allowing you to set the desired comfort level, as well as featuring a laundry mode to assist with drying wet clothes indoors.
Breville the Smart Dry Dehumidifier: $349.95 RRP*
Breville the Smart Dry Plus Dehumidifier: $449.95 RRP*
Breville the All Climate Dehumidifier: $459.95 RRP*
Breville the Smart Dry Ultimate Dehumidifier: $599.95 RRP*
DeLonghi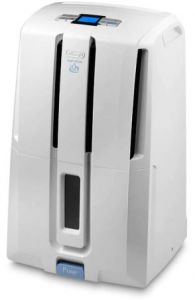 While it might be best-known for coffee machines, this Italian manufacturer creates small appliances for all around the home. DeLonghi's dehumidifier range includes five different models at the time of writing, with prices ranging from $330 to $650.
Its AriaDry Pump Dehumidifier (DD30P) is claimed to remove up to 30L of excess moisture in 24 hours. It features an anti-dust filter and a water level indicator, allowing you see the performance and water level. Additionally, its electronic antifreeze device allows you to use the unit at ambient temperatures down to 5°C, according to the brand.
DeLonghi Tasciugo Ariadry DX10: $329 RRP*
DeLonghi Ariadry Slim Dehumidifier 16L DES 16EW: $449 RRP*
DeLonghi Ariadry Compact Dehumidifier 25L DDS 25: $499 RRP*
DeLonghi Ariadry Compact Dehumidifier 30L DDS 30COMBI: $549 RRP*
DeLonghi Ariadry Pump Dehumidifier 30L DD30P: $649 RRP*
Ionmax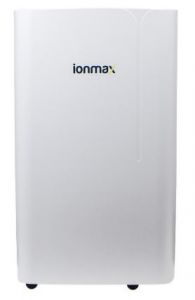 Ionmax dehumidifiers are claimed to improve comfort levels, eliminate musty odours and prevent the growth of mould. There are several models to choose from, with size capacities ranging from 2.2L to 12L, with a price range between $200 to $600.
Its 12L Compressor Dehumidifier (ION622) is said to cover areas of up to 50m squared. It features an LCD display panel which can be dimmed down with five levels of dimness, allowing you to use it and not be disturbed while you sleep, with a 24 hour timer for convenience. There's also an automatic system that pauses the process when the desired humidity level has been reached and restarts the setting if the humidity level changes in the room.
Ionmax ION681 Compact Dehumidifier: $199 RRP*
Ionmax ION622 Compressor Dehumidifier: $299 RRP*
Ionmax Dehumidifier ION612: $599 RRP*
Ionmax Dehumidifier ION632: $599 RRP*
Dehumidifiers vs Air conditioners
Air-conditioners and dehumidifiers are extremely similar in both function and appearance. Most people don't even know the differences between the two. The differences are there, despite the two machines using the same mechanism to produce different results. Indeed, there are two key differences between the two: how they deal with moisture and air movement.
Warm and cool air movement:
To put it simply, air conditioners move warm air and dehumidifiers don't. Air conditioners have fans that circulate room temperature air over cooling coils that then pumps out cold air. Dehumidifiers also have a fan, but they are used for pulling in moist air and expelling dry air.
Air-conditioners move the warm air outside, whereas dehumidifiers dump the warm air straight back to where it came from. So really, if you want to stay cool, a dehumidifier is not the solution.
Moisture:
Both machines condense moisture onto cooling coils, but they deal with this moisture very differently. Air conditioners pool the moisture into a pan which then drains outside, whereas dehumidifiers are built to pull water from the air. This excess moisture then remains in the unit until it is drained.
Basically, it's important to remember that while dehumidifiers and air conditioners look and act similar, they perform different functions, and generally aren't interchangeable. Air conditioners can keep you cool or warm, while dehumidifiers remove the moisture from the air and make everything less sweaty.
This article covers most of the basics you'll need to know when it comes to buying a dehumidifier. But in the end, it will come down to your personal preferences and budget.
How to clean your air conditioner
*Prices taken from respective retailers and Appliances Online, correct as of January 2020
Picture credits: Mariia Boiko/shutterstock.com