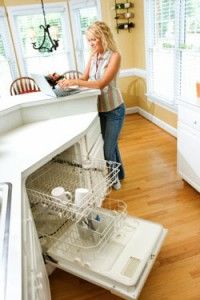 In a bid to ensure the best appliance is purchased, it's not uncommon for consumers to seek out information around which brand is going to deliver when it arrives in their home. When purchasing a new dishwasher it appears online research is most common. Almost half (47%) of respondents look to the World Wide Web for information before making their final purchase decision.
However, internet searches aren't the be all and end all they are closely followed by 46% of people claiming to seek a retailer's advice before making their final decision. Seventeen percent of people consulted family and friends and 13 % claim to have done no research at all.
It appears Gen Y's are the most likely not to research before prior to making a purchase, with 16% not conducting any research. This was followed by Baby Boomers (13%) and Gen X (12%).
Online research may be most common, but retailers win when it comes to handing over the cash. Four in five respondents made their purchase at a physical retailer, followed distantly by the 16% who made paid up online. Unsurprisingly, Baby Boomers are leading the way in in store purchases, with 89% purchasing from a retailer, followed by Gen X (72%) and Gen Y (70%).
These results are based on a sample of over 300 people surveyed by Colmar Brunton in 2013 who had researched and purchased a dishwasher in the last two years.