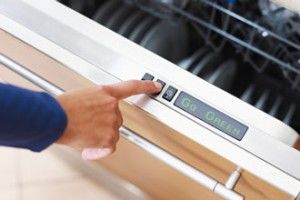 Dishwashers can be one of the most useful household appliances, saving hours spent at the sink washing dishes. However the rising cost of living seems to be affecting everyday use of this time saving wonder, with close to half (43%) of respondents saying they limit their dishwasher use as they find the power and cleaning products expensive. This is based on research carried out in 2013 of 614 people who had purchased a dishwasher in the last 3 years.
Luckily it appears dishwasher users are smart when it comes to washing their dishes, with 58% claiming to make the most of their dishwasher's functions, utilising different cycles for different loads. Almost half of respondents (47%) use the shortest cycle possible every time, and a quarter of respondents have a dishwasher but save it for heavy duty cleaning only.
It appears Gen Y's are most conscious of the cost of using their dishwasher, with over half limiting their use because of the expensive of power and cleaning products.  This was marginally higher then Gen X and Baby Boomer respondents with 45% and 37% respectively trying to limit their use.
If you can believe it, a quarter of respondents have a dishwasher, but prefer to hand wash their dishes. This is highest among Gen Y's (41%) followed by Gen X's (29%) and Baby Boomers (18%).
In 2013, Bosch cleaned up the competition taking out the Most Satisfied Customers Award for Dishwashers. Bosch received five star ratings across seven of the eight criteria, including value for money, performance, reliability, quietness, ease of use and warranty.