What can you wash in a dishwasher apart from dishes? Can it do more than just wash things? Our staff team was curious, so we looked into it.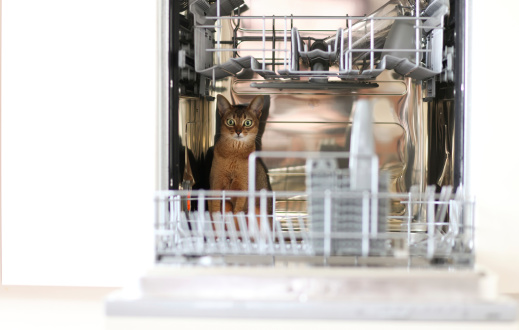 What can a dishwasher wash apart from dishes?
Baby bottles.
Microwave rotating turntable.
Crocs, flip flops and gumboots.
Baseball caps.
Hairbrushes and combs. This is especially great for sanitising combs that have been used for de-lousing your kids. (NB: Do not put hairbrushes with a wooden handle in the dishwasher. They will not appreciate it.)
Metal and plastic children's toys.
Plastic dogs' toys.
Pet food and water dishes.
Fabric or plastic cup holders or beer cozies.
Cushion covers.
Clothing.
Kitchen brushes and sponges.
Toilet brushes. (But you'll want to rinse the dishwasher again afterwards!)
Hub caps.
Light fixtures. (Get rid of the bugs. Just use the gentle cycle.)
Dirty stove knobs.
Mop heads.
Dustpan and brush.
Vacuum attachments.
Refrigerator shelves.
Fake flowers that are looking dusty.
Toothbrush holders.
Make-up brushes.
Paintbrushes and other art tools.
Razors.
Garden tools.
Mouth guards.
Shin guards.
Soccer balls.
Softball helmets.
Tennis balls.
Golf balls. Fore!
We think you get the picture.
What else can a dishwasher do?
Cook food (if you put the food in a water-tight, air-tight container first). Lifehacker has poached salmon and chicken and vegetables in aluminium foil, and even cleaned potatoes before baking them.
Use it as storage space if it breaks down or you aren't using it much.