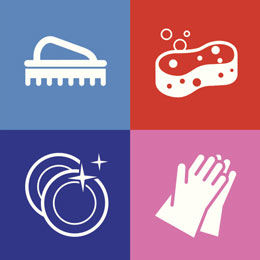 When it comes to loading dirty dishes into the dishwasher, it appears some people just don't get it. Or at least that's what most people think about others ability to stack the dishwasher, with 70% of those who purchased a dishwasher in the last 3 years saying they believe they are the most efficient at loading the dishwasher in their household.
This was most strongly felt amongst females, with 74% claiming their dishwasher stacking skills are superior. While 68% of males claimed to have the best loading prowess. When it comes to the generational divide, Gen X respondents claimed the highest level of superiority (73%), followed closely by Baby Boomers (71%) and then Gen Y's (68%)
These results are from a sample of 675 people, surveyed in 2012 by Colmar Brunton for Canstar Blue, who had purchased a dishwasher in the last 3 years.
Strangely 40% of respondents claim to have washed things other the dishes and cutlery in their dishwasher, including pans, baking trays, sponges, toothbrushes and even sports shoes. These somewhat peculiar habits were most common amongst Gen Y respondents (56%) who were trailed by Gen X (43%) and Baby Boomers (32%).
Luckily it appears respondents know how to take care of their dishwasher, which is particularly necessary if it is regularly being exposed to such dirty foreign objects. Seventy per cent of people claim they know how to perform regular maintenance on the dishwasher to ensure that it's operating at its best. A similar number (73%) also rinse their dishes before putting them in the dishwasher, ensuring sparkling results every time.
In 2012, Miele received the award for Canstar Blue Most Satisfied Customers – Dishwashers, with five star ratings across a number of criteria, including performance, reliability, noise, internal layout and warranty and service.