If you're sick of instant coffee, or of espresso coffee tasting like what's in the kitty litter box every morning, then the DeLonghi Dolce Gusto 'Stelia' by Nescafe may be for you. It has a range of features that sets it up to be your noble steed in your quest for the perfect drop. It's so slick it could stelia heart, then stelia girlfriend. See how the Stelia stacks up in this coffee machine review by Canstar Blue.
What does the Stelia feature?
Unique Touch Interface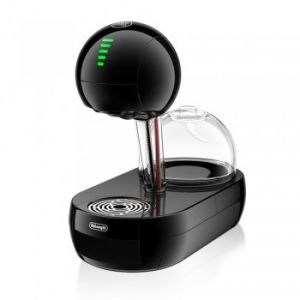 The space age has finally arrived, with the unique touch interface. Similar to how you'd adjust volume, the green bar acts as a slider that allows you to adjust how much water is going into the coffee. Less green bars means you're making a coffee with a shorter pour – an espresso – and more bars means you're making a coffee with a longer pour… long black, cappuccino, and latte and so on. This is adjustable up to 15 bars of pressure. If you're confused about how many green bars you need, don't worry – they correspond with what's on the coffee pod, so you can nail the perfect pour every time.
Beyond this, you can also choose hot or cold water on the interface. Additionally, these options disappear when you turn the machine off. So, if you're looking for a conversation topic while you've got the in-laws around, then show them this coffee machine. It's guaranteed to raise a few questions.
Innovative Design
Perhaps the most unique feature about the Stelia is its design. Dolce Gusto says the design was inspired by a drop of coffee. Usually coffee machines are pretty uniform and drab, but the Stelia certainly stands out on your kitchen counter. Its rounded head and bulbous one litre water jug make it resemble something like a spaceship. Did they have this machine on Apollo 11?
Another nice touch is the platform where you place your coffee. It's adjustable depending on the size of your cup – for the espresso fiend or someone using a Big Hug Mug, Stelia has you covered. Further, it's manufactured by DeLonghi, so you know it's of quality construction. It's an innovative and sleek-looking coffee machine that'll complement the kitchen nicely.
More than just short or long blacks
The problem with a lot of coffee machines is that they often feature only two settings – tall or short. This can leave a lot of cappuccino or latte enthusiasts out in the cold, unless they want to spend big bucks for a full-featured machine. The vast array of pods Dolce Gusto has in their arsenal means that it has all corners of the coffee world covered. From Americano, latte to hot chocolate, there's sure to be something out there for everyone. Once you've nailed down a type you love, it's made easier by just being able to go down to the supermarket and buy pods; you might be surprised to know that a lot of coffee pods can be bought online only. Dolce Gusto really has made it as easy as possible to be able to enjoy your favourite coffee.
Impressive Specs
| | |
| --- | --- |
| Water Tank Capacity | One litre |
| Steel Drip? | Yes |
| Machine Wattage | 1500w |
| Warranty | 2 years |
| Interface? | Yes |
(Source: Dolce Gusto)
Is the Stelia right for me?
The Stelia is sure to appeal to a wide range of coffee drinkers. From the people just needing a caffeine hit, to those who seriously like to sit back and enjoy a brew, Stelia caters towards a large cross section of consumers. Priced at $199, the Stelia is also low enough in price to not make you keel over, and is cheaper than some of the competition. Additionally, being that the machine is in the Nescafe Dolce Gusto range, chances are if you currently own a Nescafe machine, then you already have the right capsules to use. Nescafe capsules are some of the most widely available out there, so finding them likely won't be a problem. Not to mention, Dolce Gusto currently top our customer satisfaction rankings for coffee machines – impressive.
Overall, the Stelia is a solid offering in a price to suit most coffee drinkers. With this machine you might be able to eliminate your morning coffee run, which could save you money in the long run. At $199, it stands up to a lot of the competition, and its sleek and intuitive touch features are sure to win over some consumers. Its unique design, intuitive interface and nice price could make it a great coffee companion for you.