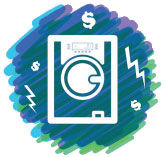 Money doesn't necessarily ensure quality, nor can you get something of value for nothing. This could be why value for money is the number one thing that 28% of appliance shoppers look out for when purchasing a new clothes dryer.
Continuing this chain of reasoning, a similar percentage of shoppers consider energy efficiency as the most important buying consideration (27%). Considering that efficiency is essentially an indicator of running costs, it seems that most Australians simply want a fair price for their clothes dryer in both the short and long term.
That said, 18% base their purchasing decision on the functionality and features of their dryer, while only two percent pick a machine for its design and aesthetics.
In a separate survey in 2013, we found that close to half our respondents purchased the same brand of clothes dryer as their washing machine. It would seem the customers' satisfaction with their washing machine was a good enough reason to make a second investment.
If you want to find the best possible clothes dryer for your money, compare award winning brands with our customer satisfaction ratings. You'll be joining four in five of our respondents, who put in the hard yards to research different features of large appliances before making their purchase.