When you think of vacuum cleaners, you probably think of Dyson. But when you think of portable fans, you probably think of… who knows? Well, Dyson should be the big-name brand on your lips in future if its range of innovative bladeless fans is anything to go by. The iconic British appliance manufacturer is starting to blow our minds in the cooling department, just as it has with vacuum cleaners for years.
If you're dreading the summer months with no air conditioning in your home, or you want to give your air con a boost and circulate the cold air, perhaps a Dyson fan could do the job. We bring you a guide on Dyson's portable fans, including their features and prices, to help you find the right fan for your home.
Dyson Desk Fans
For a small, compact option, there are three different models of desk fans from Dyson:
Dyson Cool Desk Fan (Black/Nickel or White/Silver) – $399
Dyson Pure Cool Link Purifying Desk Fan (White/Silver) – $549
Dyson Pure Cool Desk Fan (Black Nickel or White Silver) – $649
Let's review the details of each fan in the line-up.
Dyson Cool Desk Fan AM06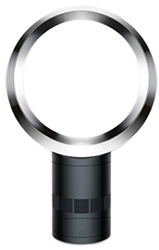 Dyson's Cool Desk Fan features the company's Air Multiplier technology, boasted to create a powerful stream of uninterrupted airflow. With its streamlined air channels, it's also claimed to reduce airflow noise, making it 75% quieter than Dyson's previous AM01 model.
The fan features a sleep timer than can be programmed to turn off in intervals from 15 minutes to 9 hours, plus it comes with a remote control. It has oscillation capability and can be tilted forwards or backwards when needed. It weighs in at 3.36kg and has a 1.8m cord. There are two colour options to choose from – Black/Nickel or White/Silver.
Dimensions (H x W x D): 550 x 300 x 147mm
RRP: $399
Dyson Pure Cool Link Purifying Desk Fan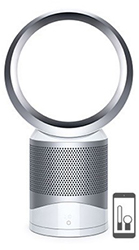 This fan is designed to capture 99.95% of fine particles, such as allergens and pollutants, thanks to its 360°glass HEPA filter, according to Dyson. Plus, it's boasted to minimise odours, domestic fumes and gases, with its tris impregnated graphite crystals. In turn, it has been awarded the Quiet Mark by the Noise Abatement Society and is certified asthma and allergy friendly by Allergy Standards.
It's fitted with automatic sensors stated to monitor and adjust airflow. It then reports the information to the Dyson Link app, allowing you to remotely regulate your environment. The fan weighs in at 4.98kg, so a little heavier than the previous model, plus it comes with a 1.8m cord.
Dimensions (H x W x D): 419 x 282 x 285mm
RRP: $549
Dyson Pure Cool Desk Fan DP04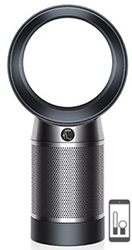 This Pure Cool desk fan is the most expensive of the bunch. But if you're willing to spend over $600 for a desk fan, Dyson's DP04 model comes with Air Multiplier technology claimed to deliver over 290L/second of smooth yet powerful airflow. Plus, its fully-sealed filter system – combined with an activated carbon filter to remove gases and a glass HEPA filter to capture any fine particles – is boasted to circulate only purified air throughout the room. It has an adjustable oscillation angle from 45° – 350° to help project that immaculate air.
It's said to be Sensitive Choice approved by the National Asthma Council Australia and certified asthma and allergy friendly by Airmid Health group laboratories. There's a built-in notification system to let you know when filters require replacing. It also automatically detects and reports air quality levels to your smartphone via the Dyson Link app. This model weighs in at 4.65kg, and has a 1.85m cord. In addition, it's equipped with a night time mode claimed to be a quiet setting with a dimmed display, and a remote control to make it easy to switch settings.
Dimensions (H x W x D): 691 x 106 x 352mm
RRP: $649
Dyson Tower Fans
If you're after something with a little more force, perhaps a tower fan is what you're after. There are two models in the Dyson range, both coming in two colour options:
Dyson Cool Tower Fan (Black/Nickel or White/Silver) – $569
Dyson Pure Cool Tower Fan (Black/Nickel or White/Silver) – $799
Let's now look at the specs.
Dyson Cool Tower Fan AM07

This tower fan has a few similar features to what you'll find in the desk fans range. Expect Dyson's Air Multiplier system and oscillation control. It's also boasted to be 60% quieter and use 10% less power than Dyson's AM02. It comes with a sleep timer, which allows you to program the fan to turn off after pre-set intervals, ranging from 15 minutes to 9 hours.
Its curved and magnetised remote control allows you to select from 10 different airflow settings and can be kept on top of the fan for easy storage. It weighs 4.96kg and has a 2m cord. In a similar fashion, you can choose from black and nickel or white and silver finish colour.
Dimensions (H x W x D): 1010 x 190 x 230mm
RRP: $569
Dyson Pure Cool Tower Fan

For a little extra, this Pure Cool tower fan features Dyson's changeable HEPA filters and activated carbon filters claimed to remove gases and capture fine particles. It also comes with Intelligent reporting which automatically sends reports to your Dyson Link app. Expect some of the same features as mentioned for the other models above, such as Air Multiplier technology, adjustable oscillation from 45° to 350°, plus a magnetised controller.
It features a few additional fan modes, including draught-free diffused mode and night-time mode. It's awarded for improved sound quality, plus certified as asthma and allergy friendly by the Airmid Health group and approved by National Asthma Council Australia. It has a total weight of 4.9kg and comes with a 1.85m cord.
Dimensions (H x W x D): 1054 x 117 x 223mm
RRP: $799
Dyson Pedestal Fan

The hidden blade design is also available in a pedestal fan form. It's claimed to emit a consistent, uninterrupted stream of high-velocity air thanks to its Air Multiplier technology. However, more air doesn't mean more noise. Dyson states this unit is equipped with Helmholtz silencing cavity, where sound is captured and dissipated quietly, making it 35% quieter than Dyson's AM03.
The provided remote control allows you to operate this fan through 10 precise airflow settings, similar to other Dyson fans. It also comes with a sleep timer and an oscillation function. It weighs 3.9kg and has a 2m cord.
Dimensions (H x W x D): 1410 x 450 x 107mm
RRP: $649
Dyson Fan Heaters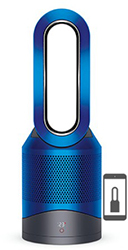 Dyson also has a number of fan heaters under its Hot + Cool range. If you're after a portable fan that can also turn into a handy heater for those winter months, you might like to consider this range. It includes models with and without Dyson's purifying system, which obviously impacts costs. They have a similar design to the fans mentioned above, plus a long-range strong airflow system, so you don't have to sit right in front of the heater to warm up. There is also a diffused mode for a wider projection to cover a number of people.
You may also be interested in:
Dyson Link App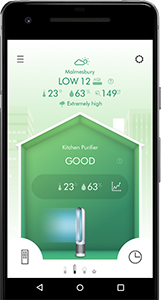 Throughout this article we've referenced the 'Dyson Link App', so what exactly is it? Well, with its connected features, you can activate, schedule and monitor your fan at home or when you're away. By connecting your Dyson fan to your phone, you can:
Create a schedule to suit your daily routine (ensures the fan is on when you need it)
Review both indoor and outdoor air quality information
Review historic air quality information to help learn about your indoor environment
Remotely control air flow speed, mode, timer, oscillation and other settings
Receive software updates and access product guides.
Are Dyson fans worth the money?
These space-age bladeless fans from Dyson are certainly unique and trendy. Looks matched with functionality is what helps keep the company running. However, it seems that innovative appliances come with a price and you'll need to be willing to pay $400 or more for a Dyson fan.
Unlike most household appliances, fans don't have energy star ratings due to no government regulation being available for these bad boys. A tip to keep in mind is that the more power a fan uses, the more it's likely to cost you in terms of energy bills, so look out for the fan's wattage.
Dyson's fans certainly look and sound cool – they even make an attractive centrepiece for your living room or kitchen – but you'll no doubt find cheaper fans elsewhere. Whether they can match Dyson's power and design is another matter.