Dyson has revealed a new upgrade to its revolutionary fan heaters – but the price will blow you away.  These bad boys can do it all, from cooling to heating, and even purifying the air you're in. You can notice the iconic bladeless design from a mile away. But even with several new updates to the latest model, is it worth it? Read on to decide for yourself.
What is the Dyson Pure Hot+Cool Purifying Fan Heater?
The Dyson Pure Hot+Cool Purifying Fan Heater is developed for all-year-round use, with its three-in-one design. It's claimed to deliver fast and even room heating in winter, and fan cooling in summer, plus air purification throughout both seasons. The unit is claimed to automatically detect airborne particles and gases and report this to the Dyson Link app in real time, maintaining comfort levels within the home.

What makes it different?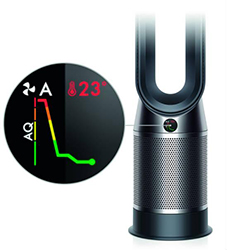 Dyson already features five models in its Hot+Cool range, with three of the units also equipped with the purification system. What makes this latest model different to the rest is the addition of an LCD screen, as well as improvements to the HEPA filter, projection range and heating.
Sensing
A new LCD screen shows the particles and gases that the unit is automatically sensing in real time using a Dyson algorithm. Lasers are stated to measure and identify fine particles while another sensor detects the amount of VOCs (Volatile Organic Compounds), such as benzene and formaldehyde, and NO2 (Nitrogen Dioxide) present. Another sensor measures relative humidity and temperature, according to Dyson.
Capturing
In addition, Dyson boasts to have incorporated 60% more HEPA media into a taller and deeper HEPA filter with this model. This may help those who suffer from allergies and asthma, or those who have pets. It's claimed to have three times more activated carbon to absorb gases, odours, domestic fumes and VOCs. Plus, there's nine metres of a condensed and sealed borosilicate microfiber filter stated to capture 99.95% of particle pollution as small as 0.1microns, including allergens, bacteria, pollen and mould spores. Activated carbon filters coated in a solution to increase absorption efficiency further help remove gases including NO2, formaldehyde and benzene as claimed by Dyson.
Projecting
The degree of oscillation has also been expanded from 90° to 350° degrees and its Air Multiplier Technology is claimed to project over 290 litres of purified air per second to every corner of the room. To test this, Dyson states its engineers used a moveable 3D rig fitted with velocity probes to measure air force at different levels within the room, ensuring the machine is circulating the air effectively for whole and even room purification.
Heating
To help deliver better heating performance to its predecessors, the thermostat heat control system has been upgraded. The unit is stated to automatically keep your room at the target temperature. Plus, the heating function will switch to stand-by mode once the target is reached and will switch back on once it senses a drop in the temperature.
Dyson Pure Hot+Cool Design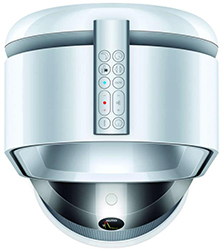 The outward appearance is fairly similar to previous models apart from the additional LCD screen at the front of the unit. It comes with a magnetised remote control, which you can store on top of the machine. In terms of maintenance, it can simply be wiped with a cloth and there's no need to wash its long-life filters, according to Dyson. However, they are recommended to be replaced every couple of years.
Dyson Pure Hot+Cool Modes
This unit features several modes, including:
Fan mode: features a new diffused airflow mode along with the fan mode, which is claimed to maintain airflow projection out the front of the unit with the baffle staying in place to deliver a frontward stream of purified air.
Diffused mode: with this mode, the baffle moves to block the front aperture, directing the air through the rear at a 45° angle. With the wider aperture, a diffused airflow is created, which is stated to use less energy and generate less noise while maintaining effective purification.
Night time mode: claimed to monitor and purify using quiet settings with a dimmed display.
Sleep timer: pre-set intervals ranging from 15 minutes to 9 hours can be set before going to sleep.
Dyson Link app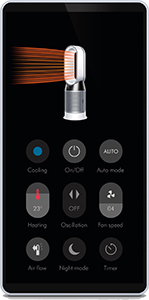 Similar to other Hot+Cool fan heaters, this model can be operated via the Dyson Link app. Available for iOS and Android, the app enables you to track indoor and outdoor pollution, temperature and humidity levels. You can also use it to control the unit and see how many hours of filter life you have left. The new machine come with full Over the Air Update Capability, meaning you can upgrade to the latest software even after purchasing the machine.
How much does the new Dyson Pure Hot+Cool cost?
The new Dyson Pure Hot+Cool Purifying Fan Heater costs $899 (RRP). It will be available in Australia via the Dyson website and all major electrical retailers and department stores from March 2019. There are two colour options available, including a White/Silver or a Black/Nickel colour. It comes with a two-year parts and labour guarantee for peace of mind.
Dyson Pure Hot+Cool Purifying Fan Heater: $899 (RRP)
Should I buy the Dyson Pure Hot+Cool?
If you're after a portable fan that can also turn into a handy heater during the cooler months, plus help purify the air, you might like to consider this model. It has had some modifications that might be worth it for those who like to chase the "latest and greatest" gadgets on the market. However, if spending $900 on a new fan/heater is out of your budget, perhaps a simpler unit would suffice. Nevertheless, having three devices in one can help save on space, plus eliminate the need to switch out appliances every season. If you have a spare $900 burning a hole in your pocket, go nuts. If you're looking for a cheaper heater, check out our ratings via the link below.