Recognisable for its iconic loop-shaped hairdryers, fans, heaters, and purifiers, Dyson has been a leader in its field since revolutionising the vacuum cleaner in the 1980s. It's now widened its design focus to air purifiers. Find out about its stunning Pure Hot+Cool Link air purifier in this Canstar Blue review.
Dyson began with designing vacuums to capture pollutants found on floors. The next step was to tackle pollutants in the air – with hand driers, fans, heaters, and air purifiers. The first Dyson air purifier was released in 2016 as the Dyson Pure Cool. Just a year later the features available on Dyson air purifiers have dramatically improved, with the current highest-end model the Dyson Pure Hot+Cool Link.
What is the Dyson Pure Hot+Cool Link?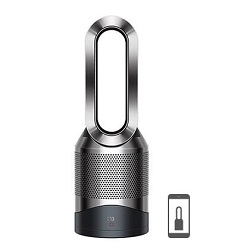 The Dyson Pure Hot+Cool Link combines purification, heating and cooling functions into one smooth, minimalist-design device. The compact 63cm tall pedestal appliance can be used on the floor or on a tabletop, taking up a small footprint with a 22mm diameter round base. It has two main parts – the loop, in which the air flow controls and heating elements are contained, and the base, which holds the air filter. The unit comes in a choice of a white and silver or a black and nickel finish.
How does the air purifier work?
The Dyson website has a lot of scary visuals of what kinds of hidden nasties could be floating around your home, from formaldehyde in your furniture to pollen from your plants. According to Dyson, the Pure Hot+Cool Link can capture the following air pollutants:
Pollen & allergens
Pet dander
Nitrogen dioxide
Formaldehyde
Benzene
The filter contains three elements. Most of it is made up of glass HEPA (high efficiency particulate air) borosilicate, which can remove 99.95% of particles of any size down to 0.1 microns. The next layer down is an active graphite filter, for removing volatile organic compounds, odours and fumes – essentially deodorising the air. The final filter layer is made from tris-impregnated graphite, an organic compound which can capture more odours and fumes, as well as gases such as formaldehyde.
Air is drawn into the purifier from every angle by the brushless DC motor, and up into the upper part of the appliance (the loop) where the heating and cooling functions occur. The motor casing is designed to minimise vibration and associated noise. Sensors located in the base monitor airflow and detect volatile organic compounds and particles.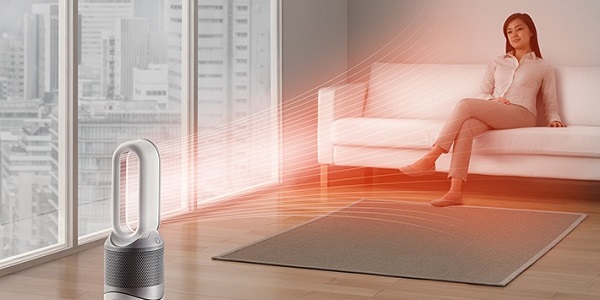 How do the heating & cooling functions work?
While using the Pure Hot+Cool Link solely for air purification does involve circulating fresh air out of the device and around the room, this is at a low intensity. The speed of the motor (and thus speed of air ejected from the purifier) can be controlled, to range from a barely detectable movement purely for filtering air, through to a high intensity flow to help cool or spread heat around the room.
The impeller (propelled by the motor) draws in and accelerates airflow, working in a similar way to jet engines. A diffuser then separates the airflow into controlled paths to take it efficiently up to the loop. Inside the loop are the heating elements and apertures for the air to be released through. Cooling is produced simply by turning up the airflow intensity to your desired strength.
Heated air is produced by turning on the two PTC ('positive temperature coefficient' silicone rubber coated) ceramic plates inside the loop, which do not exceed 200⁰C in temperature and thus don't produce that classic unpleasant burning smell from other kinds of heaters. Heat can be controlled manually or by setting a thermostat.
What controls are available?
Oscillation is powered by an independent motor. Airflow itself can be controlled in terms of power, but also as one of two direction modes. In Focused mode, designed for targeted airflow for personal heating or cooling, air is directed through a 2.5mm aperture and over an airfoil shaped ramp, then redirected by a focus ramp. Switching to Diffused widens the airflow angle for fast and even heating of the whole room. It releases air from a second aperture, and when the two jets meet an entrainment guides the airflow over a 45⁰ airflow projector.
Additional functions include:
Night time mode, which switches your purifier over to operating at only the quietest settings and dims the display
Sleep timer to set your purifier to switch off after you've gone to sleep
Schedule filter time ahead so that the room is warmed or cooled to your schedule, for maximum comfort with minimum energy waste
What can you do with the Dyson Link app?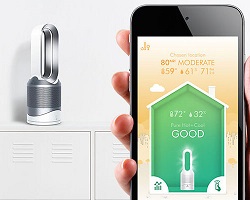 Air purifiers are no longer just a static item that sits in the corner and controlled manually by buttons or remote – Dyson has added to the growing number of high-end home appliances that can be managed through your smartphone.
The Pure Hot+Cool Link can be connected to the Dyson Link app to monitor air quality, generate reports on air quality history and purifier activity, create a 7-day schedule, and check your filter and how long until it needs to be changed – even if you're not at home.
The Dyson Link app connects to all Dyson Link machines, so you don't need to worry about keeping track of all of the different remotes and can control your home appliances to greater detail and with more convenience.
Does it require much maintenance?
As there are no external moving parts, it's relatively easy to keep the unit clean – just wipe it with a cloth regularly to keep it shiny and clear of dust. Maintenance involves simply replacing the filter after the equivalent use of 12 hours every day for a year.
How much does the Dyson Hot+Cool Link cost?
After reading through all of these features and functions, you may not be surprised to learn that the Dyson Hot+Cool Link carries a hefty price tag. It retails for $799, including the remote and bonus filter. Replacement filters can be purchased for $99 each. Delivery is free when purchased directly from the Dyson website – check the website for further details. It can also be purchased from a number of major appliance retailers.