It seems like there's no stopping Dyson in the vacuuming space, launching its new V11 model with a number of upgrades. It's stated to be the result of more than a decade of cord-free vacuums and Dyson's digital motor development. While there's no doubt it's going to cost you big bucks, let's see exactly what this V11 is made of.
What is the Dyson V11?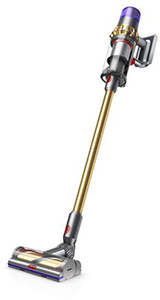 The Dyson V11 is a cord-free vacuum that has been added to the Dyson vacuum line-up. It has a slimline design and runs on battery for ease of use. The popularity of cordless handsticks is increasing and it seems like Dyson is constantly aiming to innovate and improve its range.
What improvements does the V11 vacuum have?
Dyson's V11 vac may appear to look the same as its predecessors on the outside but there are a number of added features, including:
LCD screen: displays the machine performance and reminds users when to clean filters in real time, plus shows the runtime, so that you know exactly how much time is left before it needs to recharge.
Upgraded motor: features the V11 digital motor, stated to have 20% more suction power than the V10 vacuum. The motor spins at up to 125,000rpm and uses a triple diffuser. The first two diffusers are said to straighten airflow and reduce turbulence, helping to increase suction, while the third diffuser reduces noise and improves acoustics.
High Torque cleaner head: this cleaning head is equipped with Dyson's Dynamic Load Sensor stated to automatically adapt suction for different floor types when the machine is in Auto mode.
Larger dust bin capacity: claimed to be 40% bigger than the V10 so that you stop less while cleaning, plus it features its 'point and shoot' system to help make emptying easy and hygienic.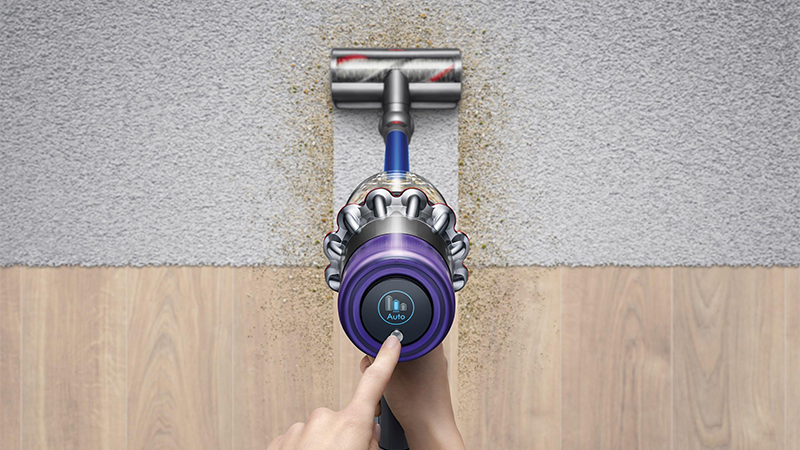 LCD Screen
With the addition of the on-board LCD screen, you can see current performance, including the selected power mode and remaining runtime. The system also displays tips and advice that you'd typically find in a manual but in real time, as well as when to clean filters. So, if your vacuum has sucked up a Lego piece, the screen will say "Airways Blocked", plus display different ways to clear the blockage with the help of a short animation. So, if you're usually hopeless with troubleshooting your vacuum, this might help a lot. In addition, the sensor magnets embedded in the filter assembly also inform you when the filter isn't connected properly.
Advanced filtration
For those who suffer from allergies or asthma, Dyson claims it has created a fully-sealed filtration system to pick up dust and to keep it in the machine rather than expelling it into the air. It's boasted to capture 99.97% of particles as small as 0.3 microns. Its 14 cyclones generate forces of more than 79,000g to fling microscopic particles – such as pollen and bacteria – into the bin, according to Dyson.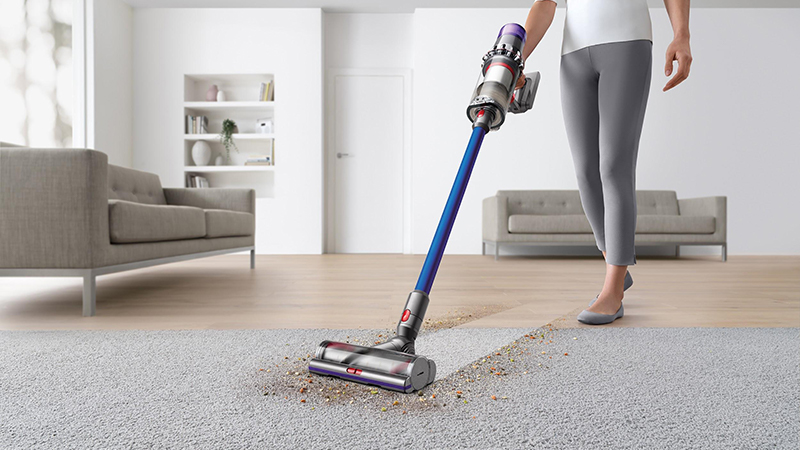 Dyson V11 cleaning modes
This unit comes equipped with three cleaning modes for a range of tasks, giving you the power you need for the job at hand:
Auto mode: automatically senses and adapts to different floor types, meaning you don't have to switch between different settings or change floor heads when going from carpets to hard floors. It's claimed to offer the optimum balance of power and run time.
Boost mode: is designed for intensive cleaning of ground-in dirt.
Eco mode: provides up to 60 minutes of run time, for longer cleans on all floor types.
The automatic mode is the flagship setting of them all. It's said to encompass three microprocessors to bring a new level of intelligence to the clean, monitoring performance up to 8,000 times a second. The microprocessors are located in the Dynamic Load Sensor inside the
High Torque cleaner head,
Dyson digital motor V11 and
Dyson Battery.
According to Dyson, these advances mean the suction automatically adjusts depending on the floor type, plus it allows you to see how much runtime is remaining.
High Torque cleaner head with Dynamic Load Sensor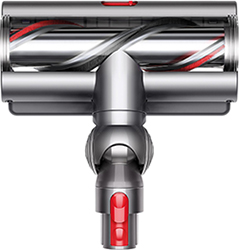 The High Torque cleaner head is boasted to be Dyson's most powerful cord-free cleaner head yet. It features stiff nylon bristles for ground-in dirt and anti-static carbon fibre filaments claimed to capture dust from hard floors and crevices, plus its integrated digital motor spins the brush bar up to 60 times a second.
The DLS system is unique to the High Torque cleaner head and is claimed to detect brush bar resistance up to 360 times a second and automatically communicate with the motor and battery's microprocessors to change the suction power between carpets and hard floors. This enables carpets to be deep cleaned but with a decreased runtime while extending the runtime for hard floors.
How long does the Dyson V11 battery last?
Dyson's V11 offers one of the longest runtimes of up to 60 minutes, which is the same as the Dyson V10 vacuum. It's claimed to have seven larger, high-capacity cells with nickel-cobalt-aluminium cathodes to help deliver more suction power.
The Dyson V11 vacuum's battery and monitoring system work together to tell you how much runtime is remaining. The system uses an algorithm that "learns" how you're using the vacuum and calculates the remaining runtime. The time displayed takes into account the cleaning mode, tool and floor type.
It's important to fully charge the machine before using it for the first time and after every clean, according to Dyson. The battery is designed to be left on charge permanently, so that it's fully charged when it's next used. Once the battery is fully charged, the vacuum is stated to not use any more energy.
Dyson notes that all its batteries naturally differ slightly from one another and may vary during their lifetime. Runtime typically decreases on the boost mode as well as when vacuuming difficult surfaces such as long-pile carpets as these will draw more power than short pile carpets.
How much does Dyson V11 cost?
The Dyson V11 vacuum is available in three variants, starting from $1,099 and maxing out at $1,299. The prices for each model are as follows:
Dyson V11 Absolute Pro+: $1,299 (RRP)*
Dyson V11 Absolute: $1,199 (RRP)*
Dyson V11 Torque Drive: $1,099 (RRP)*
The models differ predominantly by the tools they come with.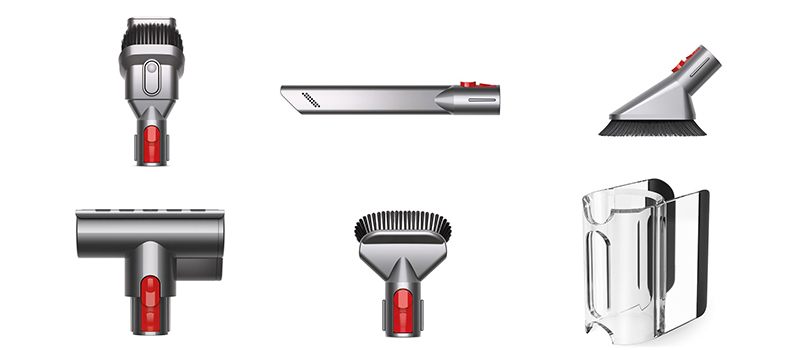 Dyson V11 Accessories
The Dyson V11 Absolute Pro comes with all of the following tools, while the two other models feature fewer accessories.
High Torque cleaner head: automatically adapts to different floor types
Soft roller cleaner head: designed for hard floors, claimed to pick up both fine dust and large debris
Mini motorised tool: aimed to tackle hair and ground-in dirt in tight spaces, like stairs or cars
Extension hose: for very high and low surfaces such as curtains or underneath furniture
Mattress tool: for mattresses and upholstery
Combination tool: can be adjusted to suit different surfaces
Crevice tool: ideal for cleaning in between couch cushions
Mini soft dusting brush: stated to help with dusting around the house by gently removing dust from flat and delicate areas as well as upholstery
Stubborn dirt brush: aimed to help dislodge ground-in dirt including dried mud from carpets
Flexi crevice tool: for awkward and hard to reach areas
Drop-in dock: to hold additional accessories in one place
Wand storage clip: to hold the vacuum wand
All models feature the flagship High Torque cleaner head but only the Absolute and Absolute Pro vacuums feature the additional soft roller cleaner head.

Should I buy the Dyson V11 vacuum cleaner?
The freedom of having no cord, along with the ability to switch from stick to handheld mode with one easy click, makes it easy when you're vacuuming the house or car. With up to 60 minutes of runtime, it might suffice for most small to medium sized homes, but keep in mind that battery life decreases with the extra boost mode.
While you might like the added LCD screen and the automatic power head, it's important to consider your budget. With a price tag of above the $1,000 mark, it will surely have you looking out for sales or considering the previous generations within the Dyson range. However, if your budget allows, perhaps it's time for an upgrade.
Vacuum Cleaner Reviews & Ratings
*Prices taken from Dyson website, correct as of October 2019